Join us to tune into the Full Moon Moon energy with a relaxing chakra sound bath offered in this sacred place at the Heart of Bragg Creek
About this event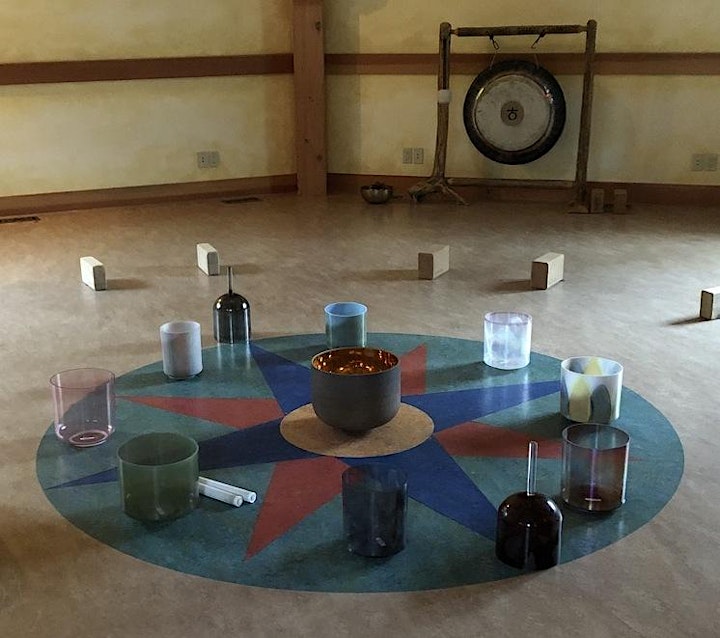 Colin Hillstrom's Chakra Sound Bath was an incredibly uplifting experience; it was like a symphony that harmonized with the language of my soul. Nevenka Webster, Fitness Professional, Vancouver
WELCOME DANCING SOULS!
Join us for an exquisite experience of deep relaxation and long lasting rejuvenation through crystal sound vibration and guided chakra sound meditation. This sound bath is offered in a beautiful healing environment.
CHAKRA SOUND BATH: WHAT TO EXPECT
All that you need to do is to allow for these high vibrational sounds and angelic melodies to align and re-balance your chakra (energy) system, so that you will:
Release physical, mental, emotional, and spiritual stress
Rejuvenate your body, brain, mind, and spirit
Access your higher intuitive faculties
Experience the joy of opening
EXPERIENCE COLIN'S CD CRYSTAL SOUND JOURNEYS:
https://colinhillstrom.bandcamp.com
ABOUT THE BOWLS
Relax into this sacred space as certified sound healer and recording artist Colin Hillstrom plays a set of 21 Crystal Tones alchemy singing bowls that contain precious and semi-precious stones including 24-karat gold, white gold, platinum, pink tourmaline, ruby, emerald, rose quartz, and many others. Colin had assembled this set of bowls not only for its high vibrational benefits, but also for many therapeutic benefits, including:
Opening, clearing, and aligning the chakra (energy) system
Balancing the endocrine (hormonal) system
Strengthing the immune system
Activating untapped, unused areas and powers of mind and brain
Enhancing cellular health and function
Raising the frequency of your attractor field
Simply feeling happier
LOGISTICS
Social Distancing will be observed. This event is limited to a total of 10 participants, in a configuration of buddy tickets (for two) and single tickets (see ticket description for details). You will be required to sign a standard yoga studio waiver upon arriving at the studio.
Look for the HEART CAFE on the right side (accross from the gas station that looks like a space station) as you enter Balsam Ave. The studio is adjacent to the cafe, behind and to the left.
Plenty of free parking
Enter through the back door via the patio to the left of the building
Bring you own yoga mat, bolster, blanket, pillow, and/or eye mask
Please arrive by 6:45pm
Doors lock at 7:00pm - we start on time - NO late admittance or refunds
EXPERIENCE COLIN'S CD:
Listen into Colin's CD CRYSTAL SOUND JOURNEYS:
https://colinhillstrom.bandcamp.com
Questions: Call or text Colin Hillstrom at 403-708-7408
Colin has a great heart spirit, and is able to bring his audience to love. He sets the tone of playfulness, as well as honoring the deep powers of spirit. Nancy Shipley Rubin, author of "The Manifesting Codes"
Organizer of Full Moon Sound Bath
Colin Hillstrom facilitates healing, recovery, and transformation by tuning our chakras, brain, and cells to the non-dualistic levels of consciousness via crystalline sound vibration. He has written several books, composed a musical, and recorded an internationally acclaimed CD for meditation, brain performance, and self-transcendence. Colin plays exclusively Crystal Tones alchemy bowls, which contain 99.9999% pure quartz crystal, blended with precious and semi-precious stones and metals including platinum, 24-karat gold, white gold, pink tourmaline, serpentine, and rose quartz. His set of 15 singing bowls include all 12 notes to affect the entire human energy system including all chakras, primary meridians, nadhis, endocrine glands, organs, brain, neurology, mind, and consciousness.
He resides in Victoria, BC, Canada with his soulmate Maren Jaxen.
Reach Colin directly via voice or text: 403-708-7408