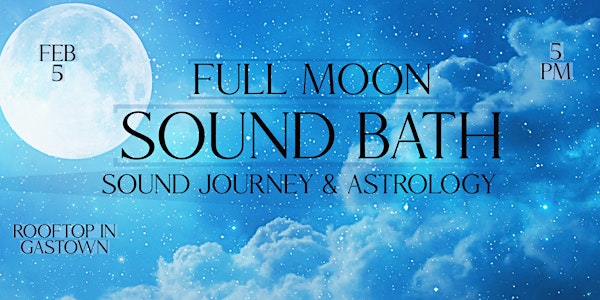 FULL MOON SOUND JOURNEY & ASTROLOGY - ROOFTOP IN GASTOWN
FULL MOON SOUND JOURNEY & ASTROLOGY - ROOFTOP IN GASTOWN
When and where
Date and time
Starts on Sun, Feb 5, 2023 5:00 PM PST
Location
Gastown Rooftop Room West Cordova Vancouver, BC V6B 0L2 Canada
Refund Policy
Contact the organizer to request a refund.
Eventbrite's fee is nonrefundable.
About this event
This Full Moon Sound Journey & Astrology Session will take place in a rooftop room in Gastown. The session will last approximately 60 minutes and will be followed with tea and an optional sharing circle.
We have some setup available, but if you are able please bring: a yoga mat, blanket, a pillow/cushion (recommended for extra comfort) and an eye cover.
---------------------------------
Full Moon
The presence of the full moon can signify a great time for gratitude, forgiveness and healing. Rather than jumping into the next new thing, we can use this time to evaluate, asses, cleanse and recharge.
Astrology with Maria
Full Moon in the sign of Leo on February 5th
Let's dig further into the details to get prepared for this astrological event with a full understanding of how this situation might impact your plans, decisions and your life overall. Also we will go over a few important occasions related to other planets during the month of February 2023. Use this period of time wisely to tie up loose ends and position yourself for success.
In the guided mediation, we will meditate on things in our lives that we are ready to release and the others that still remain a priority to pursue. This is a time of introspection and rest.
Revel in calm for a brief moment, and save the energy for the next new moon—it'll be here before you know it.
--------
Sound Healing
The sound healing instruments used help tune the chakra centres to resonate to their proper, natural state. This allows energy to flow freely throughout the body/mind/spirit.
In this state, the parasympathetic nervous system is activated which takes us out of fight/flight/freeze and helps us into theta; the brainwave state of deep meditation where the body can self-heal.
Sound healing helps to bring in dopamine, serotonin, and oxytocin, leaving you calm, peaceful and rebalanced.
------------------------------------------
About the organizer
Sound has been utilized in various cultures for thousands of years as a tool for healing.
When our energy and emotions are blocked or unable to be expressed, they can become a major source of dis-ease. Sound is used to release energetic blockages to heal the body, mind and spirit.
Sound baths help to facilitate shifts in our brainwave state by using entrainment. Entrainment synchronizes our fluctuating brainwaves by providing a stable frequency which the brainwave can attune to. By using rhythm and frequency, we can entrain our brainwaves and it then becomes possible to down-shift our normal beta state to alpha, and even reach theta and delta.
The benefits of sound healing include better sleep, greater focus and attention span, mental and physical relaxation, easing of chronic pain, and greater overall peace of mind.
In her practice, Kasia uses a large selection of 432 Hz and 440 Hz crystal bowls. Each is tuned to a specific chakra. Kasia also uses an assortment of crystal pyramids, chimes, tuning forks, and a crystal harp.