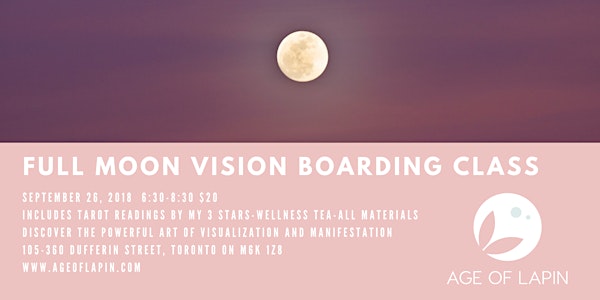 Full Moon Vision Boarding Class
When and where
Location
Age of Lapin 360 Dufferin Street Suite 105 Toronto, Ontario M6K1Z8 Canada
Description
Discover the powerful tool of visualization and how it can work to help us manifest our dreams and goals into reality. The September full moon is a potent time for manifestation and concrete visualization will work towards setting ourselves up for a highly abundant and rewarding new year.
What To Expect
-Discover the background of vision boarding and how to take this skill into your own personal practice going forward.
-Learn how to let your higher self guide you towards what you truly desire and letting it come out creatively
-Leverage the potent energies of the full moon to create and manifest the next step on your life's journey through the powerful art of visualization
-Learn how to set your intentions prior to the vision board practice
-Enjoy soothing music and wellness tea
-A personalized two-card Soul Calling oracle spread for each participant from My 3 Stars
-Your vision board to take home
About Age of Lapin
Our mission is to build a community for the enlightened, or those seeking more information as they kickstart their spiritual or wellness journeys. Read More at Age of Lapin www.ageoflapin.com
About My 3 Stars
Launched in 2018, My 3 Stars is a spirituality and wellness platform whic offers tarot and oracle card readings and crystal healing tips.