Description
The Program:
With a maximum of just 55 students, the personalized SFU Beedie MBA learning experience lets you explore your interests, discover your strengths, and take risks in a collegial, supportive environment. As you move through the 12-month academic component, expect to become immersed in deep, thought-probing questions and extensive study. Instead of memorizing textbooks and taking standardized tests, you'll learn through interactive and experiential learning methods. And it all takes place in the centre of Vancouver's diverse, vibrant and entrepreneurial business community.
The Webinar:
Thinking about moving to Vancouver? Our free, one-hour webinar will give you the opportunity to get an insider's perspective on the Vancouver job market from our Executive Director of Graduate Careers, Christine Sjolander, and to learn about the Full-Time MBA program from our Recruitment & Admissions team. Admission requirements and application processes will also be discussed, followed by a Q&A period.
There is limited space available for this webinar so register today to secure your spot!
The link to access the webinar will be emailed to all registrants on or before the day of the event. Please ensure you are able to receive emails from mba@sfu.ca and brianne_jakobsen@sfu.ca.
More Information:
To learn more about how the Full-Time MBA program can help advance your career, please visit our Full-Time MBA website.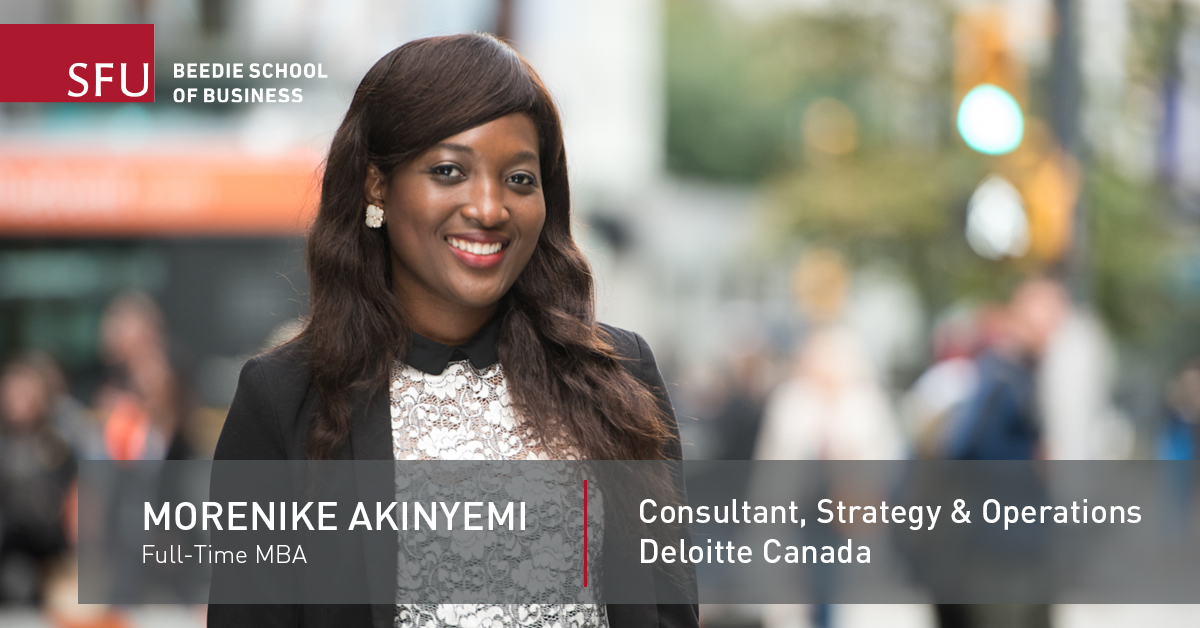 "I had a really good class of people from all over the world. Everyone was so nice and helpful, including staff and faculty; it felt like a family. Coming to Vancouver from Nigeria where I knew absolutely nobody, this was very important to me. It helped me get the most out of my year. Now, I am very comfortable in the city."