Description
The Fundamentals of Management Consulting program is designed for prospective and practicing management consultants - including internal consultants - who want to be more successful and who want to have more confidence in their ability to deliver more value to their clients and stakeholders.
This intensive 3-day CMC-Canada workshop - taught by one of Canada's leading consultants and trainers - will give you a quality repeatable process, the skills, methodologies and the tools you need. It is based on the Common Body of Knowledge for the Management Consulting Profession (CMC-Canada) which is generally recognized as the gold standard internationally. The workshop will be facilitated by Kevin Schwenker, FCMC, ROES, accredited national trainer for CMC-Canada, who has taught over 2000 management consultants in introductory and advanced courses for the CMC designation since 1996.

We are pleased to be able to offer this workshop to IMC-New Zealand members (CMCs/Fellows/Associates/Affiliates/Accredited Consulting Practice/Corporate Affiliates), at the same discounted price as for CMC-Canada members in Canada (similarly, non IMC NZ members also pay the same as non CMC-Canada members in Canada). All tickets are priced in Canadian dollars; i.e. IMC NZ member cost is C$1,485 each (approx. NZ$1,575); non-IMC NZ member cost is CA$1,875 (approx. NZ$2,000). NZ delegates do not pay any additional GST/HST.

The is a professional development event hosted by: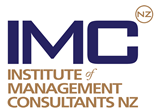 Please note that this event is not catered.
For more detailed information on the workshop you can download the e-brochure:
FAQs
How can I contact the organizer with any questions?
You are welcome to email Kevin (kschwenk@eastlink.ca) or call directly to his Canadian mobile (+1 902-483-1044).
What's the refund policy?
Any request made more than 45 days prior to the event will get a full refund (less $60 admin fee). Inside of 45 days prior to the event, registrations will be acknowledged and within 24 hours receive a detailed welcome package with all of the advance self-study materials, as well as the complete package of supplementary materials and readings. Please note that the registration fee is non-refundable once you have been provided with these materials.
Date and Time
Location
Wellington Conference Centre
University of Otago
23A Mein St
Wellington
New Zealand