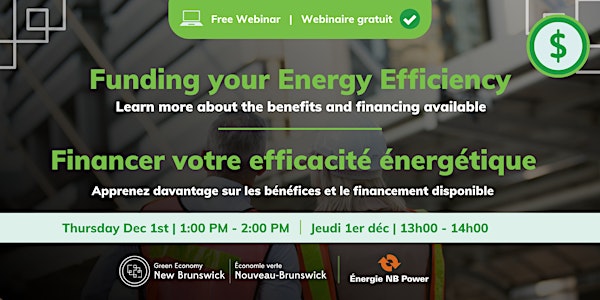 Funding your Energy Efficiency - Financer votre efficacité énergétique
Learn how to improve your organization's energy efficiency - Découvrez comment améliorer l'efficacité énergétique de votre organisation
About this event
[French version follows]
A big source of emissions for many businesses comes from the energy used to heat and cool their office or production facility, and power the lighting and equipment that they use. Energy efficiency upgrades can help you tackle those emissions and reduce your impact on the environment, while improving your bottom line, and making your operations more resilient! We know that energy efficiency efforts come with a cost, and it's not always easy to find the right funding program for your needs.
Join our webinar on December 1st to learn more about energy efficiency, how it can benefit your organization and NB Power's programs that'll help you fund your energy reductions.
During this webinar you will learn more about:
The benefits of energy efficiency for your business
NB Power's Energy Efficiency programs, including: the NB Power Business Rebate Program, the Commercial Building Retrofit Program, and the Industrial Energy Efficiency Program
How Green Economy New Brunswick can support your sustainability journey
Green Economy New Brunswick (GENB) is a non-profit Hub working with businesses and organizations of all sectors and sizes in the province to accelerate the transition to a dynamic and inclusive net zero future. GENB is part of Green Economy Canada's national network. To date, the network has engaged over 500 Green Economy Leaders, who have reduced over 200,000 tonnes of greenhouse gasses so far - the equivalent of taking over 43,000 cars off the road annually.
To learn more about Green Economy New Brunswick, please visit our website or contact our team at hello@greeneconomynb.ca.
Save Energy NB is a program delivered by NB Power to help all New Brunswick commercial businesses and small industrial facilities improve their energy efficiency.
----------------------------------------------------------------------------
Une grande source d'émissions pour de nombreuses entreprises provient de l'énergie utilisée pour chauffer et refroidir leurs bureaux ou leurs installations de production, et pour alimenter l'éclairage et l'équipement qu'elles utilisent. Les mesures de renforcement de l'efficacité énergétique peuvent vous aider à réduire ces émissions ainsi que votre impact sur l'environnement, tout en améliorant votre résultat net et en rendant vos opérations plus résilientes ! Nous savons que les efforts d'efficacité énergétique ont un coût et qu'il n'est pas toujours facile de trouver le programme de financement adapté à vos besoins.
Participez à notre webinaire ce 1er décembre pour en apprendre davantage sur l'efficacité énergétique, les bénéfices qu'elle peut procurer à votre organisation et les programmes d'Énergie NB qui vous aideront à financer vos réductions d'énergie.
Au cours de ce webinaire, vous apprendrez davantage sur :
Les avantages de l'efficacité énergétique pour votre entreprise
Les programmes d'efficacité énergétique d'Énergie NB, y compris : le programme de remise aux entreprises d'Énergie NB, le programme d'amélioration des bâtiments commerciaux et le programme d'efficacité énergétique industrielle
Le soutient offert par Économie verte Nouveau-Brunswick votre parcours de durabilité
Économie verte Nouveau-Brunswick (ÉVNB) est un Carrefour à but non lucratif qui travaille avec des entreprises et des organisations de tous les secteurs et de toutes les tailles dans la province pour accélérer la transition vers un avenir net zéro dynamique et inclusif. ÉVNB fait partie du réseau national d'Économie verte Canada. À ce jour, le réseau a engagé plus de 500 leaders de l'économie verte, qui ont réduit plus de 200 000 tonnes de gaz à effet de serre, soit l'équivalent du retrait de plus de 43 000 voitures de la route chaque année.
Pour en savoir plus sur Économie verte Nouveau-Brunswick, veuillez visiter notre site Web ou contacter notre équipe à hello@greeneconomynb.ca.
ÉcoÉnergie NB est un programme offert par Énergie NB pour aider les entreprises commerciales et les petites installations industrielles du Nouveau-Brunswick à améliorer leur efficacité énergétique.