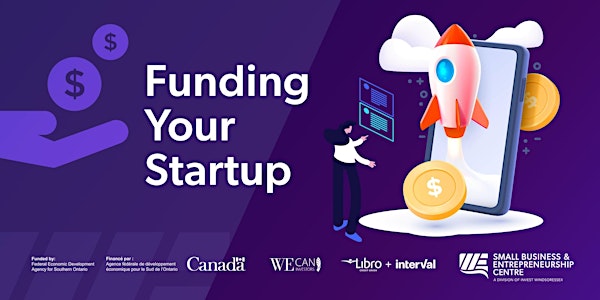 Funding Your Startup
Participants will get an opportunity to discuss angel investors, mentorship and funding for early stage companies.
By Small Business & Entrepreneurship Centre
Date and time
Mon, Jan 30, 2023 11:00 AM - 12:00 PM PST
About this event
Essential to growing your young company is the understanding of the key factors impacting it. Please join us for a workshop that will help you explore the opportunity to raise funds from angel investors. We will examine the value of your business and we will discuss programs offered to support your startup company.
This interactive session is presented by Windsor Essex Capital Angel Network, interVal and Small Business & Entrepreneurship Centre, with funding provided by the Government of Canada under the Women Entrepreneurship Strategy in Windsor-Essex.
Deborah Livneh Eng. MBA
Deborah Livneh Eng. MBA is the Executive Director of Windsor Essex Capital Angel Network (WECAN). Deborah connects investors to promising innovative early-stage companies and helps entrepreneurs access capital.
Deborah is a mentor for startup entrepreneurs accelerating their innovation to market and advising them on getting ready to pitch to investors. She served as Mentor-in-Residence at VentureWell Aspire Medtech program USA and as Entrepreneur-in-Residence at WEtech Alliance, Windsor. Livneh is a co-founder of the Detroit-Windsor MedHealth Innovation Cluster. Earlier, Deborah Livneh had co-founded a medical technology company. She sold it to a publicly traded company, and had led the Canadian plant of the multinational Olympus Medical Corp.
Rebecca Cook, Director of Customer Success at interVal
Rebecca has a passion for leveraging technology to provide business owners with better insights into their business so they can plan for their future and track their progress over time. As Director of Customer Success at interVal, her focus is on supporting enterprise customers in the strategy and implementation of the interVal platform, making access to valuation and key business insights as easy as possible.
She has been with London-based interVal since their inception in 2020, and continues to play an active role in the iteration of the platform through customer feedback and learnings. Prior to her work at interVal, Rebecca worked for six years as a Client Services Coordinator at EKSiT Strategies, a niche consulting firm that specialized in succession planning, which later evolved into the fintech company interVal.
Lee McGrath, Program Director, Women's Entrepreneurship Strategy Windsor-Essex
Currently serving as the program director of the Women Entrepreneurship Strategy for Windsor-Essex Lee works in conjunction with the Small Business and Entrepreneurship Centre and with community partners in aiding women to develop and grow businesses in the Windsor-Essex Region
Throughout her career, Lee collaborated with top leaders in the pharmaceutical and cosmetic industries, creating opportunities for growth, often through creative partnerships and win-win contracts.
About WECAN
WECAN - Windsor Essex Capital Angel Network is a members-only angel group. Angel investors fund, connect, and mentor early-stage companies.
WECAN facilitates the introduction of entrepreneurs to potential investors in Windsor-Essex and Chatham-Kent, through business presentations, investment meetings, networking opportunities and more.
WECAN is a member of Equation angels, a large robust angel network of 4 angel groups in Southwestern Ontario.
About interVal
InterVal is a technology platform that leverages core accounting data to provide real-time insights into the value of your business and the key factors that impact it.
About Small Business & Entrepreneurship Centre
Small Business & Entrepreneurship Centre has provided thousands of entrepreneurs with the training and support necessary to start and grow successful businesses in Windsor and Essex County for 30 years. They offer guidance and complimentary professional advice from ideation and concept, through start-up and operation, to the early growth and expansion stages of business
About WES (Women's Entrepreneurship Strategy)
WES is a collaborative project funded by FedDev Ontario to support women entrepreneurs in starting and growing their business. The funding from the Women's Entrepreneurship Strategy has provided coordinated support to the women-led business in the region.
About the organizer
The Small Business & Entrepreneurship Centre is a source for small business information, guidance and professional advice on starting and operating a small business. Whether you are just getting started or looking to expand your business, we are here to help your business succeed.