Description
On June 24th, Samara will be launching the third annual Everyday Political Citizen (EPC) project and we want you to help us kick off its biggest year yet!
Besides celebrating EPC 2015, the event will also be a fun-filled fundraiser for Samara, complete with a political photobooth, as well as complimentary delicious food and award-winning Beau's All Natural organic beer!
As you know, Samara Canada is a charity that relies on the support of people who care about Canada and its political system. Tickets to the event are $20, but—if you're a "Better Politics Fanatic," "Positive Politics Partner," "Engagement Enthusiast," or even a "Democracy Devotee"—we hope you'll give more (you'll receive a tax receipt in return). With your donation, Samara can continue to produce important research and programming like the EPC project.
If you can't make the party but would still like to donate, please visit Samara's Canada Helps page here. (As a bonus, every dollar donated through Canada Helps in June enters Samara to win a grand price of $10,000.)
Below are some quick event details:
The event begins at 6 pm

You don't need to bring a paper ticket to the event.

Food and drink are included in the ticket price.

Space is limited! Please let us know if your RSVP changes.

The nearest subway stop is St. George station.

There is paid street parking, as well as a Green P parking lot on Bedford Road, which can be accessed

between Bloor Street and Prince Arthur Avenue.

Observing Ramadan? Let us know and we can accommodate.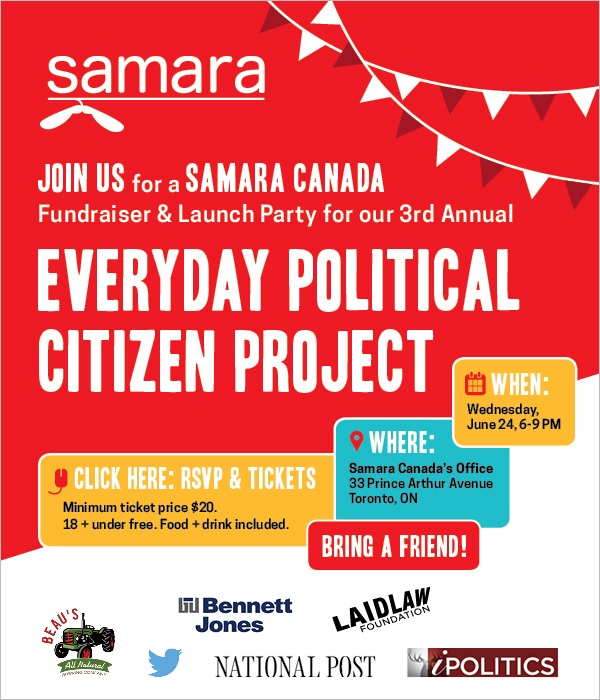 Organizer of Fundraiser and Launch Party for Samara's Everyday Political Citizen Contest
Samara is dedicated to reconnecting citizens to politics. Established as a charity in 2009, we have become Canada's most trusted, non-partisan champion of increased civic engagement and a more positive public life.

Samara Canada's research and educational programming shines new light on Canada's democratic system and encourages greater political participation across the country, to build a better politics, and a better Canada, for everyone.  

A samara is the winged "helicopter" seed that falls from the maple tree. A symbol of Canada, it is also a reminder that from small seeds, big ideas can grow.