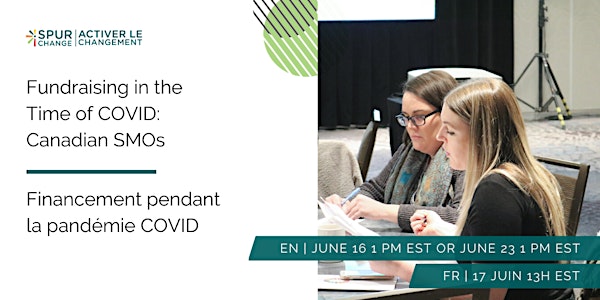 Fundraising in the Time of Covid / Financement pendant la pandémie de COVID
Fundraising in the Time of Covid: Canadian Global SMOs / Financement pendant la pandémie de COVID
About this event
Le français suit.
Fundraising in the Time of Covid is a uniquely created and designed workshop for small and medium-size organizations (SMOs) in response to the current pandemic.
Faced with a global health crisis and economic upheaval, SMOs are experiencing significant challenges in their approaches to resource development. This workshop invites participants on a facilitated learning journey to explore their organization's current situation, pivot their fundraising activities and design a way forward.
During this interactive and reflective workshop, participants will engage in their learning by:
Exploring crisis fundraising opportunities
Reflecting on lessons learned following the 2008 Great Recession
Assessing their organization's current funding position
Realigning 2020 fundraising goals
Reflecting on donor expectations
Examining online fundraising "good practices"
Creating an action plan for moving forward
Over the course of the 2.5-hour workshop, participants will draft their responses to the pandemic by drafting a Fundraising Action Plan. Following the workshop, participating organizations will submit their plans, receive written feedback, and have access to a one-on-one coaching call.
Workshop Details: This is the same workshop given three different times. You don't need to register for all of them.
Workshop 1 (English) June 16, 2020 – 1:00 to 3:30 pm (EST)
Workshop 2 (French) June 17, 2020 – 1:00 to 3:30 pm (EST)
Workshop 3 (English) June 23, 2020 – 1:00 to 3:30 pm (EST)
In preparation for the workshop, we ask that you:
Complete a pre-workshop survey which will guide our time together
Bring along your 2020 Fundraising Plan and any adjustments you made in your response to the pandemic
Selection criteria:
You correspond to GAC criteria as eligible SMO
You are an SMO that has a direct need in Fundraising in the Time of Covid: Canadian Global NGOs
You will be willing to commit up to 5 hours (2.5 hours for the online workshop, up to 2 hours for post Action Plan creation, and 1-1 coaching call).
Selection process
There is a maximum of 25 spots available for this workshop (in both English and French). The Spur Change Team will revise all the applications and will inform applicants no later than June 8th if they are selected.
Deadline to apply: June 4th, 2020 at 8 PM (EST)
***
Financement pendant la pandémie de COVID est un atelier spécialement conçu pour les petites et moyennes organisations (PMO) en réponse à la pandémie actuelle.
Face à une crise sanitaire mondiale et un bouleversement économique, les PMO connaissent des défis majeurs dans leur approche au niveau du développement des ressources. Cet atelier invite ses participant.e.s à prendre part à un cheminement d'apprentissage encadré afin d'explorer la situation actuelle de leur organisme, modifier leurs activités de financement et établir la direction pour aller de l'avant.
Au cours de cet atelier interactif qui porte à réflexion, les participant.e.s seront parties prenantes de leur apprentissage en :
Explorant les opportunités de financement en temps de crise
Réfléchissant aux leçons apprises suite à la Grande Récession de 2008
Évaluant la position financière actuelle de leur organisme
Réalignant les objectifs de financement 2020
Réfléchissant aux attentes des donateurs
Examinant les « bonnes pratiques » de collecte de fonds en ligne
Concevant un plan d'actions pour aller de l'avant
Au cours de cet atelier d'une durée de 2,5 heures, les participant.e.s feront une ébauche de leur réponse à la pandémie en faisant une esquisse d'un Plan d'actions de financement. Suite à l'atelier, les organismes participant.e.s soumettront leur plan, recevront un feedback écrit et auront accès à un appel individualisé de coaching.
Détails de l'atelier : Il s'agit du même atelier offert à trois différents moments. Vous n'avez pas besoin de vous inscrire à chacun.
Atelier 1 (anglais) 16 juin 2020 – 13 h 00 à 15 h 30 (heure de l'Est)
Atelier 2 (français) 17 juin 2020 – 13 h 00 à 15 h 30 (heure de l'Est)
Atelier 3 (anglais) 23 juin 2020 – 13 h 00 à 15 h 30 (heure de l'Est)
Critères de sélection :
Vous êtes éligible en tant que PMO selon les critères de Affaires mondiales Canada (AMC);
Vous êtes une PMO ayant un besoin immédiat de Financement pendant la pandémie de COVID : PMO canadiennes;
Vous vous engagez à 5 heures de travail (2,5 heures pour l'atelier virtuel, jusqu'à 2 heures pour la conception du plan d'actions ainsi qu'un appel personnalisé avec un coach).

Processus de sélection
Processus de sélection
Un maximum de 25 places sont disponibles pour chacun des trois ateliers (anglais et français). L'équipe d'Activer le Changement passera en revue toutes les demandes d'inscription et informera les candidats.e.s s'ils sont sélectionnés au plus tard le 8 juin 2020.
Date limite pour faire une demande d'inscription : 4 juin 2020, 20 h (heure de l'Est)