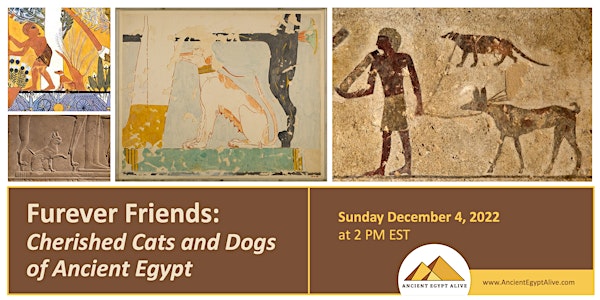 Furever Friends: The Cherished Dogs and Cats of Ancient Egypt
A special animal fundraiser for Ancient Egypt – new and updated content. All funds go to animal charities in Egypt.
Refund Policy
Contact the organizer to request a refund.
Eventbrite's fee is nonrefundable.
About this event
Did the Ancient Egyptians have beloved pets? Why did they worship cats and dogs, and what godly powers did they believe these animals held? What surprising ways were they depicted? Was it a good thing to be a dog, cat, cow or bird during the time of the pharaohs?
In celebration of World Animal Day, please join Egyptologist Laura Ranieri Roy for a fascinating and lively talk on the lives and times of cats and dogs in Ancient Egypt. We'll delve into the love Egyptians had for their pets, the role of the gods Bastet (cat goddess) and Anubis (dog god) and cover the curious customs and practices they followed. Our discussion will end with a couple of amusing folk tales popular in ancient times.
ALL PROCEEDS from this talk will go directly to Touch of Life Animal Sanctuary in Cairo - an excellent rescue desperately in need of funding today: www.facebook.com/TOLAnimalSanctuary
We hope you will join us for this fun and engaging discussion, sure to make you smile!
Please share widely - we hope to raise as much money as possible for this worthy charity.
Once registered, you can access the Zoom room for this experience through your confirmation email or Eventbrite account.
Laura Ranieri Roy (MA, Egyptology) is an Egyptologist, writer and found of Ancient Egypt Alive – a not-for-profit organization dedicated to promoting the extraordinary history of Ancient Egypt. She has taught, written and presented on Ancient Egypt subjects across North America and regularly leads Continuing Education courses at Ryerson University in Toronto. She has also worked with educators in the Toronto school system and presented to children between the ages of 8-16 years old. Furthermore, she develops and leads tours to Egypt and Egyptian art collections in museums across North America. She has excavated at the fascinating sites of Amarna and South Asasif in Egypt and in Greece. As a former actress and travel show host, she is passionate about story-telling and brings the fascinating history of Ancient Egypt to the public in a lively and engaging manner.