About this Event
The FUSE BC Executive Team proudly presents our third-iteration of the FUSE BC Annual Case Competition 2019 — Sponsored by UBC Social Enterprise Club! This competition will be open to all high school students grades 8-12 only. Delegates will be tasked with solving real world business problems through analyzing a case prompt, and prepare their solutions to present in front of a panel of industry professionals.
Unique to FUSE, our annual crisis challenge will be introduced to participants' business scenario part-way through working time, which teams will have to address in their final presentations as well.
Our annual competition offers an opportunity for learning, bonding, and networking. With a diverse set of business cases and crisis developments each year, participants are guaranteed a unique, fulfilling experience.
WHAT IS FUSE?
FUSE Society is a Canadian, youth-led non-profit organization that exists to bridge the gap between academia and the real world. Dedicated to fostering the next generation of leaders in business and entrepreneurship, FUSE Society works to provide youth with relevant, hands-on training in various industries through case-based projects. One of our core goals is to improve business literacy in youth, challenging them to think critically, communicate confidently, and develop innovative solutions to real-world problems. Founded in 2016, we currently have three flourishing chapters across Canada in BC, Alberta, and Ontario.
Through our opportunities for growth and leadership, our hope is that FUSE graduates will become world change-makers.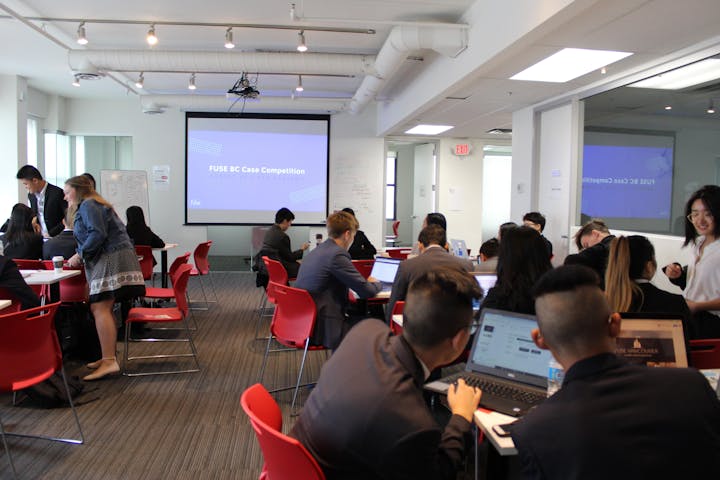 VENUE
UBC Sauder School of Business, Henry Angus Building
2053 Main Mall, Vancouver, BC
REGISTRATION DETAILS
Late Registration is now on for $20/person! To register with a team of 4, only one person needs to purchase 4 tickets ($80) and fill out the information accordingly on behalf of the team. Don't have a team? Not to worry, you can also register individually! Any registrants without a full team will be matched with other registrants who do the same. All teams will consist of 4 members only.
(Example: If you register with only one other friend (2 tickets), you will automatically be paired with other registrants who do not have a full team. The FUSE BC team will provide contact info to be exchanged between all parties in that case.)
**Late Registration ends on June 12th, at 11:59pm. No teams will be able to register after this deadline.
SCHEDULE — Sunday, June 16th 2019
8:30am-9:00am Registration
9:00am-9:15am Opening Ceremony
9:15am-9:45am Keynote Speaker
9:45am-10:15am Case Workshop
10:15am-10:30am Break
10:30am-11:20am UBC SEC Workshop
11:20am-12:00pm Lunch
12:00pm-3:00pm Case Released & Working Time
3:00pm-5:00pm Presentations
5:00pm-6:30pm Finalist Presentations
6:45pm-7:00pm Closing Ceremonies