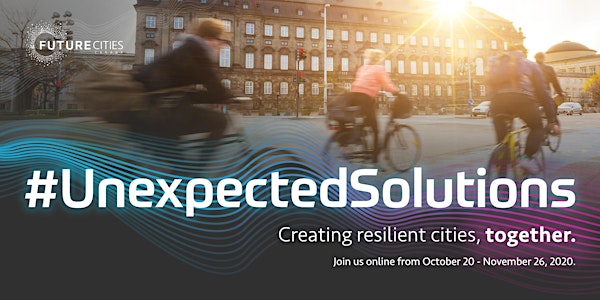 Future Cities Canada: #UnexpectedSolutions
Join us for a season of #UnexpectedSolutions, as we work to build & showcase innovations that will create cities where everyone will thrive.
About this event
Future Cities Canada: #UnexpectedSolutions features six weeks of thought-provoking keynotes, inspiring small workshops with industry leaders and creative networking opportunities.
Led by Evergreen, the weekly program features 80+ free virtual sessions from more than 150 speakers running October 20 through November 26, 2020.
Each week, choose between dozens of sessions for live participation or on-demand viewing.
Register now to catch up on the full schedule or see a few highlights of what is coming up next:
Coming up in Week 6:
Join Evan Siddall and Leilani Farha as they explore The Right to Housing in Canada: Housing as a commodity, as a fundamental human right, and as a heart of inclusive, connected communities
Reflect on who public spaces have been built for through TD Future Cities Speaker Series: Leading Beyond Limits: Creating Inclusive Spaces
Join a conversation about design, inclusion and investment in green school grounds through Learning Outside at Schools: Future, Fad, or Fantasy?
Critically consider the role that cities in Canada and around the world will play in helping realize Net-Zero 2050 targets by participating in Curbing Carbon: Global Economics of a Low Carbon Future alongside climate experts
Explore ideas shaping the next fifty years of Canada's infrastructure strategy with Jennifer Keesmaat, Chris Luebkeman, and MP Andy Fillmore by joining Building Our Urban Futures: Inside Canada's Infrastructure Strategy
..and many more!
More details on the speakers and schedule are available on our website.
www.futurecitiescanada.ca/unexpectedsolutions
By registering for this event, you agree to our code of conduct.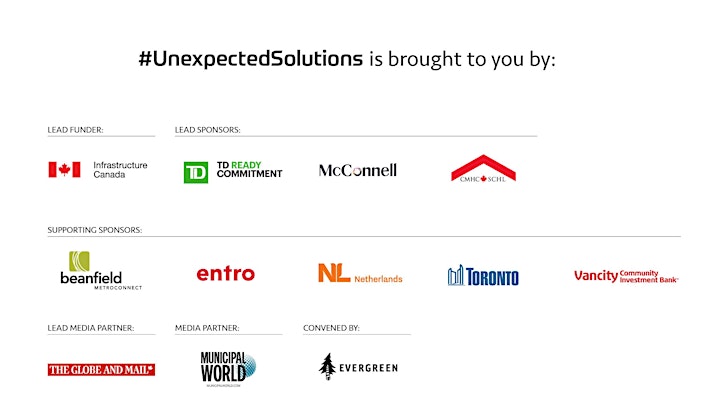 Content Contributors include our Sponsors, as well as:
BANK OF AMERICA
BLOX
CANADIAN STAGE COMPANY
CITY OF CALGARY
DELOITTE
ESRI
FRENCH CONSULATE
FUTURE OF GOOD
GERMAN CONSULATE IN TORONTO
HOT DOCS
MASTERCARD
MICROSOFT
Joignez-vous à nous pour une série de #SolutionsInattendues. Nous y discuterons d'innovations qui permettront de créer des villes où tous s'épanouissent.
Les #SolutionsInattendues consistent en six semaines de conférences favorisant la réflexion, de petits ateliers inspirants avec des leaders de l'industrie et d'occasions de réseautage créatives.
En prenant part à la conversation, vous pourrez créer des liens avec des acteurs de l'aménagement urbain qui abattent les cloisonnements dans nos manières d'améliorer nos villes et se consacrent pleinement à des projets audacieux et novateurs d'aménagement urbain partout au pays.
Vous préoccupez-vous surtout de L'adaptation aux Changements Climatiques? Ou bien les Logements et les Infrastructures sont-ils votre principal champ d'intérêt? Nous offrirons sept volets de contenu uniques qui vous permettront d'explorer les sujets qui vous tiennent à cœur.
Chapeauté par Evergreen, le programme hebdomadaire présente plus de 40 ateliers virtuels gratuits, du 20 octobre au 26 novembre 2020.
En vous inscrivant à cet événement, vous acceptez notre code de conduite.