Description
These are uncertain times. Sharing our direct knowledge of our experiences is crucial for us all to work smart during the coming months
Over the next three months, we're bringing the content of Future of Good to life with engaging and informative webinars, always starting at 12:00 pm ET 9:00 AM PT.
We're dedicated to providing you ideas, analysis, and commentary from real people who are actively taking on these new challenges around the world and right here in Canada, and to connect each other through engaging and insightful panel discussions with those shaping the world of social impact.
These one-hour conversations will help you navigate the changing landscape with confidence and learn from the impact of other organizations while mastering your understanding of new developments shaping the social sector.
OUR NEXT WEBINAR:
UPDATE: May 1 has been moved to May 4 in partnership with Tides Canada and Give5.ca and must be RSVP'd outside of this eventbrite.
RSVP here: https://bit.ly/Give5webinar
This is a once-in-a-century crisis. Charities play a critical role in communities across Canada, especially now with so many Canadians in need. Representing 8.1% of Canada's GDP, the charitable sector employs more than two million Canadians – and its health is under threat.

Each year, foundations are required to disburse 3.5% of assets to charities. The Give5 movement is a growing number of Canadian Foundations calling for hundreds more Foundations to commit at least 5% of their assets to the charitable sector; as during this historical crisis, 3.5% just won't cut it.

Join Tides Canada, Future of Good and the folks behind Give 5 for a one-hour conversation with leaders from Canadian public and private foundations and across the charitable sector to discuss:

• What the experts are projecting the impact of COVID will be on communities and the charitable sector
• How foundations have been able to increase their giving in response to this crisis
• What we want our legacy to be when we look back on COVID-19

The following panel, moderated by Vinod Rajasekaran, Publisher and CEO of Future of Good includes:
• Kris Archie, Executive Director, The Circle
• Carolynn Beaty, Director, The Sitka Foundation
• Joanna Kerr, CEO, Tides Canada
• The Honourable Ratna Omidvar, Independent Senator for Ontario
• Hilary Pearson, Philanthropy Consultant
• Eric St-Pierre, Executive Director, Trottier Family Foundation


UPCOMING WEBINARS:
That's the end of our webinar series so far. Got a topic you want to suggest? Contact community[at]futureofgood[dot]co.
PAST WEBINARS: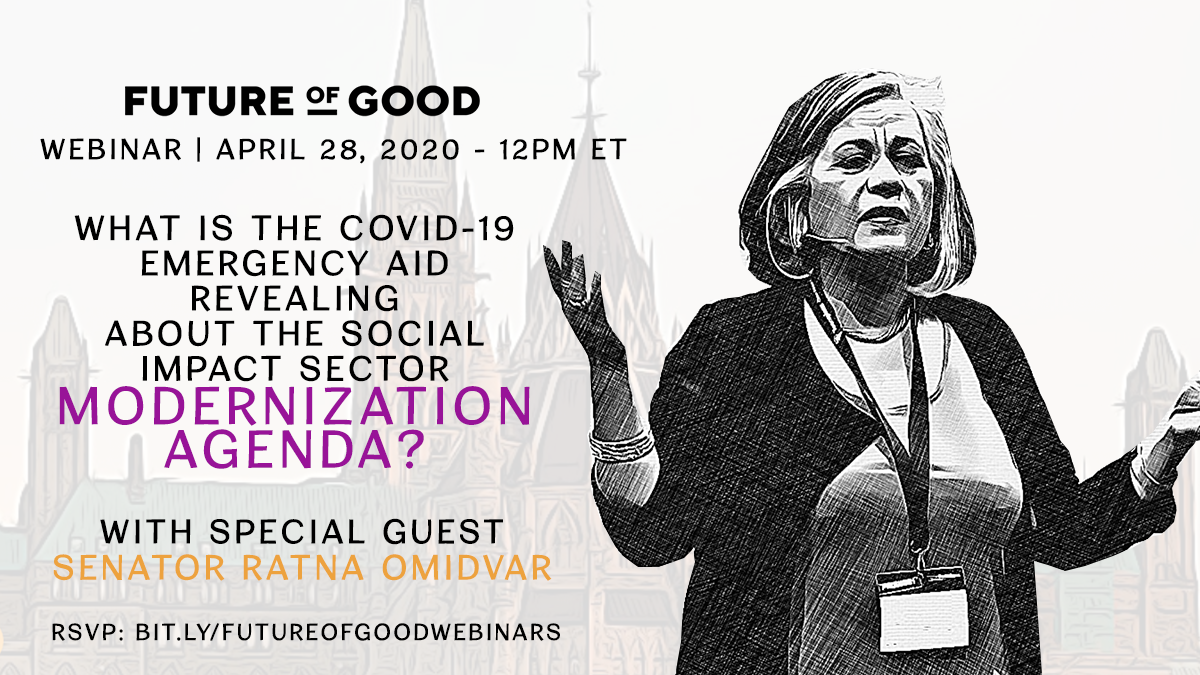 April 28: What the COVID-19 emergency aid is revealing about the social impact sector modernization agenda. Special guest: Senator Ratna Omidvar
Future of Good publisher and CEO Vinod Rajasekaran speaks with Senator Ratna Omidvar in an insightful, forward-looking conversation.
---
April 7: Serving the most vulnerable. How do we build systems for care and support when the world is forced into going digital and those we serve don't have access?
Panelists
Maureen James – Community Investment Program Manager – CIRA, Deirdre Gibson – Orillia Christian Centre o/a The Lighthouse. Project: Building Hope, Nasma Ahmed – Director, Digital Justice Lab, Joanna Kerr – CEO, Tides Canada, Landon Hoyt – Director, Binners' Project, Janet Fitzsimmons – Manager, Grassroots Leadership Strategies, Connected Communities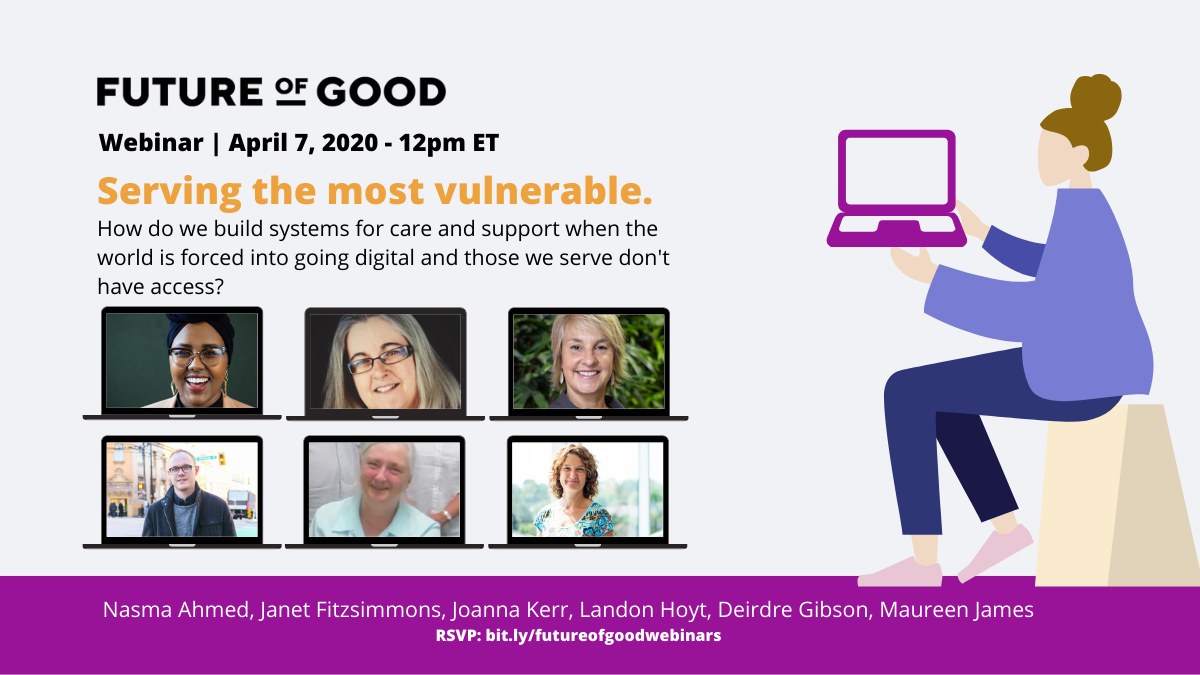 ---
March 27: What's missing in the federal government's aid package? We bring a panel of young leaders together and ask what's missing? What are you excited about with this funding? Where do we need more support?
Panelists
Alexander Dirkson – Vancouver, Cameron Choquette – Saskatchewan, Sydney Piggott – Toronto, Kevin Vuong – Toronto, Katie Miller – Ottawa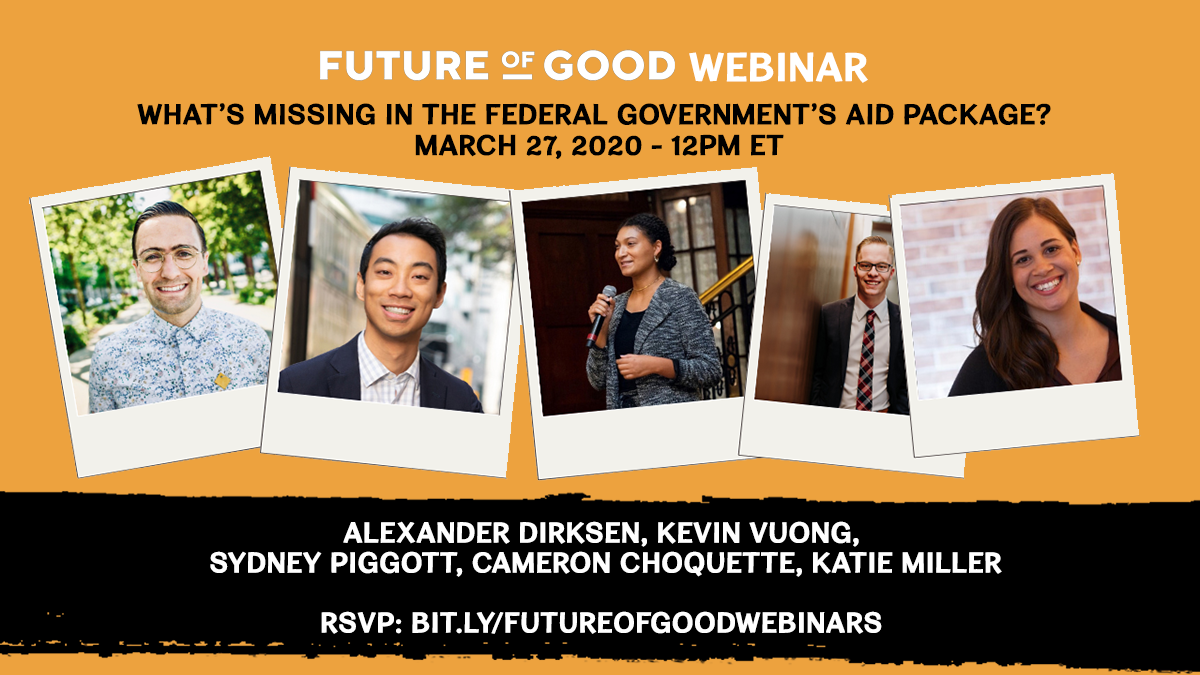 Organizer of Future of Good: Webinar Series
Future of Good is Canada's fastest-growing digital publication covering the social impact world.
We are the essential source of stories, analysis, and commentary that make sense of a world in transformation. Future of Good content illuminates how technology, money, places, work, and inclusion are changing social impact post-pandemic — from social services to philanthropy, HR renewal to volunteerism. We equip impact-focused professionals and entrepreneurs with insights that help them work smarter. Every week, thousands of people from the nonprofit, charitable, CSR, social enterprise, philanthropic, academic, and public sectors read our content.