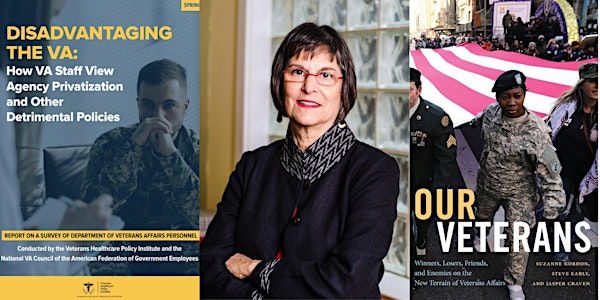 Future of VA Healthcare: with Suzanne Gordon
Award-winning author Suzanne Gordon will discuss Veteran Healthcare Policy Insitute's work to help strengthen and defend VA healthcare.
Date and time
Thursday, April 27 · 12 - 1pm PDT
About this event
UPDATE: The talk will be livestream (Zoom) only. There will be no in-person component.
https://us06web.zoom.us/j/87000071821?pwd=bFlESXArOHJCall6OG1XNldCaTRwdz09
When: Thursday, April 27, Noon to 1 PM
Where: NFFE Local 1 Livestream
Who's Invited: Open to all 
Guest Speaker: Suzanne Gordon, co-founder of the Veterans Healthcare Policy Institute (VHPI) and author of three books about the VA, including Wounds of War (Cornell University Press, 2019), which described how VHA staff deliver care that is often superior to that found in the private sector.
Discussion Topic:
The VHA delivers the highest quality care in the nation. It serves not only nine million veterans but all Americans, through its Fourth Mission work, world-renowned medical research, and clinical training of new doctors, nurses, and other healthcare personnel. Yet a recent national survey, assisted by VHPI, found that many VA staff members are worried about the future of our agency. Will its critical programs and services be properly funded and staffed? Will we be able to meet organizational challenges like helping a huge influx of patients with past toxic exposures, who are now eligible for VA benefits and medical coverage due to the PACT Act passed last year? Can we recruit and retain a new generation of dedicated and skilled care-givers to carry the torch for those of us now nearing retirement?
Our guest speaker, Suzanne Gordon, will discuss VHPI's work to help strengthen and defend the VA. She will also report on the findings and recommendations of a new report, called Disadvantaging the VA, which highlights the concerns of VA staff and patients. For more information on Suzanne, see https://www.Suzannegordon.com. For more information on the Veterans Healthcare Policy Institute, see https://www.veteranspolicy.org.
Presented By:
National Federation of Federal Employees Local 1. We are a democratic, member-led union representing over 1100 healthcare professionals at SFVAHCS. We fight for safe, healthy, and fair working conditions so we as healthcare professionals can focus on what matters most: providing high quality, compassionate public healthcare for Veterans and their families.
Disclaimer: The statements and views expressed during this meeting are the author's own and do not necessarily reflect the official policy or position of any agency of the U.S. government, the Department of Veterans Affairs, or the San Francisco VA Healthcare System.