Learn from legal and financial specialists about important considerations in creating a secure future for your child with a disability.
About this Event
During this webinar series, learn from legal and financial specialists about important considerations in creating a safe and secure future for yourself or your loved one with a disability. Various topics about future planning will be discussed including: estate planning, power of attorney and personal care & insurance and tax planning. The purpose of this webinar is to provide families more information on legal actions they can take about preparing for when their children live independent lives.
The webinars will include two presenters from Amy, Appleby & Brennan and Kindred Union who will facilitate discussion and provide information regarding legal steps to take in financial and estate planning.
SESSIONS
Session 1 - Estate Planning - Wills & Powers of Attorney
December 3, 2020 - 6:30 to 8:30
Why have a Will
Types and Wills
Planning Elements of Creating a Will
Succession Planning and the Law
Probate - Trustees and Executors
Guardianship and Public Trustee
Resource: Why Have a Will by Amy Appleby and Brennan
Session 2 - Estate and Planning - Trusts & Henson Trust
February 11, 2021 - 6:30 to 8:30
Trusts and Henson Trust
RDSP
Impacts of Trusts on ODSP Income
Capacity
Session 3 - Power of Attorney and Personal Care
Date April 20,2021
Covid-19 concerns and considerations
Advanced directives. DNRs and health care Power of Attorney
Medical Assistance In Dying (MAID) - New Legislation
Session 4 - Insurance and Tax Planning
Date June 22, 2021
Additional details to follow
For more information please email: info@bridgestobelonging.ca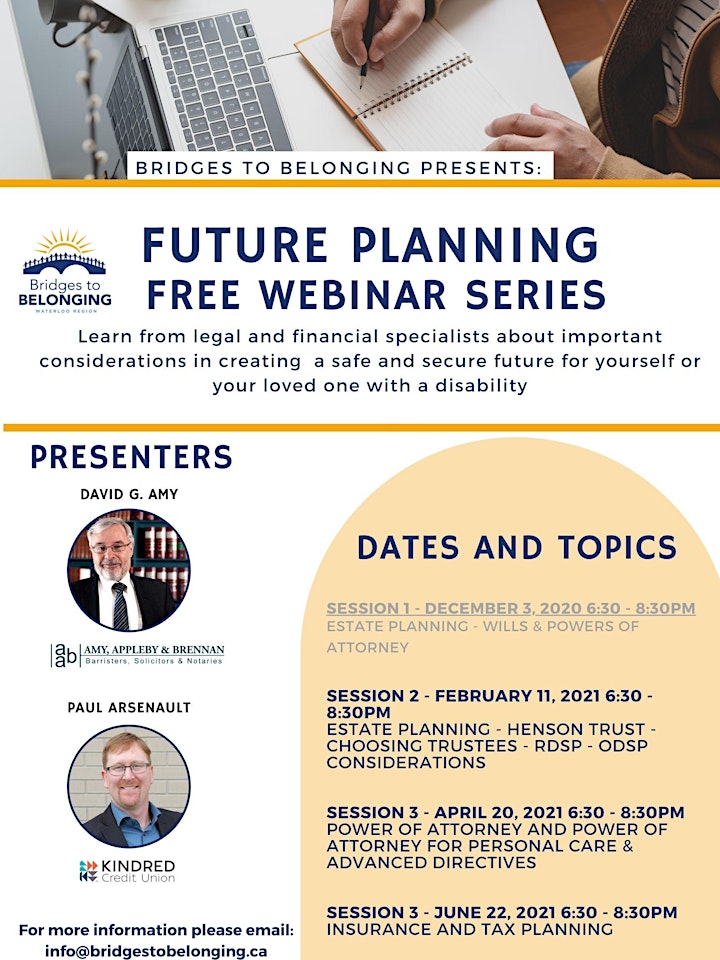 ABOUT THE PRESENTERS:
David G. Amy - Amy, Appleby & Brennan: Barristers, Solicitors & Notaries
David obtained a Honors BA in Business at Wilfrid Laurier University. He then graduated from Osgood Law School at York University and was called to the bar in 1977. He has been practicing law for over 40 years with his partners, Bill Appleby and Peter Brennan. He represents and advises a significant number of registered charities and not-for-profit corporations in many areas such as incorporation, corporate governance, foreign programming and charitable registrations. He also provides legal advice to a wide range of corporate and commercial clients. Through his wills and estates practice, David works with clients to assist them in making important decisions with respect to the preparation of an appropriate estate plan that addresses the wishes and legal obligations of the testator.
Paul Arsenault CFP®, PFP® - KINDRED CREDIT UNION
I have worked in various financial services roles as I built my career, achieving designations including: Personal Financial Planner (PFP); Financial Management Advisor (FMA); and in 2002 I became a CFP or CERTIFIED FINANCIAL PLANNER® professional. Outside of financial services, I have additional experience supporting my wife in her small business, setting up accounting software, etc.
I joined Kindred in 2015 because of the unique opportunity to align my work and my faith. I appreciate Kindred's devotion to the needs of their members. At Kindred, it's not about commission sales and the bottom line, it's all about what's best for the member.
As the financial planning manager, my goal is to bring valuable experience to our investment team to help coach them in providing excellent member service to members throughout southwestern Ontario. I have a genuine interest in learning more about our members.