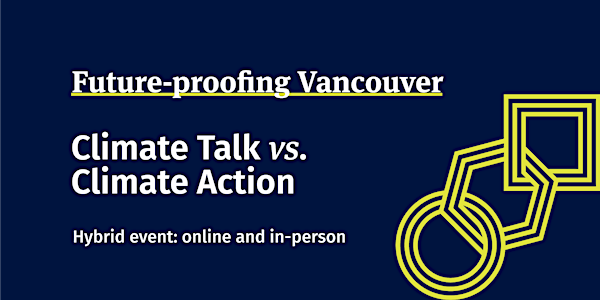 Future-proofing Vancouver: Climate Talk vs Climate Action (Hybrid Event)
Location
Virtual Event OR In-person at: Goldcorp Centre for the Arts - SFU Gastown
149 West Hastings Street
Vancouver, BC V6B 1H4
Canada
Where does Vancouver sit on its climate action and what unique advantages and challenges does Vancouver have?
About this event
Click here to join via Zoom (opens at 11:45)
Webinar ID: 627 5896 8276
Passcode: 409897
---
Climate change is already upon us. Right here in British Columbia, we've felt it in the record-breaking heat dome, ravaged salmon runs, and increasingly devastating wildfire seasons of recent years. With COP26 looming large, the question at hand is simple: what are we doing here in Vancouver to safeguard our planet, not just for ourselves, but for future generations?
The Vancouver Economic Commission (VEC) and SFU Beedie School of Business warmly invite you to join our representatives – VEC Manager of Economic Transformation George Benson and Andréanne Doyon of the Resource and Environmental Planning Program at SFU – along with Arman Mottaghi from Properate, David Oliver from Greenlines Technology, and Akua Schatz from the Canada Green Building Council.
Following a lively, moderated discussion with our panelists, we invite members of the live audience to engage in a Q&A on how we can best Future Proof Vancouver for Climate Change.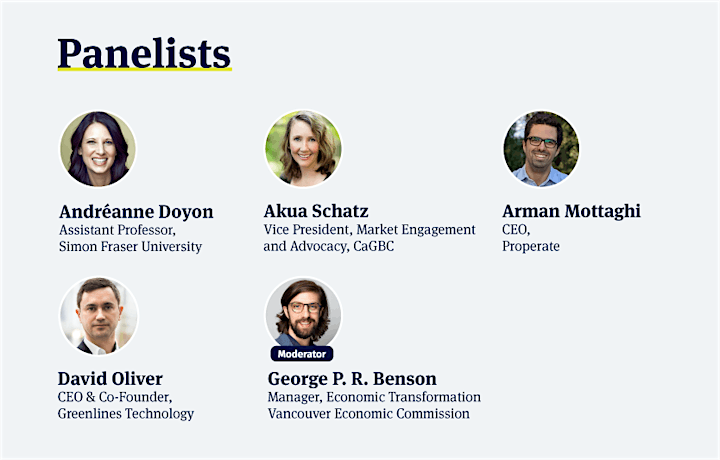 Learn more about the panelists by reading their bios.
Themes of economic transformation:
Where does Vancouver sit on its climate action and what unique advantages and challenges does Vancouver have?
The current and future roles that business and local government have in tackling climate change
How equipped is Vancouver and how do we best prepare Vancouver in tackling climate change?
What can you do to be a positive contributor in tackling climate change?
Agenda
12:00 PM Welcome
12:05 PM Opening Remarks and Introductions
12:20 PM Moderated discussion and audience Q&A
1:15 PM Event Close
Event Details
This is a hybrid event where attendees have a choice of attending virtually or in-person.
In-person: The in-person portion of the event will follow Public Health guidelines. All attendees will be required to wear a mask and hold a valid vaccine passport to attend this event.
Virtual: The event will be live-streamed for attendees who would prefer to attend virtually.
You may choose your preferred method of attending when registering for your ticket.
Other
This event is a presentation of VEC's Economic Transformation Lab (ETL). The ETL is an industry–academia research collaboration aimed at preparing us for anticipated impacts on Vancouver's economy. The program identifies and undertakes research on future trends to prepare Vancouver's economy for the next 10 to 15 years.