Sales Have Ended
Ticket sales have ended
Thank you for your interest. Stay tune to our next REPEAT Dental Externship Module #4!
Event Information
Refund policy
Refunds up to 7 days before event
Eventbrite's fee is nonrefundable.
Sales Have Ended
Ticket sales have ended
Thank you for your interest. Stay tune to our next REPEAT Dental Externship Module #4!
FutureDMD Interactive Dental Shadowing Externship (Module #8) - Pediatric Dentistry 101
About this event
(MODULE #8 ) - Pediatric Dentistry 101 (Management & treatment of primary teeth)
Happy Days!
For those who's completed Module #1,2 , 3, 4,& 5A/B, 6A/B, & 7 a huge congrats! We have deep dived into Orthodontics, Restorations, Oral Surgery, Periodontics, Prosthodontics, Implant Dentistry & Endodontics!
(No worries, for those that have missed our previous modules, visit www.futureDMD.com for the complete recordings)
In Module 8, we are excited to share with you a challenging but entertaining discipline of dentistry: Pediatric Dentistry 101
Why would is it challenging yet fun? Because treating a children's teeth is quite different than treating an adult! Understanding a child behaviour and managing their fear are crucial to becoming successful pediatric dentists!
You can expect to learn:
1. Difference between primary (baby) vs permanent (adult) dentition. (Anatomy and eruption)
2. Strategies to manage children's fear of dentistry
3. Diagnosis & Treatment of primary teeth
BONUS: Dr. Irena, our expert FutureDMD mentor, will share her passion in treating children in her dental practice. She will take you through the fundamental concepts of Pediatric Dentistry and showcase real clinical cases to allow each of you to "think like a dentist!"
If you're ready to explore this exciting topic, register now to join us! (Limited Seats)
________________________________________
I am Dr. Bruce, founder of FutureDMD. I am a full-time practicing dentist in beautiful Vancouver, Canada, and a proud 2015 graudate of the Doctorate of Dental Medicine program at University of British Columbia.
You may be asking, what the heck is this FutureDMD Dental Externship some pre-dental students have been raving about?
This program is designed by a group of passionate dentists, catered to cultivating the next generation of dentists. You can expect nothing short of awesomeness.
Let me sum it up for you (we know you're busy with studying...).
After you've attended all 8 modules to complete the externship program, there are 5 guarantees that we promise all our participants:
1. Gain infinitely more certainty of WHY (or why not) YOU have chosen to pursue dentistry. (before you invest your whole life, and hundreds of thousands of dollars into a profession you may hate...)
2. Gain more knowledge about the dental profession from our case discussions than through dental shadowing or other virtual shadow experiences
3. Improve your ablility to construct a personal statement and dental school application that is unique. (Only because you've strengthened your WHY and have developed a deeper understanding of the qualities of a great dentist)
4. Develop confidence in preparing for the dental school interviews through understanding of the core competencies that are taught in each modules.
5. Gain valuable insight from over 10+ FutureDMD Dentist mentors (an ever growing team) who are dedicated to actively support your success.
(And yes, the externship hours are verified hours for dental shadowing.)
If THAT hasn't convinced you enough then we don't know how else to help you...
(Just kidding, feel free to keep reading.)
So, why have YOU chosen to dedicate your entire life to pursuing dentistry as a career? It is a big decision. When I was a pre-dental student, most of the dental shadowing experiences did not provide me with profound insights nor the opportunity to truly connect with a dentist who helped me gain an authentic perspective on the profession.
Why should you participate in the FutureDMD's Interactive dental externship when there's so many free resources offered online?
After the feedback from over 500+ pre-dental university students, we have heard that the content can be repetitive, and did not define their WHY deeper. Therefore, we have simplified, and customized a shadowing experience that will provide the most value for students aspiring to be dentists.
Here are 3 reasons WHY:
1. Unlike any other shadowing events, this is an externship event. In each event, our FutureDMD Doctor Mentors will be speaking to you like our future colleague, not like a shadow. We want to train you to systematically think like a dentist. Only by using your forebrain, you can experience what it truly feels like to be a dentist. We will be utilizing Zoom breakout rooms, and open communication format to facilitate critical thinking for all participants.
Unfortunately, most traditional virtual shadowing hours are not accepted by dental schools because students are not given the opportunity to think critically. Each of our externship modules will likely meet the criterias of dental schools for being quality shadowing experiences.
2. 8 monthly externship modules: Using real Patient Case Studies, we will be uncovering all the disciplines of dentistry (orthodontics-Braces/Invisalgn, restorative/cosmetics, pediatrics, endodontics, prosthodontics, oral surgery, periodontics, oral pathology). We will simplify complex concepts of the oral health in a language all pre-dental students will learn to understand. The intention here is to give students a comprehensive overview of the dentistry as a career, while providing an authentic insight about the profession from our doctors. (Each module will be released monthly, stay tuned for dates on social media )
3. Developing and identifying core competencies. There are a handful of core competencies that all dental school admissions look for in your application process and even interviews (whether panel, MMI or group based style). This includes competencies like professionalism, communication, ethics….and in each module, we will be developing your understanding of these core competencies through our case discussions.
(PS: there will be a surprise bonus at each event, such as different mentor doctors joining us each session!)
WHO is this externship event for?
This externship is designed for any pre-dental student, from university to high-school students who aspire to become a dentist!
Shadowing/Externship hours are verifiable for all participants. Over the course of the 8 modules, you will accumulate at least 12 hours of verified hours.
If you complete at least 6 of 8 modules, you can receive a certificate of completion from the FutureDMD Dental Shadowing Externship program on request.
We will be limiting capacity to first 300 students. (We may have a repeat session if capacity is reached).
Below are some incredible reviews from pre-dental students:
You may ask, what's in it for you Dr. Bruce? What is your WHY?
We have two intentions, both involving the act of service.
1. We want to cultivate our next generation of passionate and caring dentist. FutureDMD strives to make a true impact on the profession by inspiring one pre-dental student at a time.
2. Fundraising and giving. Proceeds will be donated to making a profound difference to someone around the world. (On top of the donations I have personally supported, I will additionally match all donations made by everyone to double the impact.)
Currently we are fundraising to continue all efforts to supporting one more family in India every week who have been profoundly impacted by the pandemic. Many people are suffering around the world, includings families in the slum areas of Delhi, India, who have been devastated by CoVid-19 with no support from government or any charitable entities. Often $200-$250 is all a family needs to pay for rent, food and all necessities for an entire month.
(https://gofundme.com/f/feeding-families-in-delhi)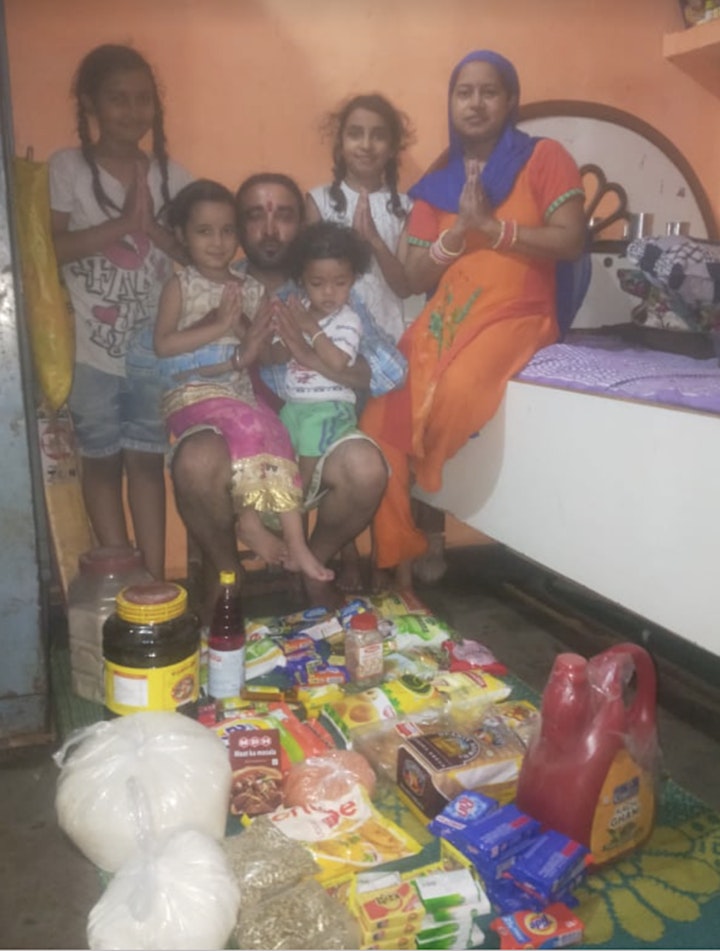 FutureDMD is about making a positive impact in this challenging world we all live in, one person, one family at a time.
You can follow the life-changing impacts on families we have made on FutureDMD website or instagram page.
NOTE: Once you have registered, you will be securing a seat in the module 8 of this externship series. The Zoom link will also be provided in the follow up email order confirmation page under additional information. You will also be receiving reminders before the event for the link.
DISCLAIMER: This module will be RECORDED to be released to only our FutureDMD Community who have a valid registration. We will make efforts to censor names, and faces, however by attending you are consenting to be part of the interactive recorded session.
Look forward to our mentorship journey together!
Best,
Dr. Bruce
www.futuredmd.com
futuredmd321@gmail.com
Instagram: @future.dmd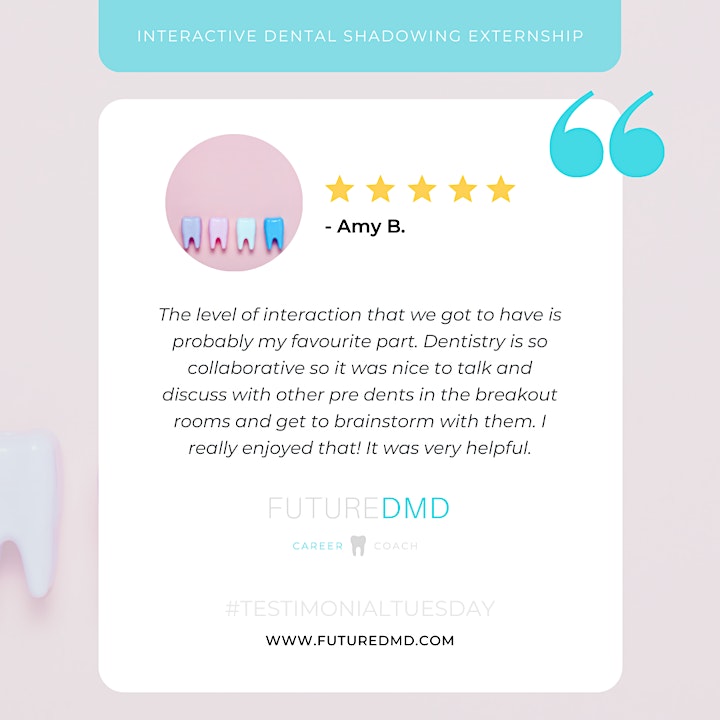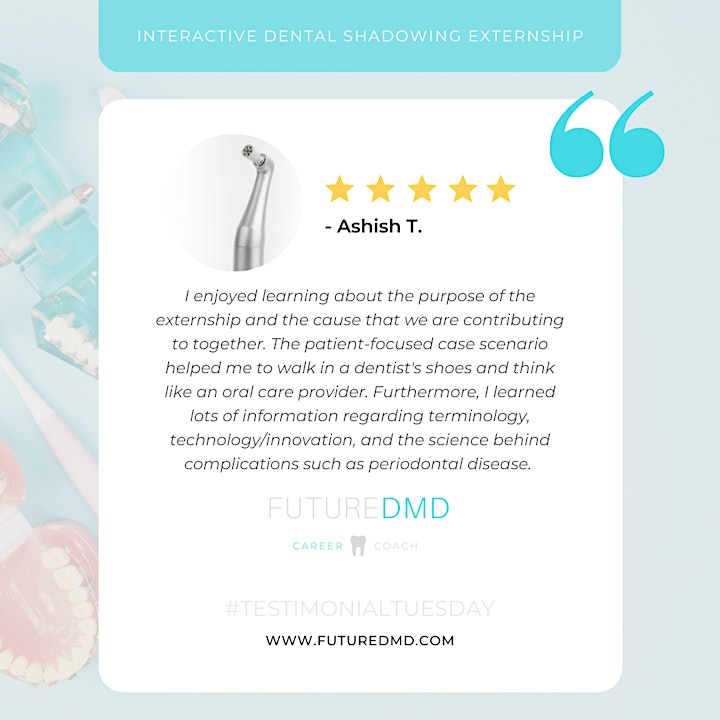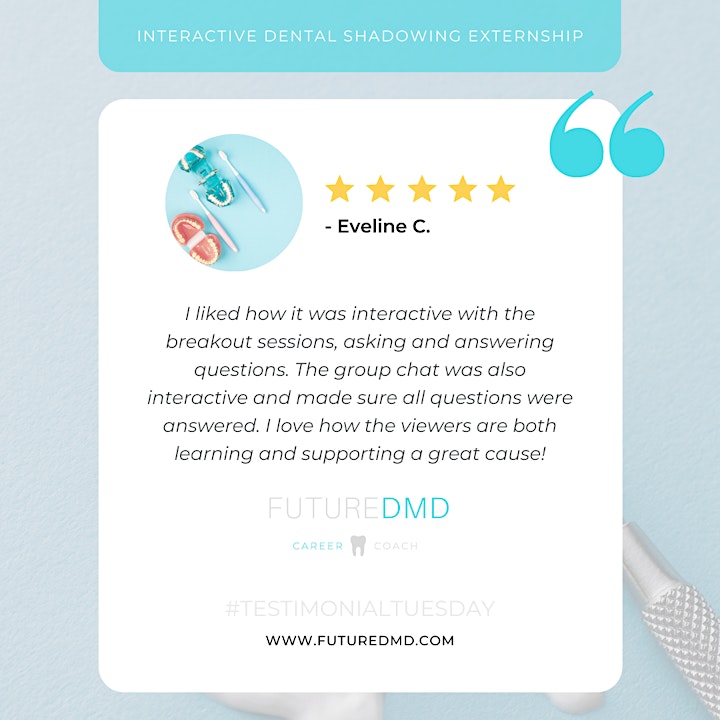 Date and time
Location
Refund policy
Refunds up to 7 days before event
Eventbrite's fee is nonrefundable.