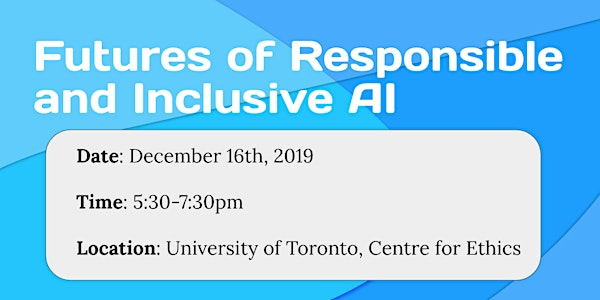 Futures of Responsible and Inclusive AI: part 2
Explore concerns & connect with informed individuals on the social impacts of AI
When and where
Location
15 Devonshire Pl 15 Devonshire Place Toronto, ON M5S 2C8 Canada
About this event
Could the uptake of AI lead to greater levels of inequity?
Can we develop AI in ways that boost equity & opportunity?
As AI becomes increasingly embedded into our daily lives, how might we foster diversity & inclusion in its development & governance?
These questions are increasingly pressing, yet answers remain unclear.
December 16th | 5:30-7:30pm
The Centre for Ethics is located on the second floor of the Larkin Building, 15 Devonshire Place, Toronto, ON in the Centre's Seminar Room, 200 Larkin.
Address details: https://ethics.utoronto.ca/people/
This is a continuation of the November 6th workshop. This event will be focused on specific Futures not covered in the 1st event and will be limited to a smaller audience.
Presented in partnership with:
Montreal AI Ethics Institute is an international nonprofit think tank helping people build & navigate AI responsibly. Our mission is to help define humanity's place in a world increasingly characterized and driven by algorithms. We do this by creating tangible and applied technical and policy research in the ethical, safe and inclusive development of AI.
Location provided by:
The Centre for Ethics at the University of Toronto, where conversations about ethics happen, sits at the interface between academic research and public discourse. An interdisciplinary centre aimed at advancing research and teaching in the field of ethics, broadly defined, C4E seeks to bring together the theoretical and practical knowledge of diverse scholars, students, public servants and social leaders in order to increase understanding of the ethical dimensions of individual, social, and political life.
Facilitators :
Tania De Gasperis a multi-disciplinary designer and a member of the Adaptive Context Lab at OCAD University where she is completing her Master of Design in Strategic Foresight and Innovation. Her graduate work focuses on exploring an Agile AI Governance Framework for Socially Responsible, Complex Adaptive Systems. She is also a researcher and facilitator for the Montreal AI Ethics Institute. Tania is the Co-Founder of OUIO, a Futures-Driven Design Studio.
Chelsey Colbert is a privacy and AI lawyer at Fasken and is on an offsite work assignment at Sidewalk Labs. For the past year and a half, Chelsey has worked on Sidewalk Labs' privacy and data governance team, where she oversees privacy compliance with local and international privacy laws, has worked on the proposal for the Toronto project, and is developing Sidewalk Labs' approach to responsible AI.
Event Details:
We'll begin sharply at 5:30pm
Attendees will be expected to participate in small groups and discuss various questions and themes.
Session Objectives:
Engage participants in an exercise of long-term thinking about emerging AI governance
Shift mindsets to understand how long-term planning can be used for considering social impact
Following the conclusion of this project, an email will be sent to the participants to see the results. The project will include a consolidated report of the canvases used during the workshop and any media captured.
NOTE: This event is being documented to be shared as part of a Major Research Project at OCAD University. This event is not affiliated with Sidewalk Labs and we welcome diverse perspectives .Your attendance indicates consent to photo documentation and a record of workshop results to be included. Workshop feedback will be evaluated securely and confidentially. Your images will not be used for any other purpose. You will have an option to opt out of the photography if preferred.