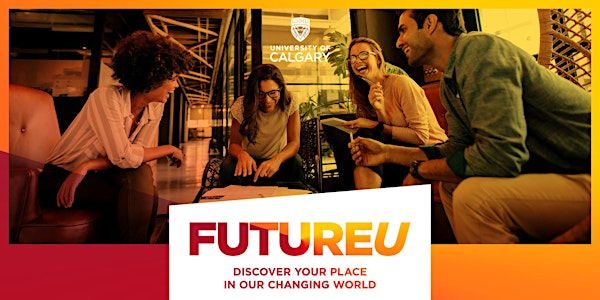 FutureU Climate Talks: Inspiring a Changemaking Culture
FutureU Climate Talks: Inspiring a Changemaking Culture
When and where
Location
University of Calgary Taylor Institute for Teaching and Learning Forum 434 Collegiate Boulevard NW Calgary, AB T2N 1N4 Canada
About this event
How can art, storytelling, and education transform our culture and inspire us to take action on climate change?
UCalgary students are invited to join us on Wednesday, February 12 to participate in a discussion with innovators working to transform our culture, leading exploratory conversations with students about what it means to work on climate action, and what it takes to make a positive impact.
As a participant you will have the opportunity to learn from some of Calgary's leading researchers, inventors, business leaders, and change-makers. A comprehensive list will be available soon.
Together, we will discover new ways of understanding the challenges we face and how we might overcome them. This event will provide:
A deeper understanding of the challenges we face and the opportunities for solutions,
Connections to mentors and others students who are working to make an impact,
Insights into how to develop a career working on climate change,
Clear next steps should you wish to learn more.
Agenda
5:30-6:00 p.m.: Registration and light refreshments
6:00-8:00 p.m.: Workshop
Speakers Include:
Alla Guelber, The Meaningful Work Project
Jeremy John Escobar Terio, University of Calgary
Nick Kendrick, GreenLearning Canada Foundation
Byron Miller, University of Calgary
Thana Boonlert, Protect our Winters
Gwen Blue, Environmental Media Lab
Melanie Kloetzel, kloetzel&co.
Rob Sinclair, Conscious Brands
Vicki Stroich, Alberta Ecotrust Foundation
Sarah Skett, University of Calgary
Amanda Mosca, University of Calgary
About FutureU
FutureU is a Innovation@UCalgary initiative that invites students to discover the world of innovation through hands-on learning and community-based activities. Students are provided with opportunities to explore emerging trends and ideas, meet engaging leaders from on and off campus, develop future skills for the knowledge economy, and think about their place in the world beyond the classroom. Our goal is to help students to build a sustainable life working on challenges they care about.