Introduction to Haitian history and culture. 9 sessions online every Saturday from 1 pm to 2 pm from February 6th to April 9th 2021.
About this event
Let's discover the Haitian culture and history through different activities focusing on 8-12 years although it's good knowledge for all ages.
Our goal is to empower black youth. Our message is therefore communicated through dances and stories while introducing important historic figures. Since we want the youth to know about how rich and beautiful their heritage is.
This will be a hybrid course. Live and pre-recorded sessions are to be expected. A live question & sessions will be held at the end.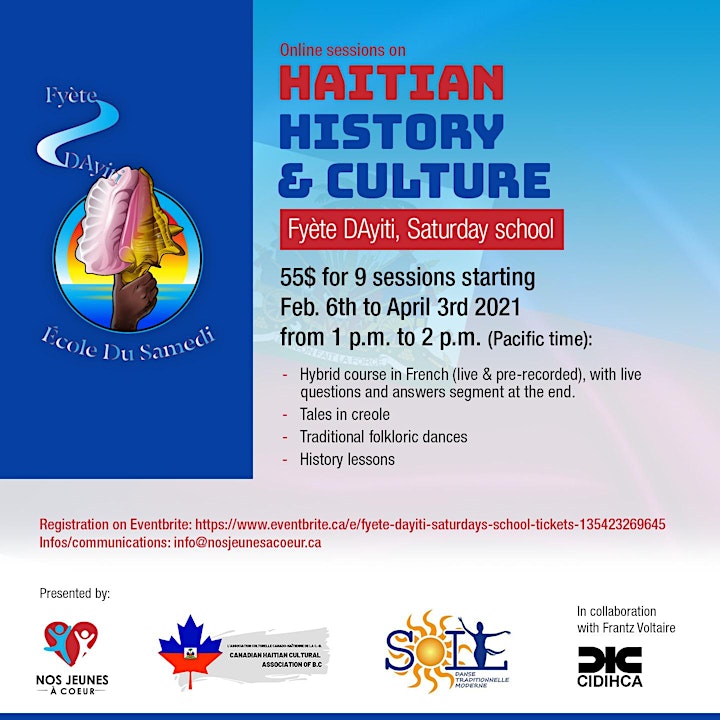 Organizer of Fyète d'Ayiti Saturday's school
The Canadian Haitian Cultural Association of British Columbia (CHCABC) works hard to facilitate the participation of everyone, near and far, who want to partake with us in celebrating our rich heritage.
L'Association Culturelle Canado-Haïtienne de la Colombie Britannique (ACCHCB) a comme mandat de faciliter la participation de tout un chacun, de près ou de loin, qui voudrait se joindre à nous pour célébrer notre riche héritage