G Day Vancouver 2018

Monday, 7 May 2018 from 9:30 AM to 4:30 PM (PDT)
Event Details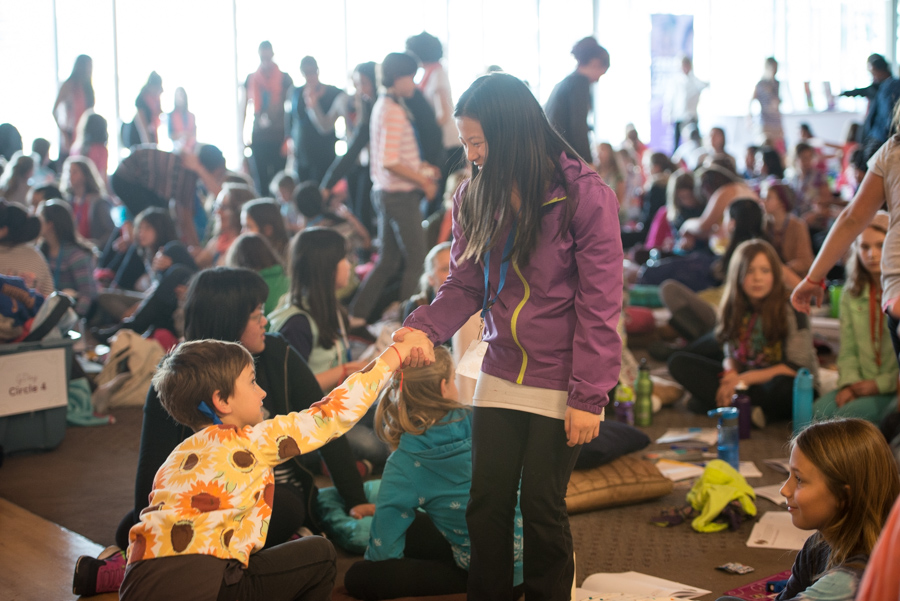 Welcome to the 8th G Day!
G Day is a rite of passage event series that celebrates the transition between childhood and adolescence in tween girls ages 10 to 12. G Day is a fun, unique experiential learning experience that includes parents and other supportive adults in girls' lives that nurtures the development of positive self-esteem, peer and family relationships in a community context.
What happens at G Day?
Our day begins when we gather as a metaphorical "Village", with facilitated intergenerational conversations and singing. The middle third of the day offers separate programming for girls (includes interactive presentations, creative activities and yoga), while adults hear from local parenting experts and have the opportunity to ask questions and share their experiences. The final third of the day reunites the two groups in an inspiring ceremony, followed by a mini dance party and dessert.
Important notes
Ticket price includes nutritious snacks, tea and coffee and a sweet treat.

All food items provided will have nut-, gluten- and dairy/animal ingredient-free options. Please feel free to bring whatever additional nourishment works best for you and your family.

LUNCH IS NOT PROVIDED. Girls and Adults must bring their own NUT-FREE lunches. 

Sponsored tickets and special needs assistance is available for families who would not otherwise be able to attend. Please follow this link to let us know how we can make it possible for you to join us.

Monday May 7th is a North Vancouver professional development day.

Early Bird tickets are on a limited, first-come, first-served basis!
Please check the G Day website for more information on featured Presenters, what to bring, parking/transit, drop off/pick up, schedule, etc. Please see The Polygon Gallery website for information about the venue.
By purchasing a ticket, I acknowledge that: (1) Registration opens at 9:30am. Program begins at 10:00am sharp. Please allow at least 20 minutes for registration. (2) The child I am registering is between the ages of 10 and 12, or born in 2006 - 2008. (3) Girls are required to remain on site from arrival to 4:30pm; G Day and its agents assume no responsibility for children who leave the site without permission. (4) In the event that a Girl is injured, ill, or in need of medical attention and I am unable to be contacted, I authorize G Day to seek medical attention on my behalf. (5) I am aware of the expectation for G Day participants to respect the emotional and physical safety of other participants. Parents or guardians will be informed if Girls' behaviour does not reflect this standard. Any participant who puts the safety of others at risk may be asked to withdraw from the event without refund. (6) G Day and its partners and sponsors are held harmless from any liability resulting from Girls' participation in the event. (7) I will arrange safe travel for my child to and from G Day, and acknowledge that the providers of this event are not responsible for my child outside of the specified start and end times of the event. (8) I am aware that there exists an element of personal risk and/or damage and/or injury in the activities, and willingly agree to assume responsibility for those risks as a condition of registering for the event. (9) Tickets can be transferred or refunded up to 7 days prior to the event.
When & Where

The Polygon Gallery
101 Carrie Cates Court
North Vancouver, BC V7M 3J4
Canada

Monday, 7 May 2018 from 9:30 AM to 4:30 PM (PDT)
Add to my calendar
Organizer
The United Girls of the World Society (UGW) is a Vancouver-based registered charity whose purpose is to address and prevent problems faced by girls and women by providing mentoring programs, workshops and seminars for parents, children and youth on issues affecting the well-being of girls and women.
UGW's primary activity is presenting G Day, a national rite of passage celebration series for tween girls and their parents and other supportive adults in their lives.
Learn more at gday.world