Join us as we share stories about Gaelic language, history, culture and people. Ur Beath' A-staigh. You are welcome in the house.
About this event
Bun os cionn
Ask not what you can do for Gaelic—Ask what Gaelic can do for you!
April 23, 7:00-8:30 pm (ADT)
Host: Mike Kennedy
Guests: Màiri Britton & Kenneth MacKenzie
When connected with a language and culture that has suffered centuries of repression and neglect, it is easy to become overwhelmed at the scale of the needs, the lack of support, and its prospects for survival. We reversed the thinking behind John F. Kennedy's famous exhortation "ask not what your country can do for you," in order to flip that Gaelic narrative on its head for a moment. What might we envision if we take a break from the question of what we can do for Gaelic, to consider, instead, the equally mighty question of what can Gaelic do for us? Please join us and share your stories, big and small, of how Gaelic culture already enriches or might enrich your life.

Màiri Britton - Màiri's love of Gaelic was sparked at the age of five through attending the local Fèis in her hometown of Edinburgh. Since then, it has been a guiding star in her journey to the Hebrides, Ireland, and now to Canada where she is deeply involved in the Gaelic community of Nova Scotia. She is a Gaelic language instructor at St. Francis Xavier University, and teaches classes and immersion courses in the community and for Colaisde na Gàidhlig. She is also the manager of the Nova Scotia Gaelic song project, "Language in Lyrics" at Cape Breton University. A Gaelic singer, step dancer and harpist, Màiri tours and records with the Gaelic trad group, Fàrsan, and has been lucky to teach and perform across Europe and North America. She is often happiest at small community gatherings and loves visiting with local Gaels and Gaelic elders to learn from their store of songs, stories and cultural wisdom.
Kenneth MacKenzie - Kenneth is the Director of Education at Colaisde na Gàidhlig | The Gaelic College and Vice-President of its new campus, Beinn Mhàbu. He was born and raised in a Gaelic speaking family in Mabou, plays the fiddle and pipes and is an experienced music and language teacher. Kenneth is a professional engineer with a background in civil, environmental and biomedical engineering. He has been instrumental in the establishment of early years' Gaelic language programming in central Inverness County, is working with a committed group to establish North America's first Gaelic immersion school and is the Chair of Comhairle na Gàidhlig | The Gaelic Council of NS. Kenneth lives in Mabou, Inverness County with his wife Jenny, where they are raising their three young children with the language.
About Air Chéilidh | The Gaelic Narrative Project
For many English speakers, céilidh conjures up images of a musical gathering in a hall or pub where you pay to be entertained. But in Scottish Gaelic, a céilidh is a visit, where news is exchanged, stories and maybe some tunes or songs are shared, along with tea and a bite to eat. A céilidh is a participatory affair, where you leave a bit more knowledgeable and uplifted than when you arrived. It is time well spent.
We warmly invite you to join us as we share stories about our connection with Gaelic language, history, culture and people. Whether you are totally new to the language and culture with no family connections, grew up among Gaels but don't speak the language, or a fluent speaker, there is space for everyone to explore what Gaelic language and culture means to you, our community, and our world.
We'll practice Gaelic hospitality as we hold space for everyone's story, weaving together a multi-coloured blanket to keep us warm in the challenging times of a pandemic and uncertain world.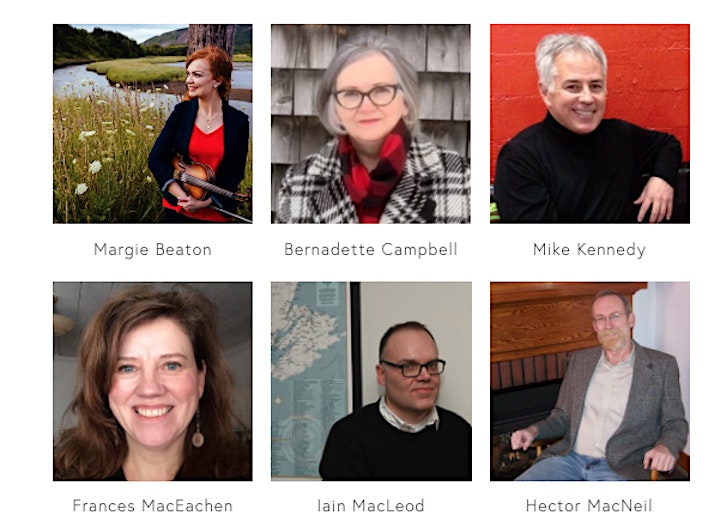 The Gaelic Narrative Project is a collaboration between How We Thrive and the Gaelic community living on the land now called Nova Scotia, the ancestral, unceded territory of the Mi'kmaq. The project is supported by the Province of Nova Scotia through the Department of Communities, Culture and Heritage Support4Culture program.