Join us as we share stories about Gaelic language, history, culture and people. Ur beath' a-staigh. You are welcome in the house.
About this event
Gu leòr | It takes a village
Host: Mike Kennedy
Friday, January 21. 7:00-8:30 pm AST
It takes a village to raise a child — to nurture them and give them a language, a culture, a system of beliefs and a sense of identity, purpose, and community. As that child grows, they will, in turn, nurture the community. At one time, the community was a place where politics, laws, education, medicine, material culture, economy, work and folkways, legends, literature, music, song, dance, and belief systems all flowed from a Gaelic well and reinforced a sense of Gaelic identity. Our horizons have narrowed considerably since that time.
So it's worth asking, what is the state of our Gaelic village today? What gives us a sense of community and identity and is it enough to sustain us and to pass on something meaningful to the next generation? Do we expect too much or too little? What is enough?
Guests
Join us as Rodney MacDonald (Cape Breton fiddler, step dancer and President of Colaisde na Gàidhlig) and Angus Brendan MacNeil (Barra Crofter, Native Gaelic speaker, and Member of Parliament for Na h-Eileanan an Iar | The Western Isles) share their perspectives on what it was like growing up in Gaelic communities on either side of the Atlantic—what made them feel rooted in their community, what changes they have seen in their lifetimes, and what hopes they have for the future.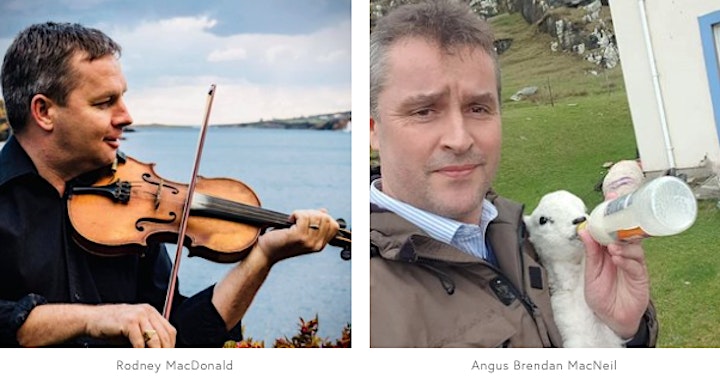 Rodney MacDonald
Rodney MacDonald is the President of Colaisde na Gàidhlig | The Gaelic College. He was raised in Mabou, Nova Scotia, and is descended from notable tradition bearers in piping, fiddling, and dancing, who trace their roots back to Lochaber, Scotland. He continues to uphold the Lochaber-descended Mabou Harbour and Mabou Coal Mines styles of stepdancing and fiddling, respectively. Rodney began his working career as an educator before switching to politics, becoming in turn, MLA (Member of the Legislative Assembly of Nova Scotia) for Inverness, Minister of Tourism, Culture & Heritage, amongst other portfolios, and the 26th Premier of Nova Scotia. Since retiring from politics, he has focused on initiatives to support the continued evolution and growth of Gaelic in Nova Scotia, such as the ongoing programming at Colaisde na Gàidhlig and the new Beinn Mhàbu Campus, which will create a Gaelic learning environment for young adults in Mabou. Rodney lives in Mabou with his wife, Gayle, and is the proud father of Ryan, Sadie, Angus Finlay, and Cassie.
Angus Brendan MacNeil
Angus Brendan MacNeil is the Member of Parliament for Na h-Eileanan an Iar | The Western Isles. He was raised in Barra as a native Gaelic speaker and was immersed in many Gaelic cultural activities growing up, including the sport of Camanachd | Shinty. His mother was the district nurse in Barra and cared for the island's last monolingual Gaelic speakers. Angus Brendan began his working life as a civil engineer and a reporter for the Gaelic division of Radio Scotland, before becoming a Gaelic Medium teacher in Lochaber, splitting his time between schools in Salen and Acharachle. In 2005 he was elected as MP for Na h-Elieanan an Iar | The Western Isles, a post he continues to hold, splitting his time between his constituency in the Western Isles, his croft on Barra, and his parliamentary duties in the remote city of London. Angus Brendan also has strong family ties to the Washabuck area of Cape Breton, an area settled by Barra immigrants in the early 1800s, which he has visited on several occasions. He has three daughters all of whom are Gaelic speakers.
In case of storms
If a session is canceled due to power outages or other circumstances beyond our control, we will notify all registrants by 5:00 pm AST on the scheduled day.
The Air Chéilidh team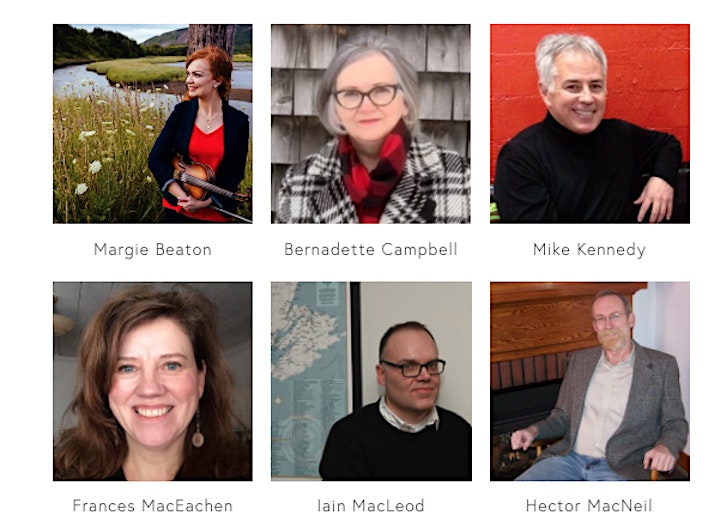 About Air Chéilidh | The Gaelic Narrative Project
Imagining new possibilities for Gaelic in our life and community
For many English speakers, céilidh conjures up images of a musical gathering in a hall or pub where you pay to be entertained. But in Scottish Gaelic, a céilidh is a visit, where news is exchanged, stories and maybe some tunes or songs are shared, along with tea and a bite to eat. A céilidh is a participatory affair, where you leave a bit more knowledgeable and uplifted than when you arrived. It is time well spent.
We warmly invite you to join us as we share stories about our connection with Gaelic language, history, culture and people. Whether you are totally new to the language and culture with no family connections, grew up among Gaels but don't speak the language, or a fluent speaker, there is space for everyone to explore what Gaelic language and culture means to you, our community, and our world.
Last spring we hosted six visits, with plenty of story-telling, music, and time to chat with people from communities across Nova Scotia and around the world. We're so happy to be back and look forward to meeting old and new friends. We'll practice Gaelic hospitality as we hold space for everyone's story, weaving together a multi-coloured blanket to keep us warm in the challenging times of a pandemic and uncertain world.
The Gaelic Narrative Project is a collaboration between How We Thrive and the Gaelic community living on the land now called Nova Scotia, the ancestral, unceded territory of the Mi'kmaq. The project is supported by the Province of Nova Scotia through the Department of Communities, Culture and Heritage Support4Culture program.