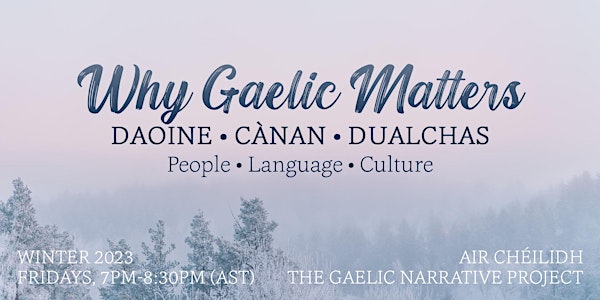 Gaelic Narrative Project
Nach tig sibh air chéilidh? Won't you come for a visit? Let's listen to stories we want more of, including those that have been hidden.
Date and time
Fri, Jan 27, 2023 3:00 PM - 4:30 PM PST
About this event
Next visit, March 10, 7:00-8:30 pm
The Gifts of Re-membering
Host: Shannon MacMullin
Guests: Anna MacKinnon, Stacey MacLean
Cuimhnich air na daoine bho 'n d' thàinig thu. | Remember those you came from.
Join us Friday for this season's final Gaelic Narrative céilidh. We'll explore the gifts we give and receive in the act of re-membering.
What happens when we remember our language, songs, stories, history, and traditions? Are we ourselves re-membered back into the ongoing stream of Gaelic life? What are the gifts in remembering those who have passed on? Are they too re-membered? Who have been the mnathan-ghlùine | the midwives, who have guided our re-membering? What have they taught us about the importance of re-membering?
Shannon MacMullin will share remembrances and moments of her beloved muime | foster grandmother, Annag ni'n Iain Alasdair 'ic Aonghais Ailein | Anna MacKinnon, who will "join" by video sharing. And she will be joined live by present-day bean-ghlùine of Gaelic tradition, Steiseag NicIlleathain | Stacey MacLean, who will share her stories of re-membering – the Gaels who welcomed and mentored her, and the ways Gaelic language and culture have initiated her into the ongoingness of Gaelic life.
Bidh fàilte air a h-uile duine! | All are welcome!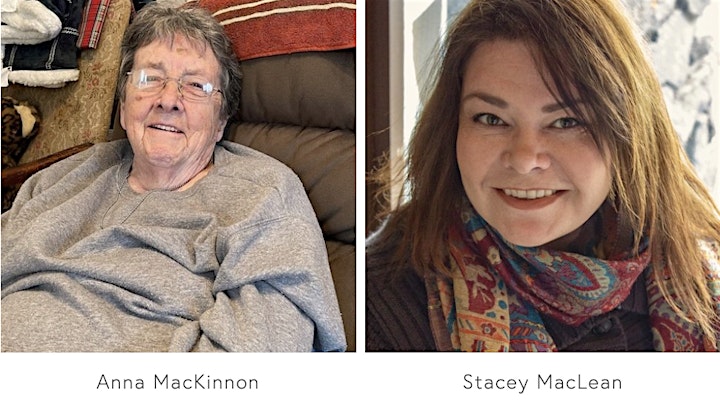 Rugadh Annag ni'n Iain Alasdair 'ic Aonghais Ailein ann a' Rubh an t-Seallaidh. Tha bòsd mór aice-se á cànan is dualchas nan Gàidheal. Tha e 'na thoileachadh dhi dha-rìreadh oideas a thoirt do dhuine sam bith aig a bheil suim a's an t-seann nòs. Tha i làn spòrs agus 's e 'Annag an Deamhan' a thug i oirre fhéin.
Anna MacKinnon (née MacDonald) was raised in Sight Point. Anna is a proud and accomplished speaker of Inverness County Gaelic. She is a strong advocate of the language and culture – pleased to share her knowledge with all those having an interest. She is full of fun and calls herself "Anna the Bad One."
A present-day Gaelic tradition bearer, Steiseag NicIlleathain | Stacey MacLean, was born in Sydney and grew up in the Halifax area. From a young age, she took a great interest in Gaelic language and culture. Between night classes in the city, attending milling frolics, staying with native speakers, and moving to Scotland, she took every opportunity to immerse herself in the language and culture. After completing her teacher training, she is now thrilled to be following her dream at Taigh Sgoile na Drochaide. In addition to teaching young school-aged children, she has been a muime | foster mother to Na Gaisgich Òga, has mentored in Bun is Bàrr, teaches children and adults at Colaisde na Gàidhlig, and shares language and culture with adult learners leading community-based sessions. She also works seasonally at Baile nan Gàidheal.
About Air Chéilidh | The Gaelic Narrative Project
Imagining new possibilities for Gaelic in our life and community
For many English speakers, céilidh conjures up images of a musical gathering in a hall or pub where you pay to be entertained. But in Scottish Gaelic, a céilidh is a visit, where news is exchanged, stories and maybe some tunes or songs are shared, along with tea and a bite to eat. A céilidh is a participatory affair, where you leave a bit more knowledgeable and uplifted than when you arrived. It is time well spent.
Air Chéilidh is a "narrative" project, because we are intentionally strengthening the narratives that sustain Gaelic language, culture and community, and "re-authoring" the narratives that hold us back. In this third season, we are asking Gaels what matters to them. When shared and made visible, stories about why Gaelic matters become a pathway to a future where Gaelic can thrive.
We warmly invite you to join us as we share stories about our connection with Gaelic language, history, culture and people. Whether you are totally new to the language and culture with no family connections, grew up among Gaels but don't speak the language, or a fluent speaker, there is space for everyone to explore what Gaelic language and culture means to you, our community, and our world.
The 2023 Air Chéilidh team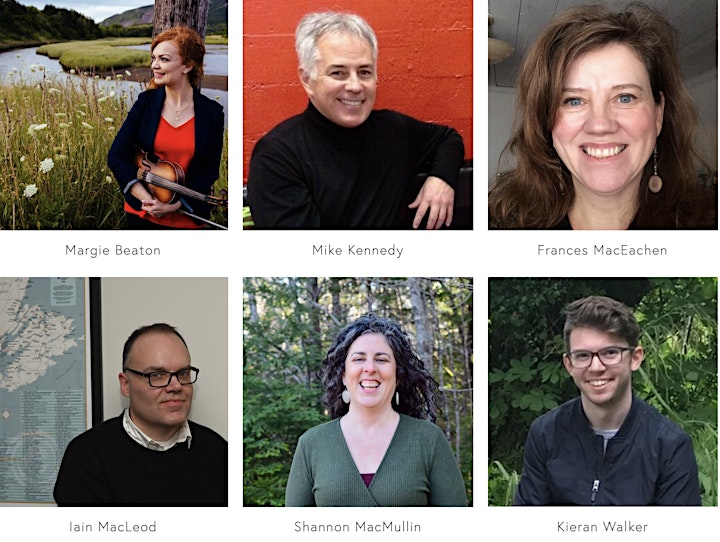 The Gaelic Narrative Project is a collaboration between How We Thrive and the Gaelic community living on the land now called Nova Scotia, the ancestral, unceded territory of the Mi'kmaq. The project is supported by the Province of Nova Scotia through the Department of Communities, Culture and Heritage Support4Culture program.