Le 3 décembre prochain, c'est le grand retour du Gala de la communauté startup, une initiative de la communauté, par et pour la communauté.
About this event
Prenez part à la troisième édition du gala de la communauté startups co-organisée par la Fondation OSMO, Startupfest et Montréal New Tech. Ensemble célébrerons celles et ceux qui contribuent au développement de l'écosystème startups du Québec, les personnes et les organisations qui, le plus souvent, travaillent dans l'ombre.Célébrer tout le travail qu'elles et ils ont accompli.
Joignez-vous à nous le 3 décembre à 18h00 pour une soirée hybride qui se déroulera à la Maison Notman et en ligne. Ouverture des portes à 17h15
UN TARIF À VOTRE IMAGE
Billet supporter (accès en ligne + 1 à la Maison Notman) = 500 $
Billet Grande entreprise = 90 $
Pour les représentant.e.s de grandes entreprises
Billet professionnels de l'écosystème = 45 $
Pour les représentant.e.s des organisations support de l'écosystème
Billet startup = 25 $
Pour les fondateur.rices et employé.e.s de startups
Billet en ligne = gratuit
Possibilité de faire une donation pour supporter le gala
Table au café = 500$ ou 1000$
Réservez votre table de 4 /10 personnes et visionnez le gala depuis le café
LA SOIRÉE À NOTMAN : 3 salles, 3 atmosphères
Studio : Prenez part à la premise des prix aux cotés des finalistes. Vous serez aux premières loges pour féliciter les gagnant.e.s de cette édition 2021.
Diffusion en direct : Profitez de l'ambiance de la Maison Notman et découvrez les lauréat.e.s du gala en direct sur grand écran. Un bar sera à votre disposition
Votre table réservée au café : Quelle meilleure occasion qu'un gala pour se retrouver entre collègues ? Réservez une table au café pour votre équipe et visionner le gala avec votre drink favoris. Vous pouvez arriver quand vous voulez avant 18h
Le choix de la salle (Studio ou Diffusion en direct) se fera sur la base du premier, premier servi sauf pour les réservations de table au café.
Ouverture des portes à 17h15
Le billet en personne inclus une boisson
Le passeport vaccinal est requis pour les billets en personne
Il n'y aura pas de nourriture sur place
Soutenez la communauté startup et supportez l'événement
Découvrez notre Plan de commandite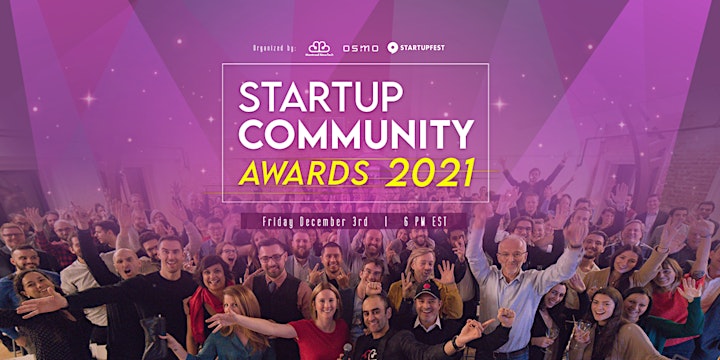 On December 3rd, it's the big comeback of the Startup Community Gala, an initiative from the community, by and for the community.
Take part in the third edition of the Startup Community Award co-organized by the OSMO Foundation, Startupfest and Montreal New Tech. Together we will celebrate those who contribute to the development of Quebec's startup ecosystem, the people and organizations that most often work in the shadows, and celebrate all the work they have accomplished.
Join us on December 3rd at 6:00 pm for a hybrid event that will take place at the Notman House and online.Doors open at 5:15 pm at Notman House
PRICING TO SUIT YOU
Supporter ticket = $500
Corporate Ticket = $90
For representatives of large companies
Ecosystem professional ticket = $45
For representatives of ecosystem support organizations
Startup ticket = $25
For founders and employees of startups
Online ticket = free
Possibility to make a donation to support the gala
Table at the café = 500$ or 1 000$
Reserve your table for 4 /10 people and watch the gala from the café
THE GALA AT NOTMAN : 3 rooms, 3 atmospheres
Studio: Take part in the awards ceremony with the finalists.You will be close to congratulate the winners of this 2021 edition.
Live broadcast: Enjoy the atmosphere of the Notman House and discover the winners of the gala live on the big screen.A bar will be at your disposal
Your reserved table in the café: What better occasion than a gala to get together with colleagues? Reserve a table in the café for your team and watch the gala with your favorite drink. You can arrive whenever you want before 6pm
Room selection (Studio or Live Streaming) will be on a first come, first served basis except for table reservations in the café.
Doors open at 5:15pm
In person ticket includes one drink
Vaccine passport is required
There will be no food on site
Support the startup community and the gala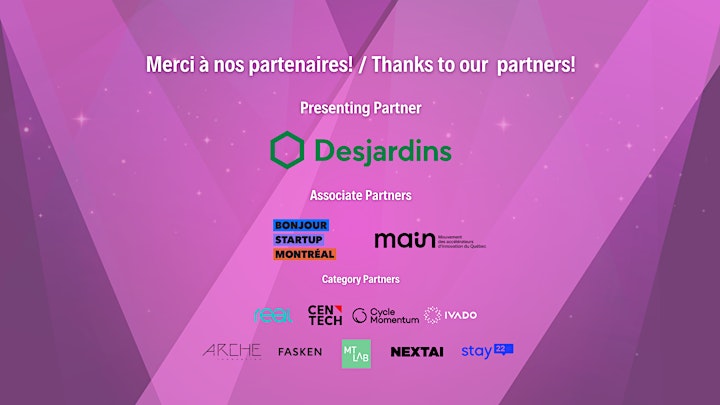 Organizer of Gala de la communauté startup | Startup community awards 2021
Montréal NewTech
MTL NewTech est un organisme à but non lucratif basé à Montréal depuis 2008 et dédié à la réussite des entrepreneur.e.s startups et la réalisation d'innovations d'impact ambitieuses. Notre communauté est enthousiaste à l'égard de l'innovation technologique et désireuse d'explorer de nouvelles tendances, de créer de nouveaux produits transformationnels et de se connecter aux écosystèmes d'innovation mondiaux.
Fondation OSMO
La Fondation OSMO est un organisme à but non lucratif dont la mission est de soutenir la croissance, le développement et le rayonnement mondial de l'écosystème des startups de Montréal. Grâce à la Maison Notman, elle offre un milieu vibrant et accessible à tou.te.s qui favorise la collaboration ainsi que le transfert des connaissances et du savoir-faire entre les différents acteurs de la communauté. La Fondation OSMO contribue ainsi à bâtir le futur de Montréal.
Startupfest
Le Startupfest est l'événement startup du Canada et une des conférences de startup à ne pas manquer dans le monde. C'est le rassemblement annuel au cours duquel les entrepreneurs, les investisseurs, les créateurs, les grandes entreprises, les vétérans de l'industrie et les communautés de startups tracent la voie de l'entrepreneuriat technologique dans une atmosphère de festival unique en son genre.
***ENGLISH***
Montréal NewTech
MTL NewTech is a non-profit organization based in Montreal since 2008 and dedicated to the success of startup entrepreneurs and the realization of ambitious impact innovations. Our community is excited about technological innovation and eager to explore new trends, create transformational new products and connect to global innovation ecosystems.
OSMO Fondation
The OSMO Foundation is a non-profit organization whose mission is to support the growth, development, and international success of Montréal's startup ecosystem. Thanks to the Notman House, it offers a vibrant and accessible environment to all, which stimulates collaboration as well as knowledge transfer and know-how between the different community actors. The OSMO Foundation thus contributes to building the future of Montréal.
Startupfest
Startupfest is not only Canada's original startup event–but widely regarded as one of the world's must-attend startup conferences. It is the annual gathering at which entrepreneurs, investors, makers, large enterprises, industry veterans, and startup communities chart the course of technology entrepreneurship in a one-of-a-kind festival atmosphere.