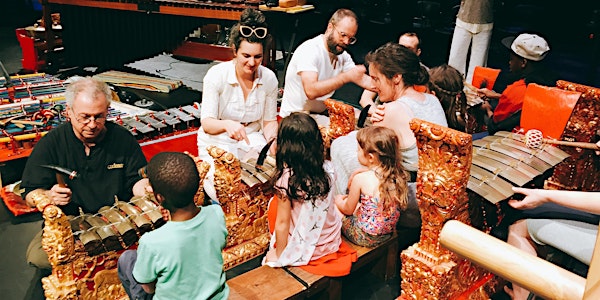 Gamelan in the Park presented by Canada International Arts & Music Society
Event Information
Location
Hadden Park Fieldhouse, Kitsilano Beach
1015 Maple St.
Vancouver, BC V6J3R4
Canada
Description
The Canada International Arts & Music Society (in partnership with Publik Secrets) invites you to a free interactive Balinese gamelan workshop with Vancouver's Gamelan Gita Asmara, led by Balinese composer I Putu Gede Sukaryana (Balot).
Learn how to play and listen to the intricate sounds of Balinese gamelan next to beautiful Kitsilano Beach. Light refreshments will be served and we welcome all ages to attend!
Gamelan Gita Asmara
Gamelan Gita Asmara is a dedicated collective committed to learning and playing Balinese gamelan and infusing it into our daily lives here in Vancouver. Established in 2006, Gita Asmara has a history of commissioning new works and supporting guest artistic directors. Our current Balinese composer/artist in residence, Balot, is part of that tradition.
By bringing together a diverse combination of people, styles, and musical backgrounds, GGA provides opportunities for artists to grow in an environment that supports novel approaches to creativity. With incredibly focused and devoted members, we aim to challenge misconceptions of gamelan performance and prove that gamelan is local to us. By developing our own style of Vancouver Balinese gamelan that is true to our community and culture, and connected to our passion for Balinese music traditions, we are able to support and broaden pathways for gamelan music to grow and change globally, stretching gamelan's reach to other cultures and musics, and broadening Vancouver experiences with gamelan and its many fusion offshoots.
I Putu Gede Sukaryana (Balot)
Hailing from Bali, Balot came to Vancouver, BC in September 2017. Over the past year he has led multiple local gamelan ensembles including the UBC student gamelan ensemble, Gamelan Gita Asmara and Gamelan BikeBike, and has composed new works for gamelan inspired by his time in Vancouver. As a composer and performer, Balot has collaborated on numerous international projects and is the co-director of Insitu Recordings, a Balinese label that records and distributes gamelan music in Indonesia.
Date and time
Location
Hadden Park Fieldhouse, Kitsilano Beach
1015 Maple St.
Vancouver, BC V6J3R4
Canada