Outdoor Garden Tours at Lougheed House. Hosted by Head Gardener, Jane Reksten.
About this event
Our gardens are in full bloom and we are offering guided garden tours to visiting guests of Lougheed House! Please note that COVID-19 safety protocols including masking, wellness screening, and physical distancing are in effect. See here for more information.
Come experience the lushness of our unique green space and learn how our Head Gardener, Jane Reksten and our amazing team of volunteer gardeners cultivate this beautiful oasis in the middle of our busy city. This two-acre landscape reflects the gardening style of the Victorian era, while illustrating current trends and the realities of inner-city gardening in Calgary's unusual climate. We will tour each of the garden beds, focusing on the plants that are in their prime. This is a perfect way to deepen your understanding of our Gardens, whether purely for enjoyment, or to inspire your own gardening projects.
Jane Reksten has a BA from the University of Victoria in Microbiology and Environmental Studies and Diploma in Horticulture from Olds College. She worked in the landscape industry for five years before joining the Calgary Zoo and Botanical Gardens, first as the Schoolyard Naturalization Project leader, and later as Botanical Education Coordinator. Jane is currently the Manager, Botanic Gardens and Greenhouses at Olds College, and while on sabbatical for 2020, is the Head Gardener (Garden and Volunteer Consultant) at Lougheed House. Jane is a regular writer and speaker on a variety of gardening topics and enjoys sharing her love of learning and enthusiasm for horticulture.
Included in your tour ticket, guests can also take in the two temporary exhibits running until October 17th. We Were Here: Stories from Early Chinatown features artwork, sound and story from local artists of Chinese descent. We invite you to celebrate Chinese culture in Calgary and to learn more about the first two iterations of our city's Chinatown.
Lougheed House is also proud to premiere a new travelling exhibit by artist Kay Burns, Beyond the Edge. Take an historical look at the Flat Earth Society of Canada and its later iterations, along with curious details about two of its enigmatic members. The exhibit embodies how inquiry plays an important role in critical thinking and knowledge acquisition.
Our Shop will be open if you're inspired to take home a unique gift item from one of our local artists and artisans.
Note: The ticket for your guided tour includes access to the house and does not need to be purchased alongside an admission fee.
Reminders to all tour guests:
1. If you are feeling unwell, please stay home and contact medical professionals.
3. Practice social/physical distancing of a minimum of 2 metres (six feet).
4. Exercise respiratory etiquette (e.g. coughing or sneezing into a tissue or bent elbow, not your hand, and promptly disposing of used tissues in the trash and wash your hands afterwards).
5. Avoid shaking hands or any other physical contact with fellow tour hosts or guests.
6. Respect other people's space in the Gardens, including any accompanying pets.
7. Use receptacles for all garbage, recycling and compost so the park space is clean and safe for all!
The wearing of face masks of all tour participants is strongly encouraged.
Parking: We have two free parking lots available to attendees. One off of 13th Avenue and one off of 14th Avenue.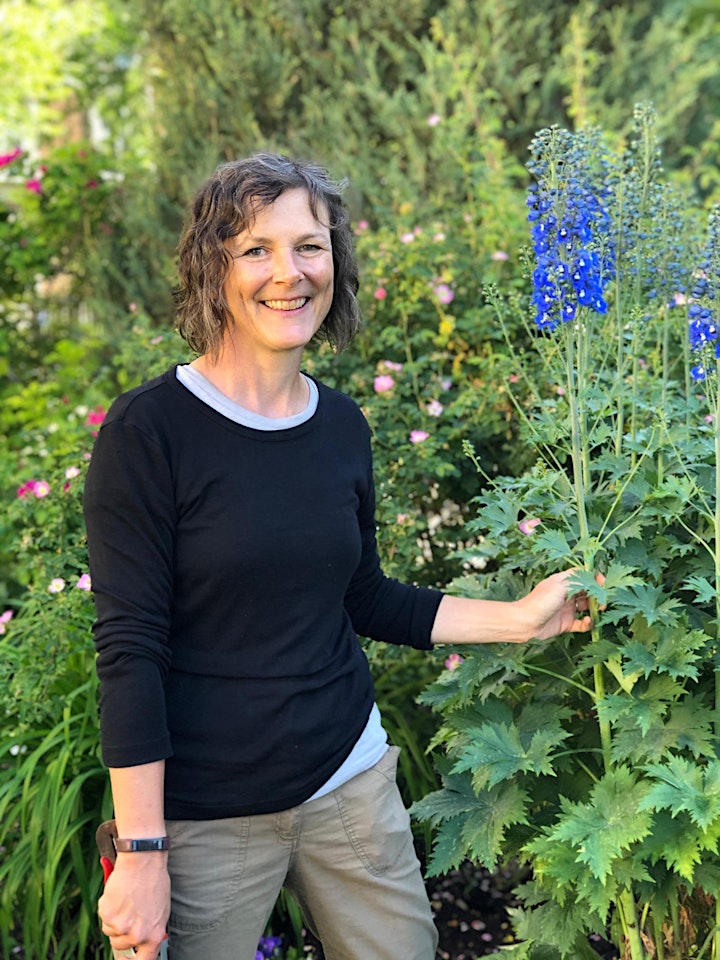 Our Head Gardener Jane Reksten leads our Afternoon Gardens Tour every second satuday from July 17th - September 11th, 2021.