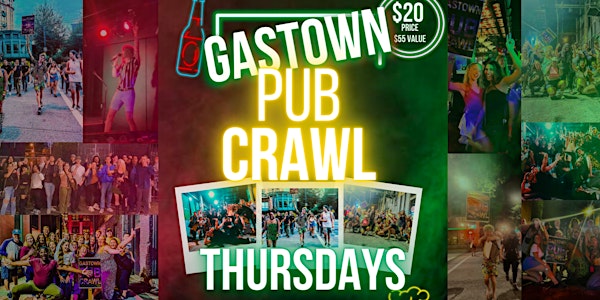 Gastown Pub Crawl Thursdays
Meet @ Cambie Bar - Thursday nights @ 8pm | Visit the 4 best bars of Gastown | FREE cover | 1 FREE SHOT at each bar | All for a measly 20$ !
When and where
Location
The Cambie Bar & Grill 300 Cambie Street Vancouver, BC V6B 2N3 Canada
About this event
Visit the 4 best bars of Gastown while meeting awesome people from around the world !
Meet @ Cambie Bar - Thursday nights @ 8pm
Game bar | Karaoke dive bar | Party bar | Live music bar
IMPORTANT!
- The Cambie bar is just the meeting point and does not offer any drink specials or free shots*
- Two pieces of physical ID are required to enter the bars*
WHAT YOU GET FOR $20
- 1 free shot at 3 different bars (with any drink purchase) + 1 round of free shots at the last bar
- Cover at 2 party bars
- Drink Specials
- Skip the lineup at 2 party bars
---------A value of 55$ for 20$---------
HOW TO JOIN
Meet inside the Cambie bar Thursday at 8pm. Your guides will be wearing leopard print shirts! The crawl leaves at 8:45pm.
Price is $20 + $2.23 Eventbrite fees.
*We also accept $20 cash or $20 by e-transfer at the bar*
HOW IT WORKS
The Gastown Pub Crawl starts out at the Cambie bar located right next the Cambie Hostel in the heart of Gastown. We go on to various stops for drinks, games, and more fun stuff at a range of venues. We end up at one of Gastown's biggest and best bars and the rest, as they say, will be history.
WHERE WE GO
Gastown is one of Vancouver's oldest neighbourhood and has been reborn in recent years as a place to go after dark. While Granville Street is the place to go for clubs, Gastown's scene is more about bars. From irish pubs, cocktail bars, dive bars, to beer halls, live music and party bars there is something special for everyone.
A GREAT PARTY NEEDS GREAT PEOPLE
Awesome hosts make the Gastown Pub Crawl a smash hit. They're the fun ones in the leopard t-shirts who will welcome you, explain the plan and introduce you to all the other people. If you want to party and meet new people then this is for you. We guarantee free entry to venues, free shots, and best of all we help you meet, mingle, dance and party all night long.
OUR GOAL
During your Gastown Pub Crawl we have one major aim, to give everyone a great night out in Vancouver. Actually, much more than just "great". We want it to be the night that, on the morning after, you say, "Wow, we had a blast!!"
Here is your ticket for a really good night out! If you want to know the best places to go, don't worry we have it all covered.
So, come and hang out with us. Join us as we party our way through some of Gastown's best nightlife!
PRACTICAL STUFF YOU NEED TO KNOW.
- Do please note that arriving late means you might miss out one venue.
- The Cambie bar is our meeting spot but does not include any free drinks, free shots or promos.
- In Vancouver, you require TWO PIECES OF PHYSICAL ID (AT LEAST ONE PHOTO ID) to get into bars and nightclubs. Paper or cardboard IDs are not accepted (ex: Brazilian cardboard ID) .
- You must be over +19 years, old but 80 is fine too. We really believe that you're never too old to have a fun time.
- Excessive drinking is dangerous for the health; alcoholic beverages should be consumed with moderation.