Gateway to Digital Inclusion Program Info Session
About this event
Have you or someone you know wanted to increase your basic digital skills to work, learn, or have fun? Have you wanted to find ways to connect to work, friends, family, or supports online?
We can help!
Digital Literacy is your Gateway to connecting, working, learning, sharing, growing, and creating online.
The Gateway to Digital Inclusion Program offers courses and workshops on basic digital skills, online social connections, an App to help you learn about and engage with the digital world, and more ….
Join us on November 29th at 1:00 pm for an interactive information session about the Gateway to Digital Inclusion Program.
What will be included in the session:
- What the program offers
- Details about the workshops, courses, and groups
- Who is eligible for the program
- How our services work
You will have a chance to:
- Meet some of our team members
- Find out how to apply
- Ask any question you might have
See you on November 29th!
If you require any accommodations for attending the information session, please contact us prior to the event to make arrangements.
Thank you
The Gateway to Digital Inclusion Team
getdigital@gatewayassociation.ca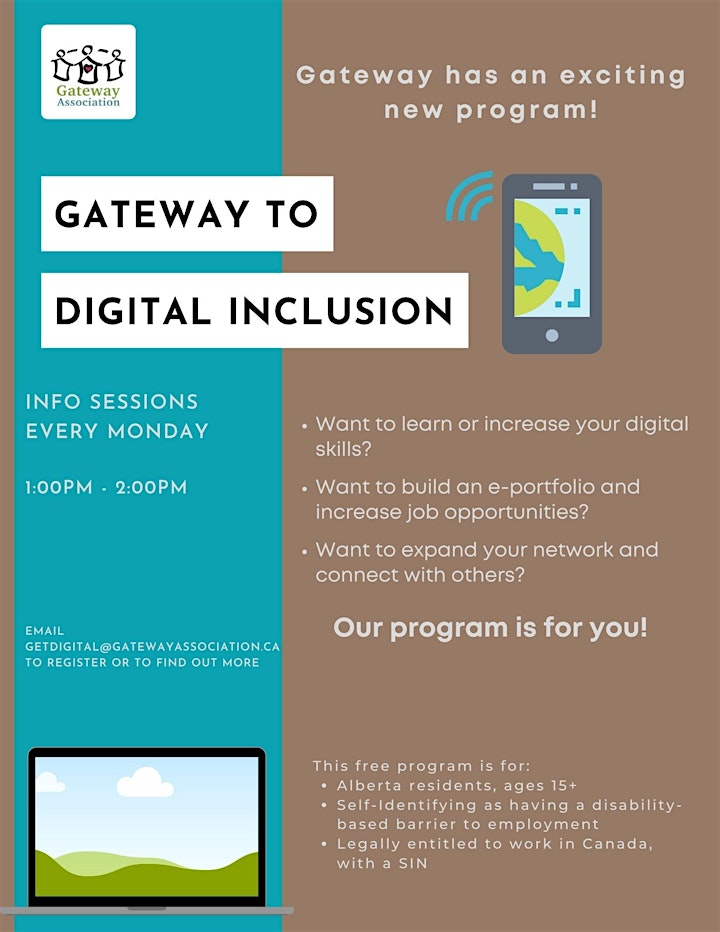 Organizer of Gateway to Digital Inclusion Program Info Session
Gateway Association is a grassroots non-profit organization whose main goal is transformation of community through the lens of disability. Gateway is a leader and influencer in community development and community economic development in the Edmonton area. We work each day – with people, families, schools, government, and business – to build communities where all people are valued and respected.

Visit www.gatewayassociation.ca to see what we've been up to and for more details on our organization.