Description
CJF J-Talk
Journalism matters.
#CJFjtalk

Gawking, Gossip and Crowdfunding:
Is this the New Journalism?

John Cook
Editor-in-chief
Gawker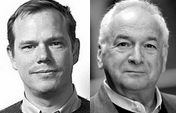 In conversation with
Jeffrey Dvorkin
Director
Journalism program at the University of Toronto Scarborough

Gawker offers a blend of hard news, gossip and a cheeky tone. It's also the site behind the controversial 'Crackstarter' campaign. John Cook, editor-in-chief, talks media ethics, coverage of Toronto mayor Rob Ford and crowdfunding in a conversation with Jeffrey Dvorkin, media ethics commentator and director of the journalism program at University of Toronto Scarborough.


ABOUT OUR SPEAKERS
JOHN COOK is the editor-in-chief of Gawker. He has been a reporter for the Chicago Tribune, Brill's Content, and Radar Magazine, and has written for the New York Times Magazine, the Los Angeles Times, Slate, the Columbia Journalism Review, and a variety of other outlets. He is the co-author of Our Noise: The Story of Merge Records, and lives in New York with his wife Allison Benedikt and their three sons.
@johnjcook
JEFFREY DVORKIN is a lecturer and the program director for the journalism program at the University of Toronto Scarborough. He is a frequent commentator on media ethics via his blog, Now The Details. He is a former managing editor and chief journalist for CBC Radio and served as VP, News and Information at NPR Washington, DC and as NPR's Ombudsman.
@jdvorkin
Organizer of Gawking, Gossip and Crowdfunding: Is this the New Journalism?
Founded in 1990, The Canadian Journalism Foundation promotes, celebrates and facilitates excellence in journalism. The foundation runs a prestigious awards and fellowships program featuring an industry gala where news leaders, journalists and corporate Canada gather to celebrate outstanding journalistic achievement and the value of professional journalism. Through monthly J-Talks, a public speakers' series, the CJF facilitates dialogue among journalists, business people, academics and students about the role of the media in Canadian society and the ongoing challenges for media in the digital era. The foundation also fosters opportunities for journalism education, training and research. Please visit us at http://cjf-fjc.ca.