Description
CJF J-Talk
Journalism matters.
#CJFjtalk

Gawking, Gossip and Crowdfunding:
Is this the New Journalism?

John Cook
Editor-in-chief
Gawker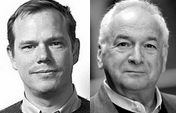 In conversation with
Jeffrey Dvorkin
Director
Journalism program at the University of Toronto Scarborough

Gawker offers a blend of hard news, gossip and a cheeky tone. It's also the site behind the controversial 'Crackstarter' campaign. John Cook, editor-in-chief, talks media ethics, coverage of Toronto mayor Rob Ford and crowdfunding in a conversation with Jeffrey Dvorkin, media ethics commentator and director of the journalism program at University of Toronto Scarborough.


ABOUT OUR SPEAKERS
JOHN COOK is the editor-in-chief of Gawker. He has been a reporter for the Chicago Tribune, Brill's Content, and Radar Magazine, and has written for the New York Times Magazine, the Los Angeles Times, Slate, the Columbia Journalism Review, and a variety of other outlets. He is the co-author of Our Noise: The Story of Merge Records, and lives in New York with his wife Allison Benedikt and their three sons.
@johnjcook
JEFFREY DVORKIN is a lecturer and the program director for the journalism program at the University of Toronto Scarborough. He is a frequent commentator on media ethics via his blog, Now The Details. He is a former managing editor and chief journalist for CBC Radio and served as VP, News and Information at NPR Washington, DC and as NPR's Ombudsman.
@jdvorkin