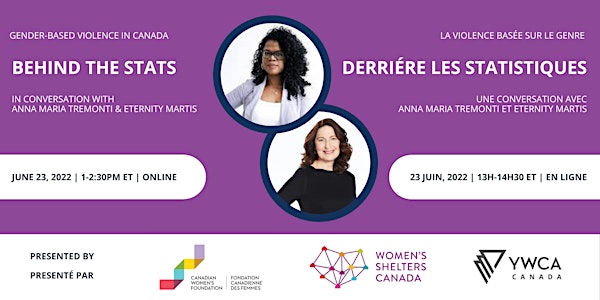 GBV in Canada: In Conversation with Anna Maria Tremonti & Eternity Martis
Join us for a discussion on the people behind the stats. Participez à une discussion sur les personnes derrière les chiffres.
About this event
Every 6 days a woman is murdered by her intimate partner, and that number is on the rise since the onset of the pandemic.
The Canadian Women's Foundation, Women's Shelters Canada and YWCA Canada are proud to present award-winning journalists Anna Maria Tremonti and Eternity Martis in conversation about the people and stories behind the statistics on gender-based violence.
Following their discussion, hear from the Canadian charities leading the fight to end gender-based violence on what it will take to offer the support survivors need and how we can end this crisis by working together.
This event will be hosted online via Zoom and is free to all attendees.
ASL interpetation and live English to French translation provided.
A recording of the event will be sent to all registrants.
--------------------------------------------------------------------------------------------------------------------------
Tous les 6 jours, une femme est assassinée par son partenaire intime, et ce nombre est en augmentation depuis le début de la pandémie.
La Fondation Canadienne des Femmes, Hébergement pour Femmes Canada et YWCA Canada sont fiers de présenter les journalistes primées Anna Maria Tremonti et Eternity Martis qui vont présenter les personnes et les histoires derrières les statistiques sur la violence fondée sur le sexe.
À la suite de leur discussion, venez découvrir ce que les organismes à but non lucratif qui luttent pour mettre fin à la violence basée sur le genre, présentent comme solution pour offrir le soutien dont les survivants ont besoin et comment nous pouvons mettre fin à cette crise en travaillant ensemble.
Cet événement sera organisé en ligne via Zoom et est gratuit pour tous les participants.
L'interprétation ASL et la traduction en direct de l'anglais vers le français seront fournies.
Un enregistrement de l'événement sera envoyé à tous les inscrits.