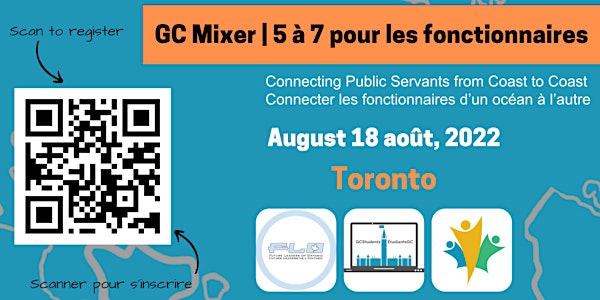 GC Mixer in Toronto | 5 à 7 pour les fonctionnaires à Toronto
A networking event by GC Students, FYN, NCRYPN and FLO! Un événement réseautage par Étudiants GC, le RJFF, le RJPRCN et le FLO!
When and where
Location
Union Social Eatery 4899 Yonge Street Toronto, ON M2N 5N4 Canada
About this event
GC Students, the Federal Youth Network (FYN), the Young Professional Network for the NCR (NCRYPN) and Future Leaders Ontario (FLO) are proudly hosting a GC Mixer, an in-person networking event under the theme of Connecting Public Servants from Coast to Coast!
After more than 2 years apart, it is time to reconnect, exchange and take the time to recognize the work we have done serving Canadians. Let's also celebrate the incredible work of our students this summer and throughout the year.
Public servants from all levels and departments are welcome to participate.
The mixer will be at Union Social Eatery (4899 Yonge St, North York, ON) from 5:30 p.m. to 7:30p.m. [Eastern Time] on August 18th, 2022. Mingle with your colleagues across all departments and complete our networking bingo.
Because of a capacity limit, ALL ATTENDEES must register for a virtual ticket. Once sold out, registrants will be on a wait list.
If you have a ticket but no longer can attend, please cancel your order for those on the wait list.
If you have any questions, please do not hesitate to contact your email fyn-rjff@sac-isc.gc.ca
We are so EXCITED to see you there!
****
Étudiants GC, le Réseau des jeunes fonctionnaires fédéraux, le Réseau des jeunes professionels de la RCN et Futurs Leaders de l'Ontario sont fiers d'organiser un 5 à 7 des fonctionnaires du GC, un événement de réseautage en personne sous le thème Connecter les fonctionnaires d'un océan à l'autre!
Après plus de 2 ans séparés, il est temps de reconnecter, échanger et prendre le temps de reconnaître le travail que nous avons accompli pour servir les Canadiens. Nous devons aussi célébrer le travail incroyable de nos étudiants cet été et au courant de l'année.
Les fonctionnaires de tous les niveaux et de tous les ministères sont invités à participer.
La soirée aura lieu Union Social Eatery (4899 Yonge St, North York, ON) de 17 h 30 à 19 h 30 [Heure de l'est] le 18 août 2022. Venez vous mêler à vos collègues des autres ministères et complète notre bingo de réseautage.
En raison d'une limite de capacité, TOUS LES PARTICIPANTS doivent s'inscrire pour obtenir un billet virtuel. Après que les billets sont tous vendus, les personnes inscrites seront placées sur une liste d'attente.
Si vous avez un billet, mais ne pouvez plus participer, veuillez annuler votre commande pour ceux qui sont sur la liste d'attente.
Si vous avez des questions, n'hésitez pas à contacter votre adresse courriel fyn-rjff@sac-isc.gc.ca
Nous avons hâte de vous y voir!