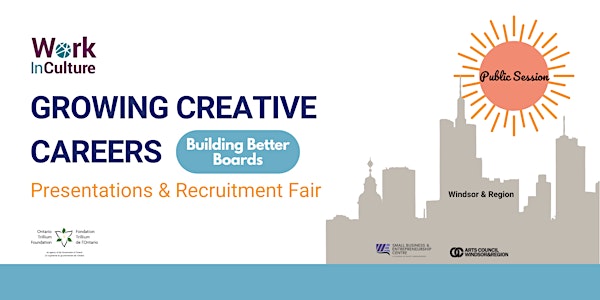 GCC: Windsor - Building Better Boards: Presentation & Recruitment Fair
Connect with Windsor-Essex Community ~ Support and serve on local arts and culture boards of directors.
Date and time
Thu, Apr 7, 2022 2:30 PM - 4:00 PM PDT
About this event
This public session is delivered as part of WorkInCulture's Growing Careers Program. This is the culminating session of our second cohort focused on Building Better Boards within Windsor-Essex's arts and culture organizations. To learn more about the program visit our website.
Building Better Boards intensive training program is ending with an online board strategy presentation and recruitment fair that is open to the public on April 7, 2022. Individuals and organizations interested in supporting, growing, and sustaining healthy boards of directors in Windsor & region's local arts & culture organizations are invited to attend and learn from and network with program participants. Presentations from Windsor-Essex's arts community include Windsor Symphony Orchestra, Artcite Inc, Shō Art Studios, and others. This is an opportunity to develop partnerships, exchange ideas, and potentially get recruited as a board member!
While the content will be primarily framed for the Windsor-Essex region, participants from other regions are encouraged to attend.
"Taking part in a Board is a way of meaningfully participating in our community. Through this program, organizations and individuals have come together to learn about the essentials of governance and how we can work together to strengthen our organizations so that they are responsive to our community. The participants have had an opportunity to learn from a variety of resources as well as each other, and I'm excited to see how they will implement what they've done in the sessions." – Nadja Pelkey, Curriculum Consultant and Facilitator
Nadja Pelkey, Moderator:
Nadja is a Windsor-based artist, educator and cultural worker. She has a history of working with the creative community in Windsor, including through previous experience as interim-ED with the Arts Council Windsor and Region. She is currently a sessional instructor and photography technician with University of Windsor and has designed and delivered a range of relevant training in line with our project objectives. She has demonstrated an acute understanding and appreciation of the creative community in Windsor and how this project can help support it.
Program Partners:
Windsor Essex Small Business & Entrepreneurship Centre
Since 1992, the Small Business & Entrepreneurship Centre has provided thousands of entrepreneurs with the training and support necessary to start and grow successful businesses in Windsor and Essex County. We offer guidance and complimentary professional advice from ideation and concept, through start-up and operation, to the early growth and expansion stages of business.
The Arts Council Windsor & Region (ACWR) is a non-profit organization that serves all disciplines of individual artists, arts organizations and non-arts partners in promoting, developing and realizing creative activity. Our energies are focused on providing our community with valuable services like Artspeak Gallery, Art.Work workshops, Individual grant consultation, an in-office resource library, and our website which hosts resources, a community arts calendar, and the weekly arts notes newsletter.
Funded by: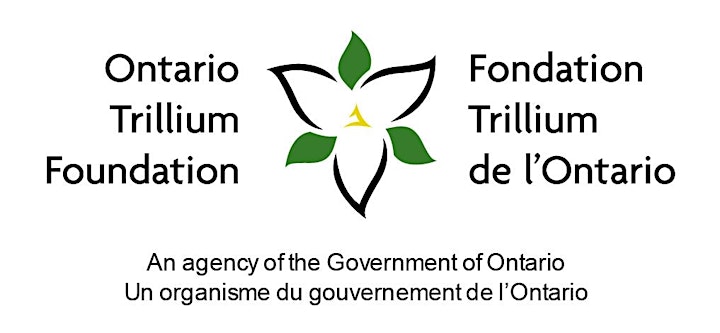 About the organizer
Our mission is to support the professional lives of artists, creatives and cultural workers, and the organizations that support and engage them, through skills development, research, and career resources.
WorkInCulture thanks our funders for their generous support: