About this Event
Have you ever wondered why we use GDP to measure the economy? Does it have any relevance to how we meet our daily needs and support those we care about?
Co-hosted by SFU's Community Economic Development Program and Desjardins Group, this panel of thought leaders from across North America will critique traditional measures like GDP, and propose alternative ways of measuring and ordering the economy for human flourishing. The discussion will consider economic well-being from Indigenous, humanistic, religious, and business perspectives.
This event is part of SFU Vancouver's 30th Anniversary. We hope you will join us.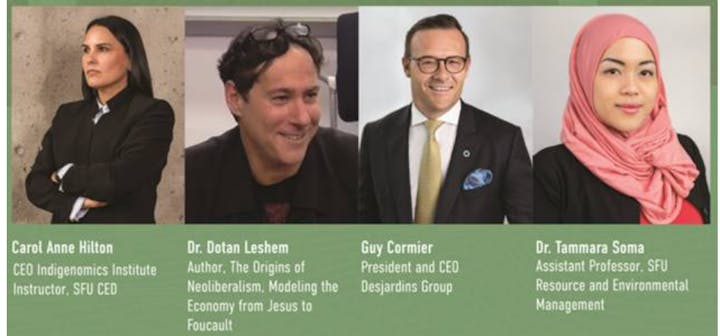 SPEAKER BIOS
Guy Cormier
Guy Cormier has been President and Chief Executive Officer of Desjardins Group since April 2016. Desjardins is the leading cooperative financial group in Canada and sixth in the world, with assets of over $248 billion. It is one of the 20 largest employers in the country, supported by the skills of its 47,000 employees and the commitment of more than 5,000 elected officers. Mr. Cormier is a graduate of École des Hautes Études commerciales (HEC), where he earned both a Bachelor of Business Administration and an MBA, as well as teaching finance for eight years.
Carol Anne Hilton
Carol Anne Hilton is the CEO and Founder of The Indigenomics Institute. Ms. Hilton is a recognized national Indigenous business leader and senior adviser with an international Masters Degree in Business Management (MBA) from the University of Hertfordshire, England. She currently serves on the BC Emerging Economy Task Force as an adviser to the Minister of Jobs, Trades and Technology and was appointed as a senior advisor to the federal Finance Minister on the Canadian Federal Economic Growth Council. Ms. Hilton is of Nuu chah nulth descent from the Hesquiaht Nation on Vancouver Island.
Dr. Dotan Leshem
Dotan Leshem is an independent scholar and a political activist based in New York City. Dotan is a historian of systems of economic and political thought. Dr. Leshem's articles appeared in journals of history of economic thought, history of the humanities, critical studies, political theory, theology, economics and comparative literature. Dr. Leshem's book The Origins of Neoliberalism: Modeling The Economy from Jesus to Foucault was published by Columbia University Press in June 2016
Dr. Tammara Soma
Dr. Tammara Soma is an Assistant Professor (Planning) at the School of Resource and Environmental Management at Simon Fraser University and Research Director of the Food Systems Lab (foodsystemslab.ca). Dr. Soma conducts research on issues pertaining to food system planning, food equity, waste management, and the circular economy. Her previous research investigated the factors that influence urban household food consumption and food wasting practices in Indonesia, and the ways in which food systems consideration can improve urban planning decision-making.