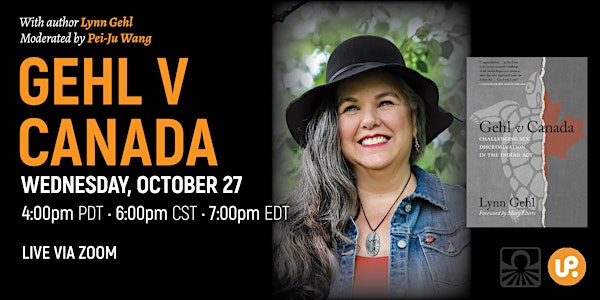 Gehl v Canada: Challenging Sex Discrimination in the Indian Act
Join us for the virtual launch of Gehl v Canada!
About this event
The University of Regina Press and Octopus Books invite you to join us in celebration of Lynn Gehl's new book, Gehl v Canada: Challenging Sex Discrimination in the Indian Act. A follow-up to Claiming Anishinaabe, Gehl v Canada is the story of Lynn Gehl's lifelong journey of survival against the nation-state's constant genocidal assault against her existence. Gehl will be joined in conversation by Pei-Ju Wang.
To watch the event, tune in on YouTube.
ABOUT THE BOOK
While Canada set up its colonial powers—including the Supreme Court, House of Commons, Senate Chamber, and the Residences of the Prime Minister and Governor General—on her traditional Algonquin territory, usurping the riches and resources of the land, she was pushed to the margins, exiled to a life of poverty in Toronto's inner-city.
With only beads in her pocket, Gehl spent her entire life fighting back, and now offers an insider analysis of Indian Act litigation, the narrow remedies the court imposes, and of obfuscating parliamentary discourse, as well as an important critique of the methodology of legal positivism. Drawing on social identity and Indigenous theories, the author presents Disenfranchised Spirit Theory, revealing insights into the identity struggles facing Indigenous Peoples to this day.
Congratulations . . . to Dr. Lynn Gehl for her successful challenge of the Indian Registrar's refusal to allow her to be registered under the Indian Act. . . . Good win, Lynn!" —The Honourable Murray Sinclair
"With knowledge and experience from years of advocacy before Parliament as well as the courts, and the depth of perception typical of all her scholarly work, Dr. Gehl assesses what more is needed before the Indian Act system can be truly egalitarian. Her book is unique and inspiring. " —Mary Eberts, from the foreword