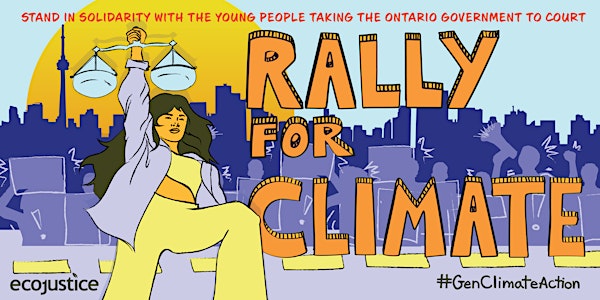 #GenClimateAction: Support Ontario youths as they take government to court
Stand in solidarity with the young people taking the Ontario government to court
When and where
Location
Queens Park Queens Park Toronto, ON M5S Canada
About this event
Recess is over. It's time we schooled our leaders on climate.
Sophia, Zoe, Shaelyn, Shelby, Alex, Madison, and Beze — represented by Ecojustice lawyers — are going to the Ontario Superior Court on September 12–14. This case is a Canadian first and we want them to head into proceedings with your support ringing in their ears.
They're suing the Ontario government because its weakened climate target violates the constitutional right to life, liberty, and security of every person in Ontario.
You can read about their journey to the full hearing here.
More than 14,000 people have already signaled they believe this case is in the public interest.
Because while those in power behave like children, young people around the world are stepping into their power. This is their moment.
Will you stand up and show Sophia, Zoe, Shaelyn, Shelby, Alex, Madison, and Beze that you have their backs?
Come be a part of #GenClimateAction.
Register for updates and to let us know you plan on coming. You don't need a ticket, but it helps us get a better idea of numbers.
-----
How to get to the rally from the subway:
Take Line 1 Subway to Queen's Park Station. Exit "University Avenue, East Side – College Street, North Side". Upon exiting the station, turn left and walk directly north on the sidewalk for approximately one minute towards the legislature building (which will be visible through the trees). When you arrive at Grosvenor Street, take the crosswalk to Queen's Park. You've arrived!
Washrooms:
Located a 2 minutes' walk from the rally site at the Tim Hortons at the southwest exit of Queen's Park Subway Station (University Avenue and College Street). Washrooms are M/F binary. Washrooms are accessible, but only by taking the elevator through 700 University Boulevard office tower. Request to use washroom from Tim Hortons staff.
Accessibility:
- Queen's Park Subway Station is accessible. For more info, visit the TTC webpage here.
- Accessible parking is available. Vehicles can park in the South Drive of Queen's Park. This drive can be accessed off of Queen's Park Crescent East or West. Security will permit vehicles with accessibility permits entrance to the parking lot.
- The main standing area for the rally is grassy and in some places slightly uneven.
- For people using canes, walkers, and other mobility aids, additional chairs and reserved spots will be available. Note that accessing these spots will require stepping up over a small curb and on to grass.
- For people using wheelchairs and motorized scooters, there will be a designated spot for watching and listening to the rally. The site is accessible by a concrete path from the accessible parking lot. The site itself is on well-manicured grass.