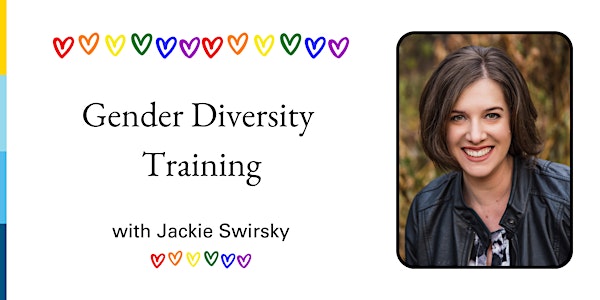 Gender Diversity Training
Join us as we will learn the language of acceptance regarding gender.
Date and time
Thu, Jun 8, 2023 11:00 AM - 1:00 PM PDT
About this event
At St.Amant, we're excited to share the collaboration between Corporate Education and the Diversity and Inclusion Committee. They are hosting a Gender Diversity Training, facilitated by Jackie Swirsky.
Session Summary:
Johnny plays My Little Pony and his favourite colour is pink. Daisy loves building rockets when dressed like Spiderman. Manager Mike now goes by the name Michelle and uses female pronouns. Is this okay? How do you talk to Johnny, Daisy, Michelle, supervisors, staff etc about this? What is the correct terminology and how can you be mindful about gender diversity in the workplace?
There are lots of questions and this presentation will provide you with the answers. Using books, videos, small group discussions and personal experience, Jackie will teach you the 'language of acceptance' she uses regarding gender. You will gain a deeper understanding about gender identity and learn strategies to create safe and affirming environments for gender diverse people. Your confidence as a co-worker/ally will increase as you 'fill your rainbow toolbox'.
Learning Objectives:
Develop a greater understanding of gender identity and learn ways to be mindful of gender diversity in the workplace
Explore common myths, gender biases, privilege, intersectionality and their impact
Learn how to create a safe, affirming and welcoming space for LGBT2SQ+
Increase ones confidence as an ally as you 'fill your rainbow toolbox'
Thursday, June 8, 2023, from 1 - 3 PM
Online via Zoom
Registration Cost: $20
Meet your trainer:
Jackie Swirsky
Jackie has a Masters degree in Speech Language Pathology from the University of Alberta and currently practices as a full time SLP. In 2017 she was a winner of CBCs Future 40, honouring Manitoba's new generation of leaders and change makers under the age of 40. She is a mother of 2 kids and an award winning author of the children's book, Be Yourself, which features a gender creative child as the main character and teaches the message of acceptance. Jackie is the founder and past volunteer facilitator for BLiNK, a playgroup for Trans and gender creative children out of the Rainbow Resource Center, and was a consultant in the creation of the Manitoba Education document, Supporting Transgender and Gender Diverse Students in Manitoba Schools. Jackie is a passionate speaker on gender identity and how educators can support children's gender diversity in schools.
Jackie is a fierce ally and a champion for the LGBT2SQ+ community. I've had the pleasure of working with her on the Diversity and Inclusion committee and in creating St.Amant's Virtual Safe Space. Jackie shares her knowledge and experience in a positive and nurturing way that really creates a safe space for learning.
Participant Experience
This workshop includes the use of lecture, videos, group discussions, polls and breakout rooms. Participants are expected to join using a device with a webcam and microphone to fully participate.
​
Tickets and Accessibility
St.Amant strives to have our events accessible to all. If the cost is a barrier, please email us at training@stamant.ca and let's find a way to work it out.
If you require a specific accommodation because of a disability or a medical need, please email training@stamant.ca with the details and we will do our best to accommodate you. Please contact us 7-10 days prior to your training event.
Si vous exigez des mesures d'adaptation dues à une incapacité ou une condition médicale, veuillez nous en informez en nous envoyant un courriel à l'adresse suivante: training@stamant.ca. Nous ferons de notre mieux afin de vous accommoder. Merci denous contacter au moins 7 à 10 jours avant votre session de formation.
What people are saying about the presentation
"Jackie is a great and engaging facilitator. I appreciated that there were different parts to the content - videos, personal stories, break out rooms, stats etc."
"Jackie is a great storyteller!"
"I sincerely enjoyed this training. I learned several relevant best practice recommendations and overall this was an excellent workshop."
"Jackie is so sincere, genuine, and authentic."