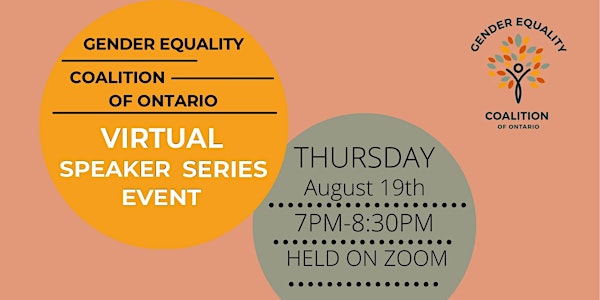 Gender Equality and Indigenous Culture
Register today for our sixth speaker series event of 2021! Please scroll to the bottom of your confirmation purchase email for Zoom link.
About this event
The Gender Equality Coalition of Ontario is having our seventh event in our 2021 Speaker Series on August 19th. Join us for a thought-provoking, exciting discussion followed by a Q&A session. More information to come!
Panel:
Storm French is a 3 Fires Ojibwe & a Two Spirit person, she belongs to the Loon Clan. Their home is Chippewas of the Thames First Nation and Walpole Island First Nation.
NaWalka Geeshy Meegwun - Longfeather (aka Lyndon George) is a member of the Chippewas of Kettle and Stony Point First Nations. NaWalka Geeshy Meegwun's father is from Aazhoodena (the Stony Point First Nation) and his mother is from Aamjiwnaang (the Chippewas of Sarnia First Nation). NaWalka Geeshy Meegwun is Anishnaabe Ojokwe = Anishnaabe/Indigenous one of many terms for members of the Two Spirit community. He is a member of the snipe clan. He is a first generation residential school survivor; his mother Sylvia was the survivor. He is a survivor of the Federal Indian Day School system. NaWalka Geeshy Meegwun is a family member to the late Dudley George of the Ipperwash Crisis. NaWalka Geeshy Meegwun is an aunty/uncle to 117 nieces and nephews. He has worked with Indigenous people all his life both on and off the reserve. He grew up in his reserve community. NaWalka Geeshy Meegwun has made presentations on Indigenous matters at local, provincial, national and international conferences. He is currently the Indigenous Justice Coordinator at the Hamilton Community Legal Clinic.
Betsylee Kechego (Waawaaskone) S.S.W., B.S.W., B.E.d., Aajijaak dodem, is from Deshkan Ziibiing and is Anishinaabekwe. Having heard Anishinaabemowin as a child, she has dedicated herself to learning, teaching, and revitalizing the language. In this journey she has learned from many respected teachers and fluent speakers. An advocate for Anishinaabe education, she believes in the connection between the language and the land as being the source of identity for our people: "We can explore many stories and words in Ojibway that teach us about what the land is trying to tell us, we just need to stop and listen every day to hear that message. It is though the language that I connected to my own identity, connection to the land, and territory in which we live." She has worked in Deshkan Ziibing as a PSW, Employment Counselor, Social Service Worker, Youth Worker, Councillor, and Teacher.
Moderator:
Tracey Whiteye, BSW., MSW., Educator, Wholistic Indigenous Researcher, Wholistic Practitioner, activist and advocator. Travey is currently working at N'Amerind Friendship Centre as Ceremony and Transition Coordinator in Cultural based approaches to Violence Prevention.