Generating Momentum 2021 - The Hybrid Edition
About this event
Summer's here! The world is slowly re-opening. We're all learning to navigate our new normal. One thing is for sure, we are STRONGER TOGETHER. Join SCIC and RPIRG for our annual youth leadership and activist training camp, Generating Momentum 2021 – The Hybrid Edition.
About this event
Are you an innovator, mover and shaker between the ages of 18-35? Do you want to connect with like-minded youth who want to make the world a better place? Are you interested in global justice? Well, Gen Mo 2021 is where you want to be!
Generating Momentum is an activist leadership training camp focused on educating, training, and organizing around social and environmental justice issues, and giving youth the tools to create meaningful change in their communities. The camp explores the interconnectedness of social, economic, ecological, and global justice issues.
Generating Momentum is usually run as an intensive four day in-person camp, however, this year is a hybrid model! Join us to build community right from the comfort of your home and also, join us for a one-day in-person program. With this in mind, we want to highlight that the Generating Momentum program is built around you and for you, meaning it is highly interactive and requires active participation in order to be a success!
What you need to know
This year, registration is FREE!
Online program 2021 -- Friday, August 13 and Sunday, August 15.
In-person program 2021 -- Saturday, August 14, in both Regina and Saskatoon.
Spots are VERY limited to ensure we observe social distancing and Provincial guidelines.
Save your spot by Monday, August 2.
After signing up, be sure to book off August 13-15 in your calendar.
Following your participation in all the sessions throughout the weekend (online and/ or in-person), we will send you a highly coveted Generating Momentum T-shirt plus a Swag Bag.
**Registration: SPOTS ARE LIMITED for both online and in-person. Sign up early to guarantee your spot!
We will be using Zoom for the entire online experience and confirmed participants will receive a link via email by August 11, 2021. You will receive a registration confirmation email after you register.
---------------------------
Please note, if you register for in person Gen Mo camp either in Regina or Saskatoon you are automatically registered for the online portion on Friday, August 13 and Sunday, August 15. Spots for in-person camp are very limited.
Help us host an event that accommodates your inclusion needs by emailing youth@saskcic.org with your accessibility requirements ASAP (such as transportation, closed captioning, dietary requirements, etc), or if you have any questions or concerns.
Schedule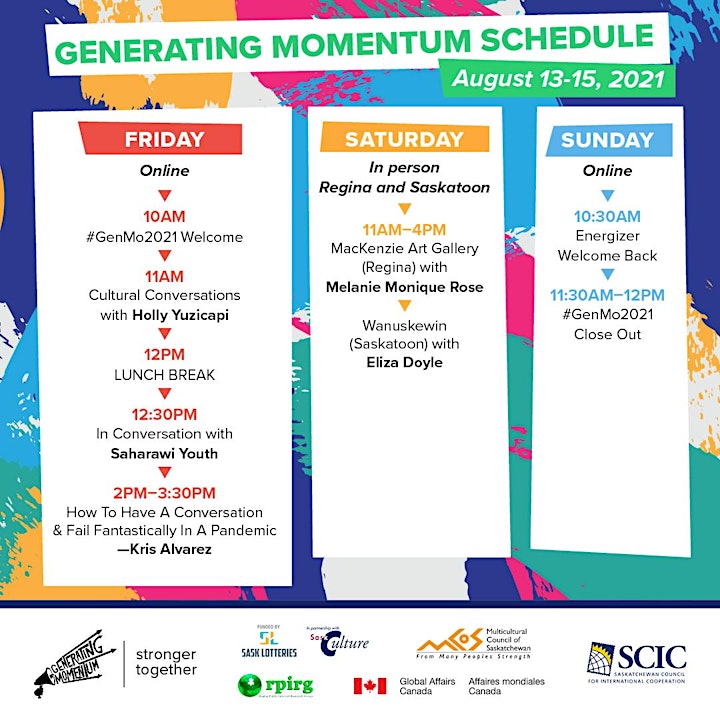 Organizer of Generating Momentum 2021
About
Saskatchewan People - Making a World of Difference
Who we are
The Saskatchewan Council for International Cooperation (SCIC) is a coalition of organizations and individuals working to advance sustainable global development. SCIC was formed in 1974 by international development and emergency relief agencies active in Saskatchewan.
Today our members include international development agencies, the peace-building and humanitarian bodies of major faith groups, educational organizations, solidarity groups, local community organizations, and local individuals committed to SCIC's mission, vision, and principles.