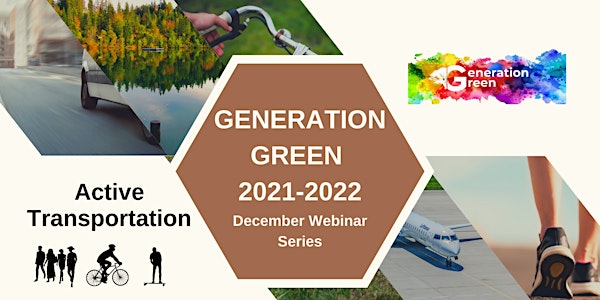 Generation Green: December Webinar Series
Join us for 3 engaging webinars that focus on mobility, transportation and climate action inspiring you to take action yourself for climate
About this event
Earn volunteer hours and come be a part Generation Green!
Why should we focus on Active Transportation?
Transportation is one of the leading contributors to greenhouse gas emissions and air pollution in Halton and around the world. Given its role in the climate crisis - changing how we move around can have big impacts on our community.
Reducing the burning of fossil fuels for transport will help reduce the rate of climate change and the severity of the impact of climate change, but what does that mean for us?
Let's drive climate action, not cars! Show our community why we're Generation Green!
Join Special Guests speakers to learn more about how Halton is committed to making our cities greener, healthier and more prosperous places to live.
Learn more about actions and plans to make city streets and neighbourhoods walkable, safe and accessible for everybody.
Find out more at https://climatecollective.ca/generation-green-2022/
Speakers:
Dec 2 - Active Transportation in Canada, Halton & Beyond
Jeff Axisa, B.A., M.A., Dillon Consulting
Jeff is a transportation planner with 10 years of experience working on a variety of multi-modal transportation planning projects across Canada and abroad. He is experienced in pedestrian and cycling planning and facility design and regularly contributes an active transportation perspective to multi-disciplinary urban design, engineering and planning studies. Jeff is also experienced in creating and analyzing transportation models (such as VISSIM, VISWALK, EMME, and Synchro) to forecast demand and assess operational characteristics at a range of scales, from high-level regional demand forecasting models to detailed multi-modal microsimulation models. Jeff is an avid cyclist and an active member of the City of Hamilton's Cycling Advisory Committee.
Dec 9 - Active and Sustainable Transportation in Schools
Join Suzanne Burwell and Frederick Thibeault who will talk about sustainability and active transportation within the Halton District School Board and Halton Catholic District School Board. Find out more about why transportation matters, what schools in your community are doing to promote active transportation, and how to get involved!
Suzanne Burwell Environmental Sustainability Specialist, Halton District School Board
Suzanne is the Environmental Sustainability Specialist for the Halton District School Board. Working with the school board to advance climate change action from mitigation, adaptation and education perspectives, she has been involved with the modification of a standard school ground to be climate resilient and supporting active transportation through policy, practice and infrastructure. She advocated for the inclusion of Environmental Leadership in the Board MYP and supported students in the development of the first student-led Climate Emergency Declaration. Building partnerships with community and local organizations to take action on climate change has been a focus for many years – working with the Halton Environmental Network, the Halton Climate Collective and the school board's municipal partners is a natural extension.
Frederick Thibeault, General Manager of Planning, Halton District School Board
Dec 16 - Active Transportation in Municpalities
This week, we are joined by Chris Clapham from the Town of Oakville for an interactive presentation all about municipal transportation planning, Chris will show and let you build your own city street with active transportation in mind! Get ideas for your own project and learn new ways to take climate action. 
Chris Clapham, Sustainable Transportation Program Coordinator