Description
Are you concerned your teen is getting too much screen time and not developing their people skills? We know this is an important topic that presents itself often, and we want to do something about it! Dale Carnegie presents a full one day workshop for teens! Key takeaways will include:
Manage stress & worry
Increase self-confidence
Motivate yourself and others
Speak confidently and communicate effectively
Build teamwork & leadership skills
When?
Wednesday, July 19, 2017 -- 9:00 A.M. to 4:30 -- Drop off and pick up is flexible.
Where?
Dale Carnegie Center of Excellence -- 2121 Argentia Road, Mississauga
Contact Us!
905.826.7300 -- info@dalecarnegie.ca

Lunch will be provided.

"You can conquer almost any fear if you will only make up your mind to do so. For remember, fear doesn't exist anywhere except in the mind". – Dale Carnegie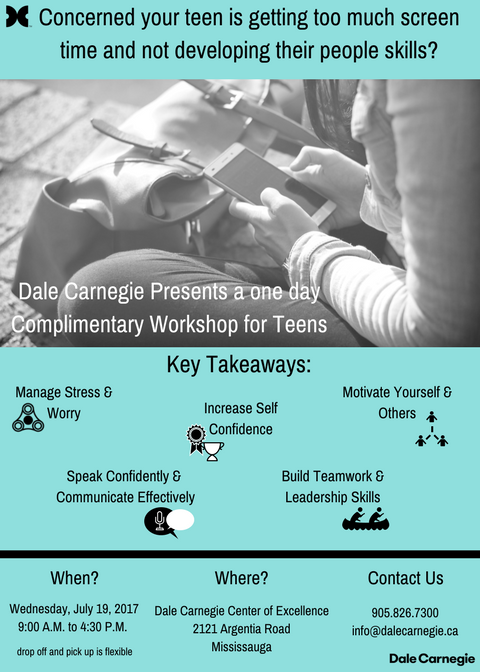 info@dalecarnegie.ca
905.826.7300