Description
DEADLINE TO REGISTER: OCTOBER 31, 2017
---


We are charging an initial fee of $5 to register.
You will receive a
FULL REFUND

after you have checked in at our registration table on the day of the event.



---
Photos from our previous Hackathons: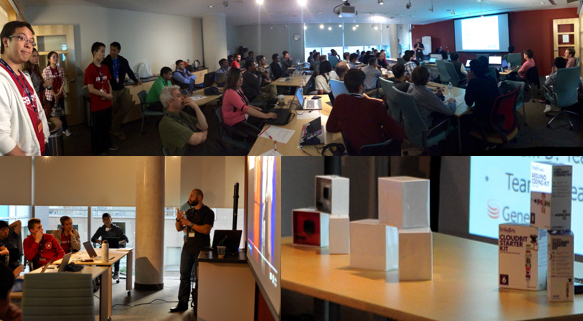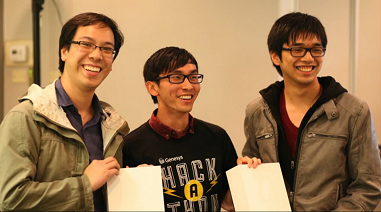 ---
ARE YOU READY FOR ANOTHER GENESYS HACKATHON?
Teams should be constructed of 3 or less. There are a limited number of spots available for this event (cap of 20 teams). We are expecting a large number of applicants to register, and will be going through a selection process of identifying and vetting qualified participants by using a screening system.
You and your team will receive an email about 3 weeks prior to the event letting you know if you have been accepted to participant based on our selection process. If you have been selected, you will be provided more information about the theme of the Hackathon.
We will be taking photos and recording parts of the event to share the experience with the community. By entering the venue, you are allowing us to post and share the photos taken (unless you have notified us prior to the event).
---


THEME OF HACKATHON
The PureCloud Platform provides the foundation for the future of communication. Whether you want to spur teamwork on Collaborate or connect to your customers with PureCloud, our customer engagement platform offers the strength and flexibility to make it happen.
PureCloud is built to be extensible by exposing data and functionality through our Public APIs and integrating with our third-party Apps platform. PureCloud is built with a cloud Microservice architecture and modern web technologies.
---
All Participants will Receive:
Opportunity to create something amazing
Two days of Hacking
Generous amount of food and drinks
Opportunity to win various prizes
T-shirt
SWAG bag
You will need to bring your own laptop/device


Prizes:
First Place: 2 Microsoft Surface Pro
Second Place: Google Home
Third Place: Amazon Echo Dot
Note: the number of 2nd and 3rd prizes depend on the number of members in your team. Each team member will receive ONE of the respective prizes.


Two-Day Schedule:
Saturday November 11, 2017
11:00 - 11:30 AM - Registration
11:30 AM - 12:30 PM - Introduction & Training
12:30 PM - Hacking Starts
1:00 PM - Lunch
4:00 PM - Snack Break
8:00 PM - Dinner
Sunday November 12, 2017
12:00 AM - Snack Break
3:00 AM - Pizza Break
8:00 AM - Breakfast
12:00 PM - Lunch
12:30 PM - Hacking Ends
12:30 - 2:00 PM - Presentations / Judging
2:00 - 2:30 PM - Judges Deliberate
2:30 PM - Top 3 teams announced
---
Venue Partner

---