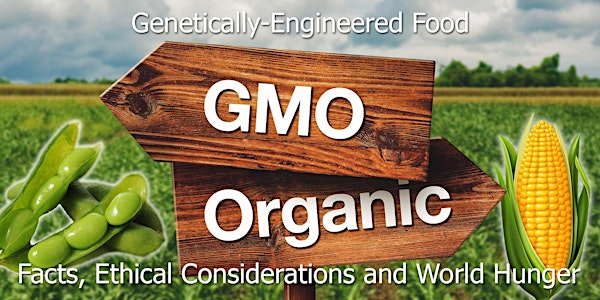 Genetically-Engineered Food: Facts, Ethical Considerations and World Hunger / ARPICO AGM 2018
When and where
Location
Italian Cultural Centre - Museum & Art Gallery 3075 Slocan St Vancouver, BC V5M 3E4 Canada
Description

ARPICO and Marie-Claude Fortin present...
GENETICALLY-ENGINEERED FOOD: FACTS, ETHICAL CONSIDERATIONS AND WORLD HUNGER

In this lecture we will explore a part of our food system, which has received much press, but which consumers still misunderstand: food derived from biotechnology often referred to as genetically modified organisms. We will be learning about the types of plants and animals which are genetically engineered and part of our everyday food system and the reasons for which they have been transformed genetically. We will be looking at the issue from several different angles. You are encouraged to approach the topic with an open mind, and learn how the technology is being used. We will start by understanding the differences between traditional plant breeding, conventional plant breeding, transgenic technology and genome editing. The latter two processes are considered genetic engineering technologies but all of them constitute a continuum of techniques employed to improve domestic plants and animals. We will then go over the ethical paradigms related to genetically engineered food represented by the European and North American points of view. Finally, we will discuss the strengths and weaknesses associated with genetic engineering as a tool to solve world hunger.

Marie-Claude Fortin is a former Research Scientist with Agriculture and Agri-Food Canada, Associate Editor with Crop Science Society of America, Board Member of the Soil and Water Conservation Society and Adjunct Professor at the University of British Columbia (UBC) and currently responsible for the shared research infrastructure portfolio at the UBC Vice-President Research & Innovation Office. Her main areas of research expertise are crop and soil sciences with special interests in measuring and modeling crop development and various processes on agricultural land: water and nitrogen fertilizer flow through the soil profile, emissions of greenhouse gases and soil physical properties. Her research shows that sustainable crop management practices result in soil environments, which are conducive to resilient crop production and organic matter buildup, which is the process of storing carbon in soils, a most important process in this era of climate change. For the past 18 years, Marie-Claude has been teaching food systems courses at UBC, emphasizing impacts of decisions made at the corporate, national and local levels on the economic, environmental and social sustainability of the food system, including impacts of organic and industrial agriculture and adoption of genetically engineered crops and animals, on farmers and consumers.


ARPICO ANNUAL GENERAL MEETING 2018

ARPICO will be holding its Annual General Meeting 2018 at 6:00pm to 6:45pm before the above Event.
---
AGM Event Doors Open at 5:50 pm.

AGM Event Starts at 6:00 pm.

Speaking Event Doors Open at 6:45 pm.
Speaking Event starts at 7:00 pm.
Q&A and complimentary refreshments follow the speaker segment.
---
Tickets are Needed
Tickets are FREE, but all individuals are requested to obtain "free-admission" tickets on Event Brite site due to limited seating at the venue. Organizers need accurate registration numbers to manage wait lists and prepare name tags.
All ARPICO events are 100% staffed by volunteer organizers and helpers, however,

room rental, stationery, and guest refreshments are costs incurred and underwritten by members of ARPICO. Therefore to be fair, all audience participants are asked to donate to the best of their ability at the door to

"help" defray costs of the event.

Everyone is welcome. See you there!
---
FAQs
Where can I contact the organizer with any questions? info@arpico.ca
---
Do I have to bring my printed ticket to the event? No, you do not. Your name will be on our Registration List at the Check-in Desk.
---
Is my registration/ticket transferrable? If you are unable to attend, another person may use your ticket. Please send us an email at info@arpico.ca of this substitution to correct our audience Registration List and to prepare guest name tags.
---
Can I update my registration information? Yes. If you have any questions, contact us at info@arpico.ca
---
What are my transport/parking options?
Bus/Train: The Millenium Line Renfrew Skytrain station is a 5 minute walk from the Italian Cultural Centre.

Parking: Free Parking is vastly available in the ICC's own parking lot.

---
I am having trouble using Event Brite and cannot reserve my ticket(s). Can someone at ARPICO help me with my ticket reservation? Of course, simply send your ticket request to us at info@arpico.ca so we help you. We will take care of inputting your registration within Event Brite and you will get an email confirmation of each registration directly from Event Brite.
---