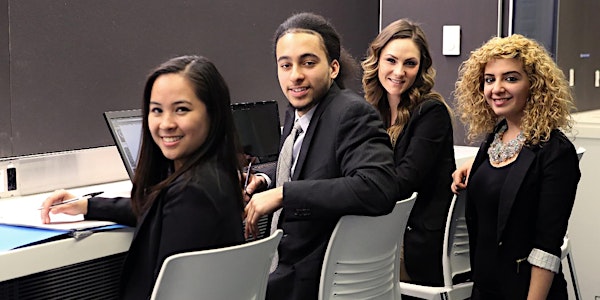 George Brown College Centre for Business Information Session
Description
We can't wait to talk to you about our Centre for Business!
The purpose of our online information sessions is for you to get a better understanding of the programs we offer, as well as what it's like to be a George Brown student. You'll have the opportunity to hear about the facilities that you'll be learning in, and you'll virtually meet some of the instructors that you'll be learning from.
Our Centre for Business programs provide an excellent return on your education investment with 81% of students finding employment within six months of graduation (1). We are located less than 1 km from Toronto's Business and Financial Districts and have established over 1,000 industry relationships with leading companies in Canada. Whether you're interested in Accounting and Finance, Human Resources, Management, or Marketing, we can help you find the program that's best for you.
Directions:
Your session will be hosted online.

Something to keep in mind:
It's a good idea to do a little bit of research before you arrive so that you know the questions you want to ask, or what areas you'd like to know more about. If you have questions about your visit, please send us an email at business@georgebrown.ca.
(1) Key Performance Indicators, Colleges Ontario, 2015
---
FAQs
How long will this information session be?
Your session will last approximately one hour.
What if I can't make it?
We understand that things come up. You can always register for another information session at a time that suits your schedule.
What will I see during this session?
You'll get an overview of what's offered in the Centre for Business, and then you'll break out into groups for the school you're interested in to meet faculty and have your questions answered.
Can I bring family and friends?
Absolutely! We're happy for them to be included in your information session.
Who do I contact if I have a question about a program?
Hopefully we'll be able to answer most of your questions during your session, but you can always get in touch with us at:
Who do I contact if I still have questions about George Brown?
There are so many things to consider when choosing a college, so it's natural if you have a lot of questions. Why not connect with the George Brown contact centre at 416.415-2000 (Mon-Thurs, 8 a.m. - 6:30 p.m., or Fridays, 8 a.m. – 4:30 p.m.) You could also try our free Entry Advising service where we'll help you match your academic skills, educational background, and career goals with George Brown programs.
What if I have a mobility concern?
If you have a mobility concern, please let us know when you register.