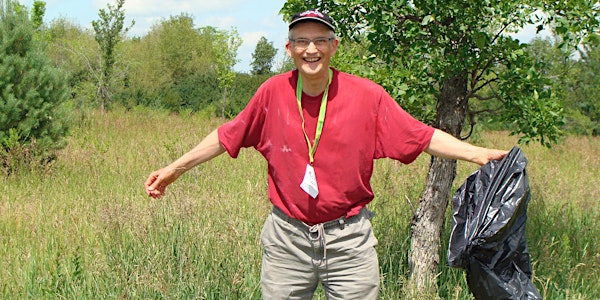 George Genereux Urban Regional Park Clean Green Community Scene
George Genereux Urban Regional 147.8 acre park clean up to restore the environment and trails on World Environment Day and World Trails Day
When and where
Location
George Genereux Urban Regional Park 133 Range Road 3063 52.1055729,-106.8006038 Saskatoon, SK S7M 5J5 Canada
About this event
Please register your intention to come help restore the environment on World Environment Day and celebrate Saskatoon's first arbour week. This is a great activity to also commemorate World Trails Day as the environment is looked after for a safe greenspace to enjoy.
After signing in you can go to different areas in the large greenspace with maps of targeted areas which need attention. 
The George Genereux Urban Regional Park is about ½ mile by ½ mile in size 147.8acres – located on part of NE 21-36-6 W of the third meridian (west of the SkHwy 7) at GPS 52.1086103,-106.7926227.
Directions: Arrive at George Genereux Urban Regional via the Pike Lake Highway, Saskatchewan Highway 7. The greenspace is to the south of Blairmore Shopping malls, and south of the 11th Street compost, take the first right after wetlands and then a quick left.
It is wise to come dressed for the weather - a hat, closed toe footwear, sunscreen, bug spray & water bottle, canvas gloves, masks. We supply refreshments (i.e. water bottles, juice boxes, granola bars). There will be on-site free facemasks, sanitizer, plastic gloves & trash bags.
Please advise friendsafforestation@gmail.com if you have a
1/truck
2/trailer
3/forklift
4/wheelbarrow
5/wagon
6/a 2 or 4 wheel dolly
There are both large items and smaller trash to remove from the greenspace environment on Saturday June 5 between 9:00 am and 5:00 pm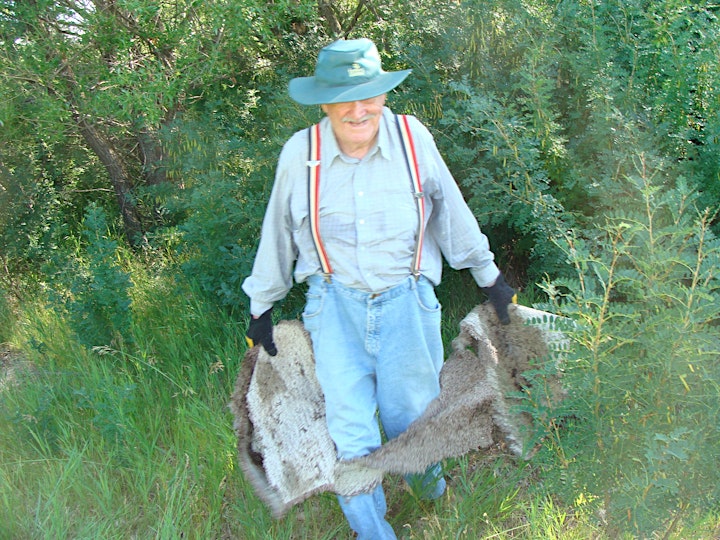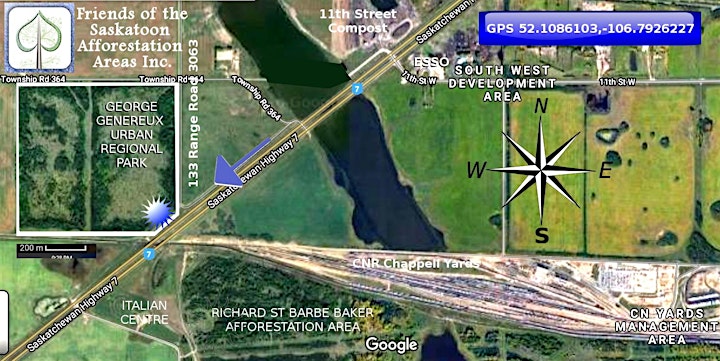 The Friends of the Saskatoon Afforestation Areas Inc. are very appreciative of the support and help offered by Ivan and Ila's No Frills Store in Westgate Plaza for the June 5 clean up. They went above and beyond in the fall of 2020, and now volunteers are coming out on Saturday June 5 – very likely for the last time for a major huge afforestation area clean up, and again, Ivan and Ila's No Frills Store in Westage Plaza is providing support. Refreshments for volunteers is so greatly appreciated, and will go a long way for the well being of all the volunteers who will keep hydrated and sustained with individual snacks.
Support such is this by Ivan and Ila's No Frills Store in Westgate Plaza is vital, very much acknowledged and appreciated by the volunteers who all came out on Saturday June 5 between 9:00 am and 5:00 pm. Users to the George Genereux Urban Regional Park include families, dog walkers, citizen scientists doing bio-blitzes, walkers, bird-bander, cyclists who all enjoy the mixed man-made forest on the prairies. In the fall of 2020 there was Sep 19 2020 kg 9270 pounds and on Oct 20 2016 1500kg or 3,307 pounds of trash removed. Even though volunteers worked tirelessly, there were still trash piles left at the end of the two cleanups. George Genereux Urban Regional Park becomes 50 years old in 2022 and this is the first environmental protection event and trash clean up afforded this urban regional park, so that is why there is another volunteer clean up is needed on June 5, 2021.
All this will create a much safer environment for the general public and for the health of the environment. Is that not what June 5, day is all about?
June 5 is….. Arbor Week request for city proclamation by SOS Trees Inc.!
June 5 is….. the first day of the UN Decade on Ecosystem Restoration.
June 5 is….. International Trails Day.
June 5 is….. World Environment Day.
June 5 is….. Clean Green Community Scene.
Thank you and gratitude is are extended to Ivan and Ila and Ivan and Ila's No Frills Store in Westgate Plaza which is located at 2410 22nd St W at the corner of Avenue W North and 22nd St W. And Ivan and Ila helped to act locally and think globally on World Environment Day. Isn't it ever so wonderful to have safe urban regional parks, safe wildlife habitats and to also keep the volunteers safe and hydrated?
As William Shakespeare says, "I can no other answer make but thanks, and thanks, and ever thanks." –