| | |
| --- | --- |
| Get Clients With LinkedIn (Training) Business Networking Event | |
Event Details
Use LinkedIn To Start Getting A Consistent Flow of New Customers
REGISTER HERE FOR THE FREE LINKEDIN™ TRAINING WEBINAR OR KEEP READING FOR MORE INFORMATION
Free Online Training Event - Not a Physical Event - Register By Clicking The Link Above or One of The Links Below
Imagine Being Able To Hop On Your Computer Once a Day and Landing  3, 5, 10+ New Customers a Month without spending a dollar on advertising.
Imagine being able to hand select the customers you want to work with. The best of the best.
Sound to good to be true? The fact is, what I'm about to share with you is really simple… And the information I'm going to give you is 100% FREE so…. Nothing to lose…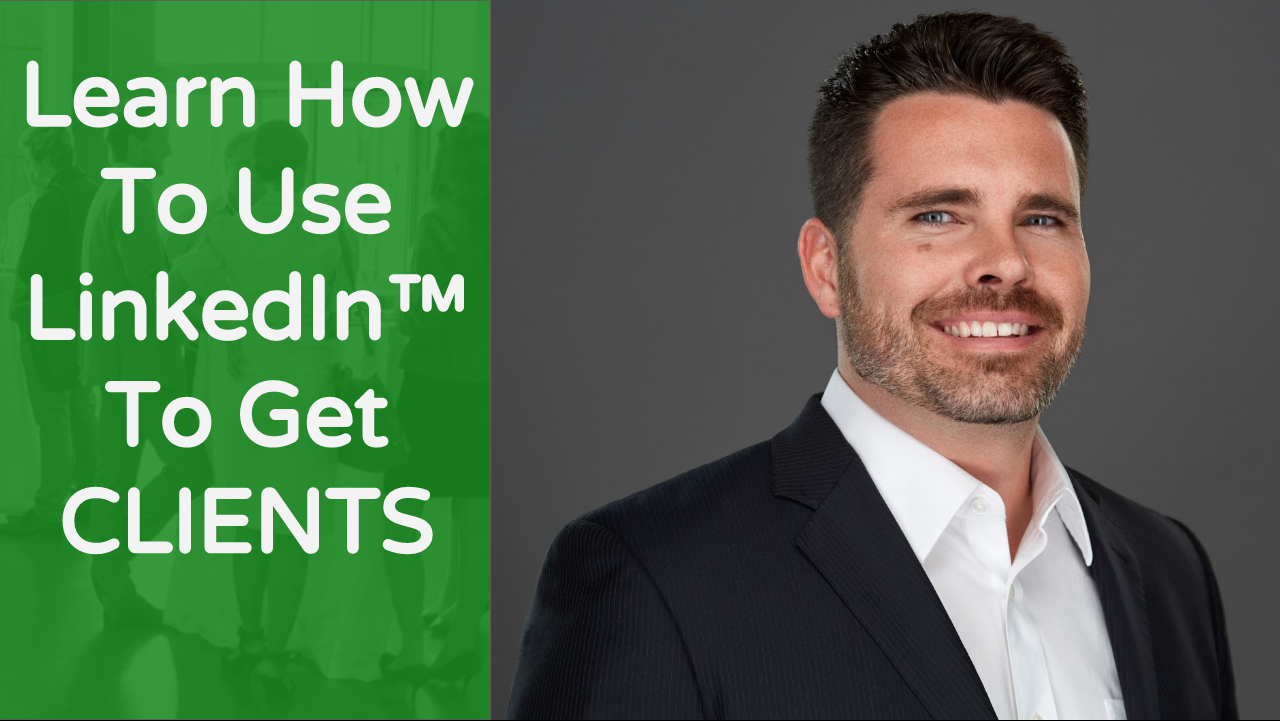 WHO THIS IS NOT FOR: this is not for people who are looking for some get rich quick scheme.
WHO THIS IS FOR: this is for people that offer a good service/product and are willing to put in a little effort to get customers.
My name is Tim Dodd and I'm about to share something with you that I WISH I had when I first started my marketing agency.
If I had it back then, I know for a fact that my business would have absolutely exploded with new customers, growth and revenues very quickly.
Instead though, I wasted a ton of time and money paying for advertising, testing different marketing ideas, going to local networking meetings, coffee meetings that didn't lead anywhere, bids and proposals that went stale, and all the other painful attempts that we make to try and get new customers.
Ten to twelve hour days, shoe boxes full of business cards, following up until I wanted to cry.
And my results were, well, bogus. I would have a good month followed by two or three bad months... It was just tough... It was painful… Sooooo very painful….
Plus, the quality of customers I was getting was hit or miss.
Often times they were very demanding and low paying customers.
Basically, I was burning the candle at both ends and not seeing the growth that I KNEW I could get.
There were many days I just wanted to give up and become a beach bum in San Diego…
Honestly… that thought actually crossed my mind several times… No joke… :)
It wasn't a fun place to be at all.
It's not like we didn't see any growth though... We did... We would get a new customer here and there...
And, we did a great job for our clients… So… Once we got a customer they would normally stay with us.
But still, the growth was at a turtle's pace… It was so much slower than I KNEW it could be….
So, I set out on a journey to find a better way to get new customers.
I tested hundreds of different marketing strategies between 2014 and 2016.
Honestly, most the time it felt like I was banging my head against the wall….
There were countless times I felt like throwing in the towel and quitting….
But, I didn't give up... I kept pushing... knowing that eventually I would have to find a solution…
The only option was success… No matter how many failures I kept seeing… I was determined to come out of this victorious.
And, to be transparent, my big brother Daniel has always been a very critical person of my "unrealistic goals". I'm a big, big, big, dreamer with massive goals and he didn't like that. He had always seen me as a "very unrealistic" person.
The kind of guy that when I lost my biggest monthly customer, at the time, ($15,000 a month) he offered me a low paying job at his little web agency instead of encouraging me to keep pushing.
What a slap in the face.
If I threw in the towel, he would be right. My big thinking would be proven to him and all of my family and friends as "very unrealistic". Family get togethers would involve him subtly taking jabs at me... For years to come... Letting me know that he was right… all along... Ugh... Not in a million years would I let that happen!
For my own sanity, if nothing else, the only way to prove that I wasn't crazy was to work my tail off until I was successful.
And I worked my tail off like you wouldn't believe.
I was obsessed. Literally obsessed. Like ALMOST lose your wife because of it kind of obsessed.... Yep... Just being real….
You see, in the midst of me banging my head against the wall and wanting to throw the towel in, everything changed.
I finally found the solution I had been seeking.
And, guess what? It was HIDING IN PLAIN SITE THE WHOLE TIME!
I could have been using it the entire time!
No regrets though… No what ifs… No If onlys... Only forward movement.... Only pushing towards my next goal.
You see, it was in 2016 that I discovered the power of LinkedIn™
And, the facts are undeniable.
Let's look at a few of those facts:
Who's on LinkedIn™?
- Just about every business person and decision maker alive in the world today.
- In fact, in a recent podcast I was listening to, Jeff Hoffman, the founder of Priceline (a $62 Billion Dollar Company), said that the primary way to connect with him is on LinkedIn™.
- The entire business world is on LinkedIn™.
- There are over 500,000,000 people are on LinkedIn™ and growing to be exact….
- And, did you know that you can request to connect with just about any person on there? Even Jeff Hoffman of Priceline…. No joke, check it out for yourself right now… (At least at the time of this writing you can request to connect with Jeff)
(Note: If you request to connect with Jeff, Tell Him You Know Tim Dodd and he might just accept it. You're welcome)
- Did you know that if they accept your invitation to connect, you now have direct access to that person?
- That's right, in most cases you will even have their direct email and phone number.
Are you kidding me? This is the biggest customer goldmine in the history of business.
But, the fact is, most people have no clue how to use LinkedIn™ the right way.
You have to understand... Even after I found the power of LinkedIn™, it took me, a marketing guy, hundreds of hours and thousands of dollars to create a strategy that actually worked… Consistently and efficiently that is…
But, I didn't JUST use it to get customers for my marketing agency.
You see, I started using this for my clients to see if it would work for their diverse mix of industries.
And guess what? That's right, it worked amazing!
In fact, Michael Wills, a sales team consultant, was able to book out all of 2017 with amazing customers by February.
And that's with only a few months of LinkedIn outreach.
And, Michael charges $20,000 minimum per customer so booking out the ENTIRE YEAR is a really big deal.
On top of that, Michael had the odds against him.
You see, he had just moved his family out of state to South Florida and his company was brand spanking new.
Normally, those kind of results are reserved for older more established companies with big marketing budgets and lots of referrals coming in.
But not for Michael. He bypassed all that hoopla... all the BS….
Pretty cool, huh?
But not just that...
We tested LinkedIn™ for many different types of companies and it worked 100% of the time. Literally 100% of the time.
More customers, higher quality customers, less time, and less money.
That means more freedom, more enjoyment at work, more time to spend with their family, more get togethers with their friends, and more time to invest in their own personal hobbies.
Sounds pretty amazing doesn't it?
Well... it actually gets better….
You see, I decided to outline the entire system to share it with other people so that they can get more customers, higher quality customers, and have more freedom to spend their life doing the things they love.
In fact, I want to invite you to a 60 minute training where I will walk you through my LinkedIn™ marketing process beginning to end.
You see, I'm more than happy to share this with whoever is willing to learn. I'm not worried in the least that if other people start doing this there will be less for me….
Why? Because of the math. There are over half a billion users on LinkedIn™. Yes, billion with a "B".
The fact is, even if 100,000 people went full bore with my system, that's only 0.020% of the Linkedin population.
It would take 10 Million People using my system full bore to even get to 2.0% of the LinkedIn population that is doing this.
There are more than enough high-quality customers for all of us. It's simple math my friends.
What's in it for me you ask?
That's what I would be asking by now if I were you.
Here is what you should expect:
The training is about 60 minutes.
I am going to walk you through my exact LinkedIn™ marketing system. It is going to be very detailed
Towards the end, I'm going to offer my paid services.
Some people will buy, some people won't.
Whether you buy or not, this free training will show you how to get customers from LinkedIn.
So, it is very important that you take this training very seriously.
Come prepared to pay attention and take notes. Make sure you don't have any distractions.
Because, if you are willing to apply 100% of what you are about to learn in this free training, you are going to be able to use LinkedIn™ to get customers.
Plain and simple.
A consistent stream of new customers.
The type of high-quality customers that you get to handpick.
Without spending a dollar on advertising.
And, once you're setup, it only takes about 20 minutes a day in most cases….
Plus, you don't need to be tech savvy…
In fact, you don't even need to have a website…
All you need is a LinkedIn™ account and the right know how.
That's it….
Just listen to what other attendees are saying about the training.
"Seriously, if anyone actually applies what Tim is teaching, they are going to get customers" - Leo
"Thank you, thank you, thank you, for putting this on." - Sandy
"That is amazing. I didn't know you could even do that with the LinkedIn™ search." - Jose
"Tim, thank you very much for sharing this with us. I can't wait to start using this system." - Kayla
"Genius! This is the most straightforward way to get clients I've ever seen!" - Jeanne Moore
If you want to see how to use LinkedIn™ to get a consistent stream of new customers… handpicked customers...
Reserve Your Seat At The Next Training and I'll Show You How
Click Here To Reserve Your Seat At The Next Training and I'll Show You How To Use LinkedIn™ To Get Customers
Yours In Success,
Tim Dodd
******CLICK HERE TO REGISTER *****************
Better Than Business Networking Events & Groups
********************************************
Better Than Business Networking Events & Groups
********************************************
Better Than Business Networking Events & Groups
*****************CLICK HERE TO REGISTER ******
Better Than Business Networking Events & Groups
********************************************
Better Than Business Networking Events & Groups
********************************************
Better Than Business Networking Events & Groups
*******CLICK HERE TO REGISTER ****************
Better Than Business Networking Events & Groups
********************************************
Better Than Business Networking Events & Groups
********************************************
Better Than Business Networking Events & Groups
*****************CLICK HERE TO REGISTER ******
Better Than Business Networking Events & Groups
********************************************
Better Than Business Networking Events & Groups
********************************************
Better Than Business Networking Events & Groups
*******CLICK HERE TO REGISTER ****************
DO YOU HAVE A QUESTION? HERE IS OUR FREQUENTLY ASKED QUESTIONS
FAQ
Are there ID or minimum age requirements to enter the event?
All ages are welcome but it is focused towards adults
Is This An Online Event?
Yes, this is an online event. All you need is a computer and a solid internet connection.
What can I bring into the event?
Come prepared to take notes.
How can I contact the organizer with any questions?
When you register, we will you will get an email from us. You can reply and ask us any questions.
What's the refund policy?
IT IS A FREE EVENT! - we will be offering paid services but it's 100% not required to purchase. If you do purchase, we offer a 30 day and 90 day guarantee.
Can I update my registration information?
The best thing to do is just register because you can't update your time.
Is my registration fee or ticket transferrable?
FREE Better Than Networking Events Training! Not cost for this networking style event.
Is it ok if the name on my ticket or registration doesn't match the person who attends?
All you need is your first name and email to attend the event.
Do You Still Go To Networking Events
Yes, sometimes I still go to networking events. Only if they are really good. And while I do still go to networking events from time to time, it isn't to get customers. It is to stay in touch with my local Networking community. Just for fun and to get to know local businesses in person. Networking events are great for doing that.
Free Online Training Event - Not a Physical Event - Register By Clicking One Of The Links Above - Digital Marketing - Online Marketing - Internet Marketing - Social Media Marketing - SEO - Search Engine Optimization - AdWords - Facebook Marketing - Instagram - Twitter -LinkedIn Marketing - SEM - Training - Class - Classes - Workshop - How To - DIY - Google - Advertising - Social Selling - Course - Academy
Have questions about Get Clients With LinkedIn (Training) Business Networking Event?
Contact Tim Dodd
Save This Event
When & Where

Free Online Training - Get Clients - Business Networking Event
555 5th Street
Belleville, Ontario
Canada

Organizer
Tim Dodd
My name is Tim Dodd and I'm grateful that our paths have crossed. My mission for TEV Training has been and will always be to equip and empower entrepreneurs with the knowledge and resources they need to achieve the success they desire.
I believe that everyone has more potential than they realize and that you should never put a limit on what you can achieve. As Steve Jobs said, "Everything around you that you call life was made up by people that were no smarter than you. And you can change it, you can influence it… Once you learn that, you'll never be the same again."
Whether your company is on it's way to changing the world or you are building a business that will give you the financial freedom to live the life that you and your family want to live, I know it's possible.
If you're an entrepreneur, looking to start a business, or work as a marketing manager, I believe that our marketing training courses can have a massive impact on your growth.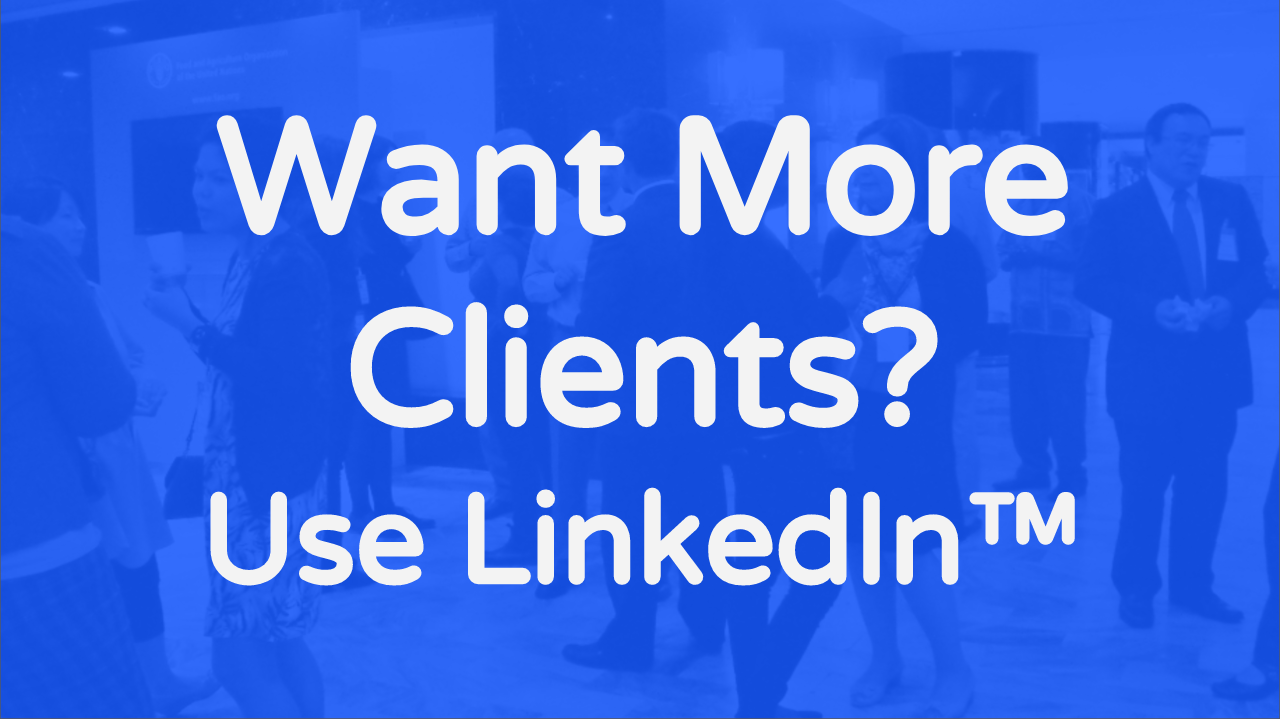 Get Clients With LinkedIn (Training) Business Networking Event