Description


Big Data Program
Go beyond Hadoop , MapReduce , Spark for in-memory

What is Big Data? When we talk of Big Data, there is empasis on Analysis especially "Big Data Analysis". This program is long enough to give you an insight into Data Mining aspects - more than just the basics. Induction to BigData Analysis frameworks like Apache Mahout and Giraph project. These frameworks provide a ready-to-use platform to perform Analytics over Big-Data base like Hadoop.


How to get into Big Data

The MCIT Big Data program builds on skills prevelant in the Data Science and Big Data Analytics domain. The main focus areas cover Hadoop (including Pig, Hive, and HBase), natural language processing, social network analysis, simulation, random forests, multinomial logistic regression, and data visualization. With a technology-neutral approach, this course utilizes several open-source tools to address big data challenges.

This intensive program explores the logic behind the complex methods used in Big Data Analysis. We then explore how big data research is designed with real life examples of cutting-edge research and guest lecturers from Industry experts. By the end of the program students will be competent in the field and be able to conduct a research design using big data.

learn to use frameworks such as Hadoop for MapReduce and Spark for in-memory processing of large datasets. Also explore database technology including NoSQL databases such as MongoDB and Hive. The program will also include data mining algorithms for both large datasets and streaming datasets.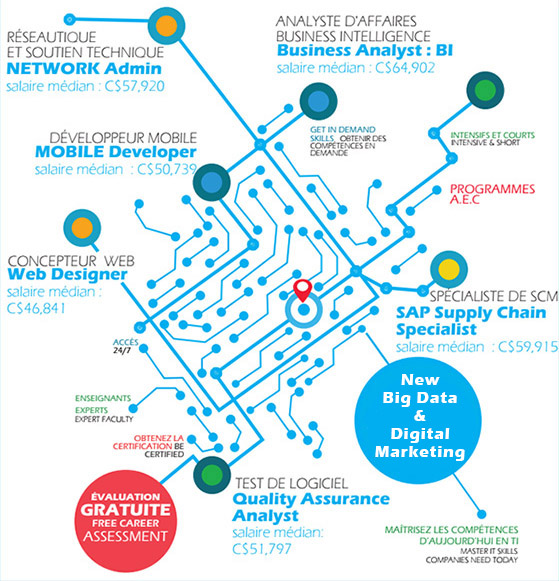 Have a chance to get career advice and meet with our subject matter experts. If you are looking for a place to start, then check out our programs and courses to see what we have to offer. Learn more
Details

Venue : Montreal College of Information Technology
Time : 1:30 PM
Date : Saturday, 28th April, 2018

Event schedule
Introduction to Big Data

How you can break into the field
Jobs and opportunities
Prerequisites
Enrolment & Finance options
Question time
Refreshments
Who should do this program?

Anyone looking to have a career in Big data requires knowledge and skills from an extremely diverse set of fields: mathematics, statistics, economics, econometrics, IT, and of course, a set of Data tools. This means that while almost anyone with an interest in numbers can get in, everyone needs some sort of training. and Data Analytics is not so much about tools or technologies, it is a way of thinking that allows the use of knowledge, tools and technologies to extract valuable insights from data.Aspiring data scientistsData analysts that have some knowledge about Data Analytics Program and have a good interest in Programming.People proficient in Java and SQL languages and are interested in Data sets and structures.Computer scientists wanting to learn MapReduce and methods for analyzing unstructured data such as text may be eligible.

---
MEDIA RELEASE DECLARATION
Montreal College of Information Technology, its representatives and employees reserves the right to take photographs of him/her and his/her property in connection with the above-identified subject. Participants authorizes Montreal College of Information Technology, its assigns and transferees to copyright, use and publish the same in print and/or electronically. He/she agrees Montreal College of Information Technology may use such photographs of him/her with or without his/her name and for any lawful purpose, including for example such purposes as publicity, illustration, advertising, and Web content.