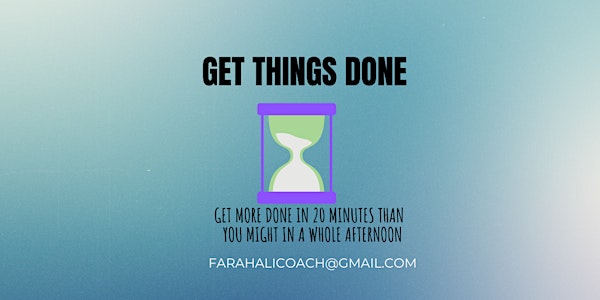 Get into Flow-- Get More Done in 20 Minutes Than Most Whole Afternoons
Bring one project with you- become focused working from home and experience a 20-minute work sprint to see how to use it yourself.
About this event
Achieving focus and Getting Things Done-- made easier.
If you have you got a new goal for 2021 that you really want to see through? Or maybe you have an ongoing project that has been stalled for a while and you are struggling to find a way to get it going? This is a chance to learn strategies and techniques you can use to get more done in the same amount of time. Join and experience it for yourself.
In this virtual workshop, you'll learn the concept of Deep Work and how to get more done in less time. After talking about "flow," the science of productivity, and all of the distractions that get in the way, we'll do a grounding exercise. Then, we'll actually work for 20 minutes and you'll have the chance to get more done than you have in most entire mornings (I know, crazy, but you'll see).
Leave with clear takeaways about being more focused and productive, especially working from home.
Bring a project to work on– that thing you've been putting off or that thing that needs to get done.