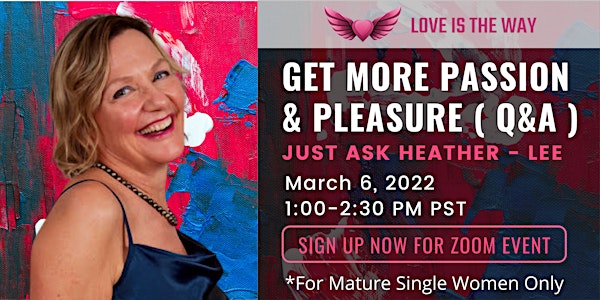 Get more Passion & Pleasure Q&A - Just Ask Heather-Lee
This is your chance to ask about how you can create more passion & pleasure, whether in everyday life or your intimate partnerships
About this event
Heather-Lee will come on the Zoom call for the first 20- 30 minutes to frame some ideas about passion and pleasure- Why is it the last thing that we make time for and how to get back to it. We all want, need, and deserve more passion and pleasure. We all can absolutely create more of it!
This will be followed by the Question and Answers that you can either send by email ahead of time, pop in the Zoom Chat or even come online to ask if you like. Everyone learns from each others' questions. This is your chance to just Ask Heather-Lee!
The session will end with sharing some best steps you can take next to keep you on the path for a future of more passion and pleasure.
* Replays not available for reasons of confidentiality.